No picnic in Stradbally as Meath fall to defeat
It was far from a picnic in Stradbally tonight as Meath belatedly got their O'Byrne Cup campaign underway with a 0-9 to 1-12 loss away to a strong Laois side.
Hit by college commitments, injuries and Covid, Meath fielded an experimental side and struggled to get to the pace of the game against a Laois side that had played, and lost to, Wexford on Saturday.
Meath rustiness was obvious from the off as they struggled to find any fluency and managed just two points in the opening period.
Laois were already three clear with frees from Mark Barry and Sean Moore either side of a Paul Kingston score giving them the edge before James Conlon opened the visitors account in the 11th minute.
Laois continued to dominate and they moved 0-6 to 0-1 clear with Barry, Brian Byrne and goalkeeper Danny Bolger, from a '45', on target.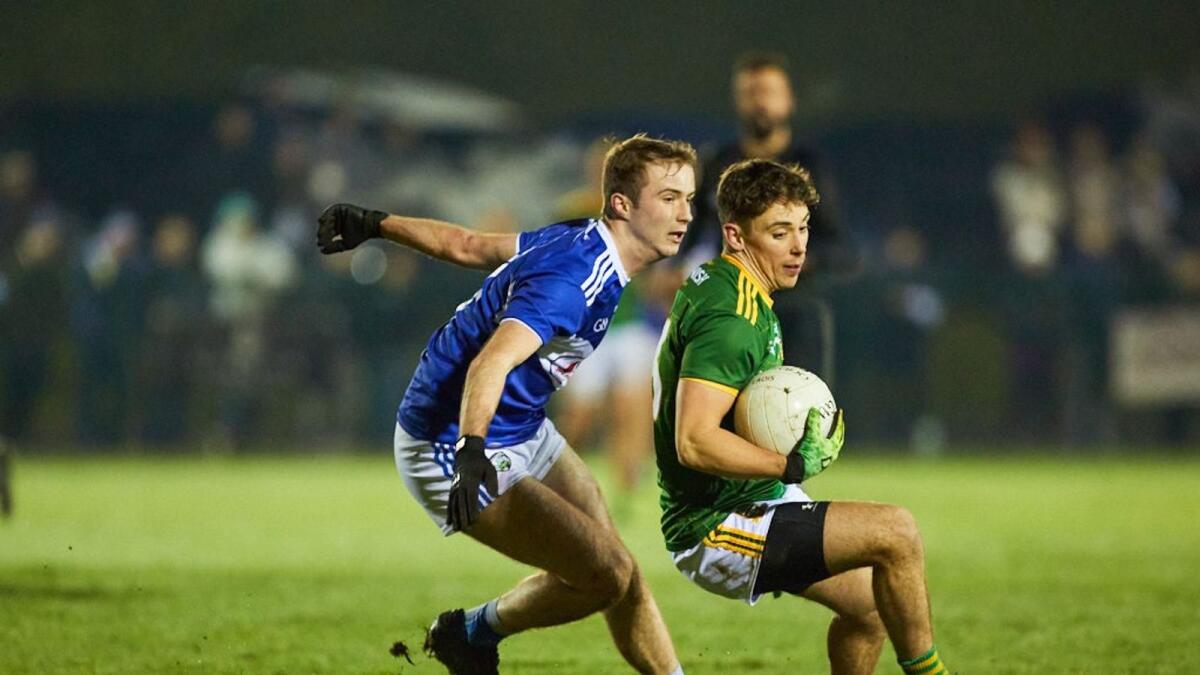 Thomas O'Reilly did pull a point back from a free before the water break, but the one-way traffic continued as three more points from Barry and a very fortunate goal from John O'Loughlin, whose shot from distance deceived Andy Colgan, ensured the hosts led 1-9 to 0-2 at the break.
Meath made four switches at half-time, but Laois continued to look more threatening with points from Gareth Dillon and Evan O'Carroll either side of another Conlon score for Meath extending their lead to 1-11 to 0-3.
Then Meath started to wake from their slumber and in the closing 30 minutes they outscored Laois by 0-6 to 0-1, but were left to rue a number of missed goal chances.
O'Reilly, Conlon, David McEntee (mark) and Cillian O'Sullivan pointed to make it 0-7 to 1-11 at the second water break, but that elusive goal just wouldn't come as chance after chance came and went.
The lively O'Reilly made it a six-point game with 12 minutes remaining, but O'Sullivan squandered a great goal chance when he opted to pass to Keith Curtis when through on goals and Curtis saw the chance go abegging.
Kieran Lillis ended Laois's 24-minute barren spell with a point, but try as they might Meath couldn't get the goal they needed with O'Reilly's converted free with five minutes remaining their last score.
MANAGER'S VIEW
Manager Andy McEntee admitted afterwards that the game was most likely surrendered by a poor first-half display that showed clear signs of rustiness against a Loais side who had a game under their belt.
"We were't good (in the first-half), Laois were an awful lot better than us in that first-half they showed more appetite and more application; add that to the fortunate goal they got and that was the difference in the end," said McEntee.
"We just didn't apply ourselves particularly well. We were in trouble in too many areas in the first-half, so whether that was down to rustiness or not being at the pitch of it at the moment is hard to know."
McEntee was also left to rue several glorious goal chances that went amiss, either by fair means or foul, but he was pleased with the improved second-half display and especially with several players who answered his call to fill in at very short notice.
"We had a lot more ball in the second-half and started to control the middle of the field which we struggled to do in the first-half," remarked the manager.
"Some of the lads that came on made a bit of an impact. We brought in a couple of lads who haven't even been training with us.
"We have been struggling with a few injuries and with Covid, so we brought in Adam Kealy and he showed very well, Conor Harnan came in and did his job, so it was good for those lads.
"We were in there for a goal, two against one, but the final handpass goes astray. The last goal chance, it looked like the player waiting for it (Keith Curtis) was taken down before he could put it in the net, that's what happens in competitions like this."
While obviously frustated with the first-half performance McEntee admitted that his players need game time, but he conceded that those opportunities might be scarce ahead of the start of the league against Galway at the end of the month.
"We probably need to get more game time into fellas. Regardless of what happens on Saturday (against Wexford in Ashbourne, 5pm) we are unlikely to progress, so we have to get more game time," admitted McEntee.
"It is difficult at this time of the year. They throw in the O'Byrne Cup on top of Sigerson Cup and then we have injuries and Covid as well, so it's hard to get the right sort of game time into the players," he concluded.
SCORERS
Laois - Mark Barry 0-5 two frees; John O'Loughlin 1-0; Paul Kingston 0-1; Sean Moore 0-1 free; Brian Byrne 0-1; Danny Bolger 0-1 '45'; Gareth Dillon 0-1; Evan O'Carroll 0-1; Kieran Lillis 0-1.
Meath - Thomas O'Reilly 0-4 three frees; James Conlon 0-3; David McEntee 0-1 mark; Cillian O'Sullivan 0-1.
TEAMS
Laois - Danny Bolger; James Kelly, Trevor Collins, Alex Mohan; Sean O'Flynn, John O'Loughlin, Gareth Dillon; Kieran Lillis, James Finn; Brian Byrne, Paul Kingston, Patrick O'Sullivan; Mark Barry, Evan O'Carroll, Sean Moore. Subs - Niall Corbet for Bolger half-time, Adam Campion for Byrne, Dylan Kavanagh for Moore, Gary Walsh for Mohan all 47 mins, Cathal Fennessy for O'Sullivan 52m, Ross Munnelly for Barry 65m, Collins Ugochukwu for Dillon 70m.
Meath - Andy Colgan; Robin Clarke, Padraic Harnan, Ronan Ryan; Niall Kane, Gavin McGowan, Donal Keogan; Matt Costello, Shane McEntee; Eamon Wallace, Cillian O'Sullivan, Danny Dixon; James Conlon, Thomas O'Reilly, Joey Wallace. Subs - Keith Curtis for J Wallace, Saran O Fionnagain for Dixon, Jordan Muldoon for Kane, David McEntee for E Wallace all half-time, Adam Kealy for Costello, Conor Harnan for Ryan both 53 mins, Ethan Devine for McGowan 57m.
Referee - Keith O'Brien (westmeath).