'Have a Happy and Peaceful Christmas and we look forward to getting home in 2021'
Fr. Francis McHugh - San Antonio, Texas, USA
To all the people of Kells and county and beyond...
In these fragile times of Covid-19, let us continue to be a people of great hope as we wait in our helplessness for God becoming a helpless baby amongst us this Christmas. I pray for your families and especially the families and friends who will continue to grieve over so many losses in this year of 2020.
Chris Gillespie - Perth, Western Australia
To Betty and William Gillespie...
Merry Christmas to the Gillespie Gang! Have a happy and peaceful Christmas, hopefully we can get back in 2021 to visit, LJ is so excited to see everyone.
Chris, Aideen, LJ and Scobie
Faye Watson - Trim, Meath
To Steward, Jackie, Becky, Chris, Stephanie, Varun, Lucy and Elliot xxx
Merry Christmas to the Minte family xx we love you all so much and we can't wait to hopefully see you soon xx we miss our yearly visit this summer and when we got upset we remembered all the good times together xxx we can't wait to see you all soon xxx
Love the Watson girls. Your Irish family x
These Christmas Messages from abroad are published in the Christmas Cheer annual, currently on sale.
Karen Dettori - New York USA
To the Rennicks family, Kells County Meath
Wishing my family and friends a very happy and healthy Christmas. See you in 2021.
Michael Everard - Auckland, New Zealand
To all my Family and Friends
Happy Christmas and New Year to all my family and friends back home. A very special Christmas to big sister and brother Kate and Harry looking after baby Charlie and Ryan on their 1st Christmas.
To Seoirse, Kay O Haoda...
A very Happy and Holy Christmas to the both of you and the rest of the family.
Hayley Guy - North Carolina, USA
To the Guy family, Robinstown, The Moyles family, Robinstown, The Guy family, Navan, The Kelly family, Navan & Dunboyne...
I may not be physically there to hug you all and wish you Merry Christmas 2020 but I am sending heartfelt wishes through this message to each and every one of my family. Even though we are thousands of miles apart and we may not party together this Christmas a great feeling brings us together. It is the love we share as a family. We are bonded by our love, connected with our hearts and knotted with our feelings. Christmas is a season of great joy, a time for remembering the past and hoping for the future. Here's to better times ahead for all of us!
Olive Dowdall - Essex, England.
To my sister's and their families in Kilcarn Court and Athlumney...
Wishing Phyllis and Mick and all the family a very Happy Christmas, and also to Mary and Thomas and all the rest of the family a very Happy Christmas, missing you all very much, hope to see you in 2021, love and best wishes from, Olive, Colin Yvonne and Paul..xx
Niall Carry - Vancouver, Canada
To the Carry family, Heronstown and the Curran family in Kilberry...
Wishing I could be home this year to celebrate Christmas and to be with you all and a heap of pints with friends in Lobinstown/Woodtown on Christmas eve and a belly full of turkey in Kilberry with Nana Curran and Aunty Teresa's tiramisu. Happy Christmas to the Carry and Curran family and to all in Lobinstown. Hope to see a better new year for all.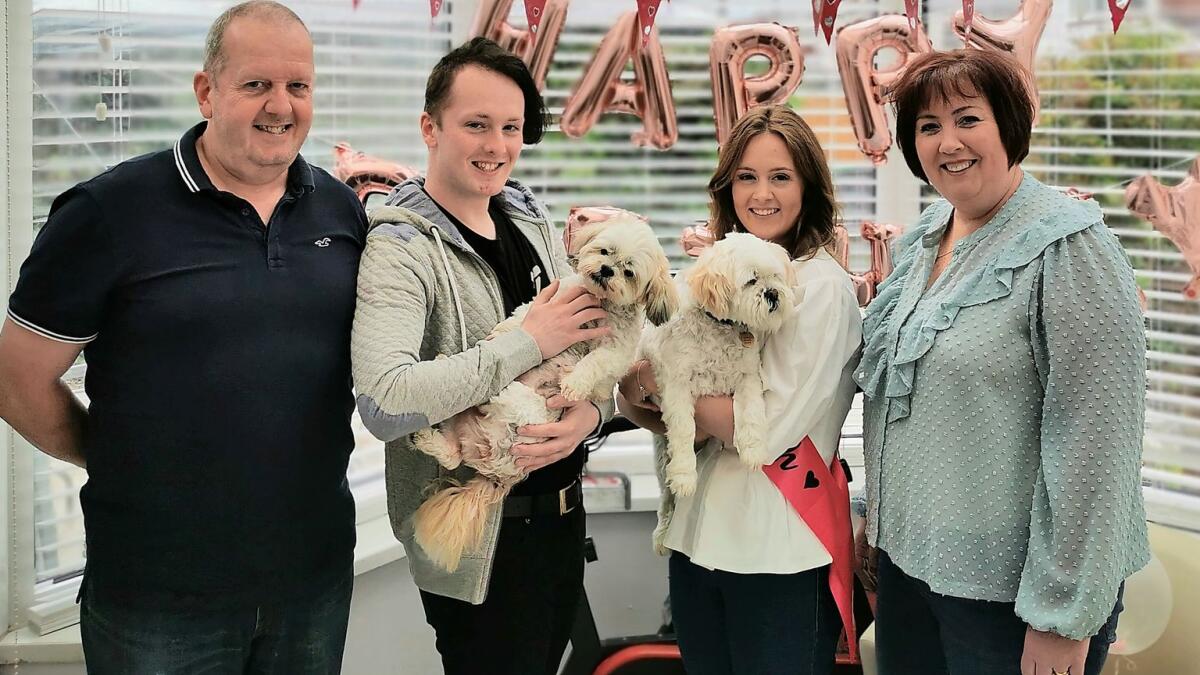 Tina Rowlands - Blackpool, UK
To John and Rose Kelly, Garadice.
After all these years of being able to just nip over whenever we wanted, even for just a day, it's been hard having that freedom taken away. We miss you so much. We wish you a Merry Christmas and a Happy, Healthy New Year with lots of visits to make up for this year. All our love and hopefully see you soon, Tina, Mark, Ciaran and Naoise xxxx
Rob Dixon - Sydney, Australia
To Edith Dixon, Kilcock Co. Meath...
Hi Mammy, Sorry we can't get over to see you this year. We'll be missing you and all the family. Wishing you a happy and safe Christmas from here in Australia.
To Alacoque, Marilyn, Linda and the regulars in Fulhams...
Wishing you all a happy and safe Christmas. Was hoping to be back there for this one. Hopefully see you all in the New Year. Love Peace and Best Wishes to all
Mary Maguire - Charleston, South Carolina, USA
To my Parents, Jimmy & Lilly Maguire in Dunboyne and all my family through Meath and Ireland...
Merry Christmas Mammy & Daddy and all the extended Maguire Clan! Missing you more than ever but hopeful that we will be together in 2021.
Love Mary, Brian, Torin & Lily-Rae
To the Carry Family (Loyd) & Murray Family (Irishtown, Balrath)
Wishing all our family & friends A Happy Christmas & A Happy & Healthy 2021.
Love from Mark, Gillian & Mia xxx
To Joe & Bridie, Selina, Eamonn, Daire & Ailbhe...
Happy Christmas & a Happy New Year. opefully next year some normality is restored and we can all meet on the Emerald Isle.
Joe, Marta, Patrick & Tom
Padraic Murphy - Melbourne Australia
To our families in Trim Co Meath and Dublin
We just want to send Christmas wishes to all our family and friends back home in Ireland. This year has been a tough one on everyone but thankfully we have all stayed safe. We also added to our family in April welcoming Ziggy.
Ali, Ziggy and myself cant wait until we can travel back home to Ireland where Ziggy can finally meet his family. We want to wish our families in Trim Co Meath and Dublin a very happy Christmas and a healthy New Year. Hopefully we will get to see you all in 2021.
Lots of love Padraic, Ali and Ziggy xxx.
These Christmas Messages from abroad are published in the Christmas Cheer annual, currently on sale.