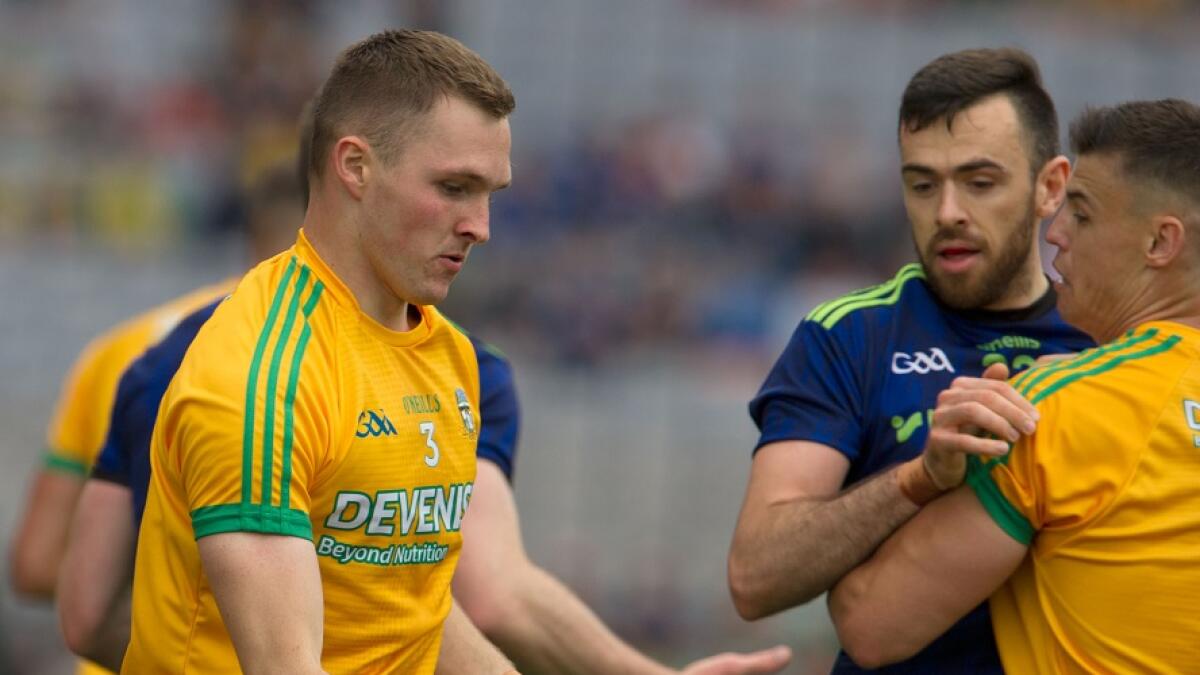 Meath edged out by Mayo
Meath were edged out by Mayo on a 0-14 to 2-17 scoreline in the second round Super 8 tie at Croke Park this afternoon.
Meath had three early chances of which one went wide , one went for a 45 that Mickey Newman lobbed into the square and Mayo cleared the danger.
Mayo then had a chance, but Fergal Boland sent his close-range effort wide.
Newman had Meath on the scoreboard from a sixth minute pointed free after Cillian O'Sullivan had been impeded.
Bryan Menton added a fine point from play from about 50 metres soon after as Meath enjoyed early dominance.
However, that changed when Darren Coen got Mayo off the mark with a ninth minute point from play.
Meath went two up again after a good move that involved James Conlon, Shane McEntee and O'Sullivan that was finished by James McEntee.
Mayo reacted smartly and two points in aminute from Fionn McDonagh had it level at 0-3 apiece.
A surge from Donal Keogan gave him a good goal chance, but Mayo's David Clarke parried and Newman reacted quickly to boot the ball over the bar.
It was level pegging again by the end of the first-quarter when Kevin McLoughlin split the posts, but Meath countered quickly with Bryan McMahon providing the final pass for Ethan Devine's opening point of the afternoon.
Mayo then enjoyed a period of dominance that produced points from Boland, Jason Doherty and Cillian O'Connor (free).
The stadium announcer indicated four minutes of added time and that seemed to ignite Meath who finished the half with a flourish for parity at the break (0-7 each) as O'Sullivan and Seamus Lavin sent over comnfidently.
More worryingly for the Meath supporters was the sight of Mickey Newman limping out of the action to a generous round of applause with Shane Walsh deputising.
Meath were more than a match for Mayo during an open third-quarter at the end of which the teams were level at 0-11 each as Walsh (three frees) and James Conlon pointed for Meath with O'Connor (three) and Boland on the mark for Mayo.
At that stage the intensity increased and Lavin pointed a goal chance with Andy Moran replying for Mayo.
Meath only managed two more Walsh points for the remainder as they squandered a number of good chances while Mayo profited more on the scoreboard with with points from Colm Boyle, Lee Keegan and James Carr before Kevin McLoughin's goal gave the Connacht men a vital edge. O'Connor also tagged on a point.
With Meath pushing forward a couple of cynical-looking challenges earned yellow card for Mayo's Brendna Harrison and Boyle, but it was Anbdy Colgan who collected a back card when his off-the-ball intervention was punished with a penalty that O'Connor converted on the rebound after Mark Brennan sved the initial effort.

SCORERS

Mayo - Cillian O'Connor 1-5 pen goal, four frees; Kevin McLoughlin 1-1; Fionn McDonagh 0-2; Jason Doherty 0-2; Fergal Boland 0-2; James Carr 0-1; Darren Coen 0-1; Lee Keegan 0-1; Colm Boyle 0-1; Andy Moran 0-1.
Meath - Shane Walsh 0-5 frees; Michael Newman 0-2 one free; Seamus Lavin 0-2; Bryan Menton 0-1; James McEntee 0-1; Cillian O'Sullivan 0-1; Ethan Devine 0-1; James Conlon 0-1.
TEAMS
Mayo - David Clarke; Stephen Coen, Brendan Harrison, Chris Barrett; Lee Keegan, Colm Boyle, Kevin McLoughlin; Donal Vaughan, Seamus O'Shea; Fionn McDonagh, Aidan O'Shea, Fergal Boland; Cillian O'Connor, Darren Coen, Jason Doherty. Subs - Andy Moran for D Coen half-time; James Carr for Boland 48m; Eoin O'Donoghue for S Coen 55m; James McCormack for O'Shea 63m; Michael Plunkett for Keegan 68m; Ciaran Treacy for McLoughlin 70m.
Meath - Andrew Colgan; Seamus Lavin, Conor McGill, Shane Gallagher; Donal Keogan, Padraic Harnan, Gavin McCoy; Bryan Menton, Shane McEntee; Ethan Devine, Bryan McMahon, James McEntee; Cillian O'Sullivan, Michael Newman, James Conlon. Subs - Shane Walsh for Newman 35 mins, Barry Dardis for McCoy 50m; Sean Tobin for Devine 53m; Thomas McGovern for Lavin 64m; Thomas O'Reilly for McMahon 65m.
Black card - Andrew Colgan (Marcus Brennan 70m)
Referee - Ciaran Branagan (Down).