A&E Crisis: Paramedic Headache...'Do we make the decision, but then get crucified for it'
Previous
Next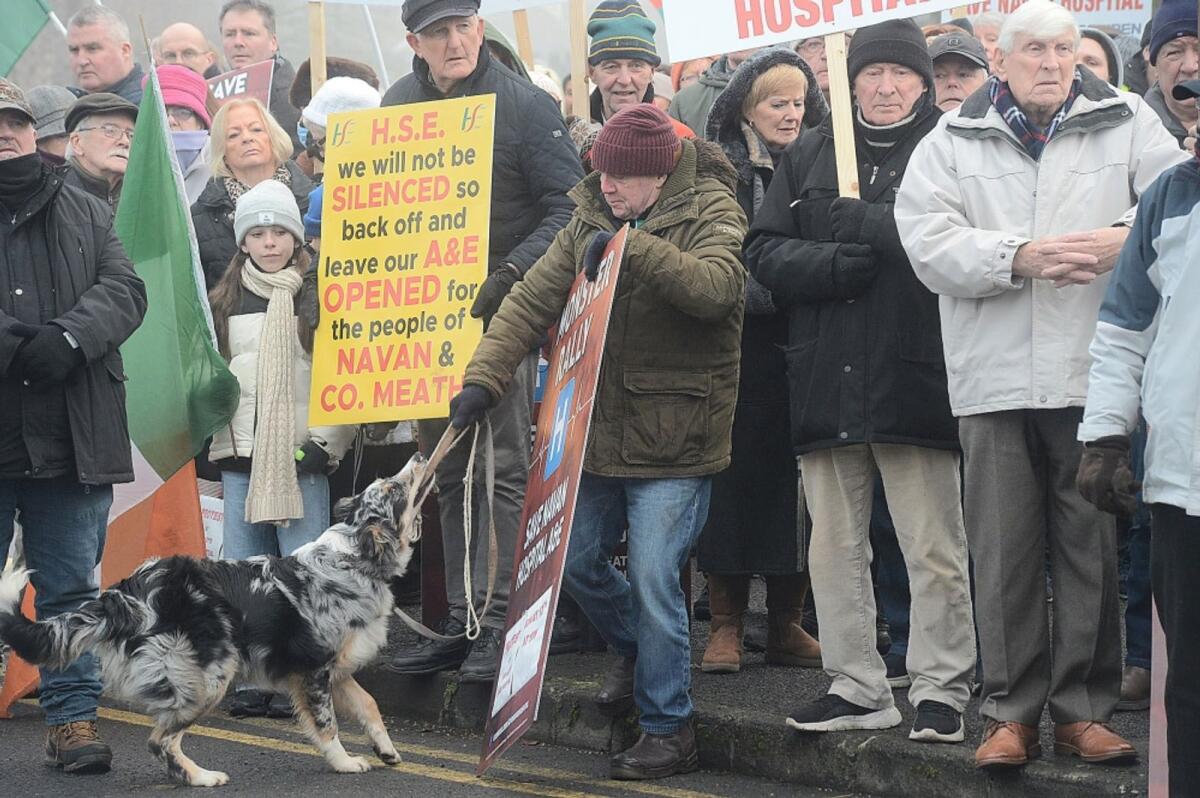 As the new ambulance protocol bypassing of Our Lady's Hospital Navan(OLHN) comes into effect tomorrow morning, a local paramedic said there is huge confusion about its implementation.
The National Ambulance Service issued a directive to paramedics last week, indicating that the new order will come into effect at 8am tomorrow morning (Wednesday).
The paramedics have been directed that patients who are "clinically unstable, potentially unstable or with any acute surgical problem" should not be brought to Navan Emergency Department.
"I'd say there are hospital registrars that wouldn't even know who we are supposed to be bringing where," said the paramedic who didn't wish to be identified.
"We just received the one written directive, they didn't sit down with us and explain what was needed.
"We are not happy. There is a lot of confusion. We don't know where we stand. Is it a case of us having to make the decision, but then be crucified for it," he said.
The directive issued to the paramedics said this new protocol is in addition to the existing bypass criteria that has been in operation.
It also states "if a doubt exists following clinical assessment as to the suitability of a patient for treatment in OLHN, in general the decision should be not to transport to OLHN."
The directive points out that minor injuries will continue to be seen in OLHN, so patients with minor injuries may be transported there."
Meanwhile the HSE confirmed they were pushing ahead with the protocol. A spokesperson said: "From 8am on Wednesday December 14th an updated ambulance bypass protocol will be in place at Our Lady's Hospital, Navan (OLHN).
"This will mean that from this time the following should not be brought to the ED in OLHN: Anyone who is critically ill. Anyone with any acute surgical problem. "This update is in addition to the existing bypass criteria already in place for OLHN covering paediatric, obstetric, major trauma, heart attack and stroke patients. Ambulances will continue to bring patients who are not in these categories to OLHN."
Meanwhile large crowds joined protests in Navan, and Drogheda against the proposals at lunchtime on Monday. Following on from another packed public meeting held in Navan last week, over 150 people held placards and banners and demanding Health Minister Stephen Donnelly order the HSE to halt plans to downgrade the ED service and reverse the ambulance protocols that come into effect on Wednesday.
At last week's meeting the campaign warned that Dublin street protests were on the table now to ratchet up action.
However confusion still reigns over the future proposals for Navan and Drogheda Hospitals, following contradictory statements in the Dail about the future of the ED in Navan last week, in response to statements and questions by Meath TDS.
Staff at Our Lady's were informed of the changed protocol in a letter from management two weeks ago.
The letter also said the second phase of the transformation would see the Emergency Department at Navan Hospital "reconfigured" to a 24 hour Medical Assessment Unit.
Health Minister, Stephen Donnelly has not made a statement himself on the controversy despite several approaches by the Meath Chronicle, but in the Dail last week, Junior Minister Mary Butler said the ambulance bypass protocol would be updated to include patients who are critically or seriously unwell or who are likely to deteriorate.
"This bypass is expected to affect a small cohort of patients who will be brought to the closest appropriate hospital for their needs. This is not a full ambulance bypass. Ambulances will continue to bring patients outside of the critically and seriously unwell categories to the emergency department at Our Lady's Hospital, Navan. This update is important to ensure that patients receive the right care in the right place at the right time," she said.
Minister Butler said that no decision regarding the HSE's proposal for the transition of the emergency department at Our Lady's Hospital, Navan, has been agreed by the Minister for Health and this matter remains under consideration.
Michael McGrath said the Minister for Health has made it clear that several important issues, including additional capacity in other hospitals impacted and the continued ability of people in the Navan area to access emergency and urgent care, need to be fully addressed before any proposed transition by the HSE. "We must look at and learn from our experience in reconfiguring other hospitals. The Minister is also opposed to a full ambulance bypass protocol," he said.
The Save Navan Hospital campaign chair, Deputy Peadar Tóibín said the heart of the problem is the HSE "who are a law unto themselves".
"It is clear that HSE management are becoming completely isolated on these issues. 17 Consultants in Drogheda, four in Mullingar, hundreds of GPs, nurses and hospital staff in Navan have all written letters or signed petitions against the actions of the HSE management".
Deputy Johnny Guirke has hit out at the continued confusion surrounding the issue.
"It's very stressful for all those ambulance workers as they now have big decisions of moving patients to one of two hospitals, following protocol from the HSE or disobeying with possible loss of jobs."
Also addressing the meeting was SIPTU Organiser John Regan, flanked by miners who said it was "of critical importance that Tara Mines have a "fully functioning A&E in close proximity.