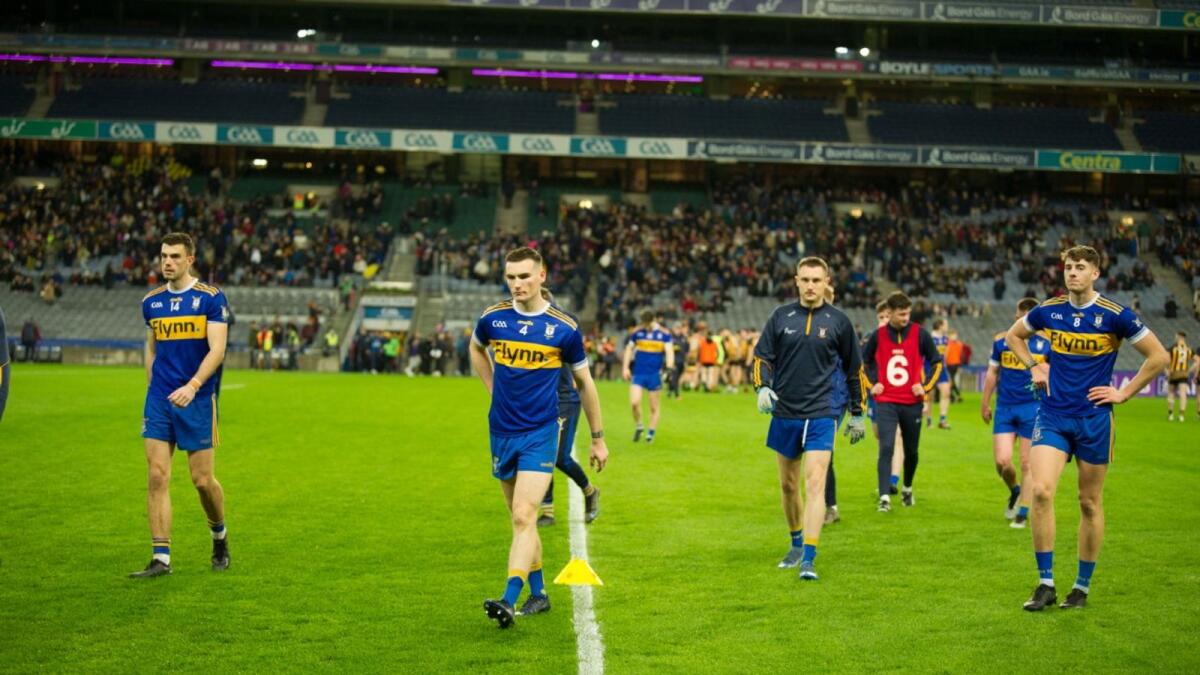 Disappointment for Ratoath
Ultimately they left themselves with too much to do and despite their fantastic finish to this Leinster Club SFC semi-final Ratoath fell just short as Westmeath champions The Downs advanced to the final with a 2-12 to 0-17 victory at Croke Park this evening.
Trailing by 0-14 to 2-12 with 56 minutes on the clock, Ratoath were given a glimmer of hope when Andrew Kilmartin picked up a second yellow card was was sent off - that prompted the throwing of the kitchen sink.
Sensing an outside chance, Ratoath started to string together the kind of football that had eluded them for huge chunks of this entertaining encounter.
The excellent Jack Flynn led the charge with a superb score and he was the driving force behind the late rally.
Daithi McGowan added two points either side of a brilliant score from Bryan McMahon and, with three of the four minutes injury-time still to be played, Ratoath were back within a point.
Dean Egerton looked to have clipped over the insurance score for The Downs in the 65th minute, but Hawkeye intervened to rule it wide - Ratoath lived on for one more chance.
They worked the ball forward where Bryan McMahon was fouled by Darragh Egerton, but the angle for Flynn's free was very difficult and as his shot from the shadow of the Hogan Stand sailed wide to the right of the Hill 16 goals it prompted the final whistle and ecstasy for Lar Wall.
Wall must have been bewildered by Deja Vu in those closing moments as memories of his time in charge of Gaeil Colmcille, when they were pipped at the post by a last gasp score in the 2019 county final by Ratoath, flooded his mind.
However, this time they held on and it is hard to argue against their win because for the majority of this pulsating contest they were the better team.
There was nothing between the sides until the third quarter when The Downs outscored Ratoath by 1-3 to 0-1 to establish their winning position. Prior and subsequent to that spell the sides couldn't be definitively separated.
Eamon Wallace opened the scoring in the opening minute before points from Niall Mitchell (free) and Ian Martin edged The Downs in front. McMahon restored parity in the ninth minute and in the next 16 minutes the teams were level four more times as Bobby O'Brien, Flynn ('45'), Keith McCabe and Cian Rogers traded scores with man-of-the-match Luke Loughlin (three) and Johnathon Lynam.
However, the signs of The Downs strength were there and they were denied a goal when Loughlin shot tamely into the grateful arms of Flynn on the line.
Five minutes after that miss The Downs did make the net dance when Mitchell's centre was parried into the path of Ciaran Nolan who finished from close range.
Ratoath's response was impressive. After Daithi McGowan (free) and Kilmartin traded points the Meath champions, and Daithi McGowan in particular, finished strong with three successive scores f(one free) to level it up for the seventh time at half-time, 0-10 to 1-7.
The tight nature of the contest continued with Loughlin converting a free before Rogers pointed after a brilliant sweeping move to restore parity, but then The Downs upped the tempo.
An error from Conor McGill gifted the Westmeath side the ball and Conor Coughlan pointed. A poor kickout almost led to the concession of a penalty, but Loughlin's claims were waved away.
However, The Downs' second goal followed in the 42nd minute when Ciaran Nolan, Kilmartin and Kevin O'Sullivan linked up to set up Mitchell for a goal and when Kilmartin added a point The Downs led by 2-10 to 0-11 at the three-quarters stage.
Points from Loughlin were cancelled out by scores from Conor Rooney and Wallace as Ratoath clung on and then all the drama unfolded after Kilmartin's sending off, but the equalising score proved elusive and Ratoath's provincial dream died in the rain.
SCORERS
The Downs - Luke Loughlin 0-6 two frees; Niall Mitchell 1-1 frees; Ciaran Nolan 1-0; Andrew Kilmartin 0-2; Johnathon Lynam 0-1; Conor Coughlan 0-1; Ian Martin 0-1.
Ratoath - Daithi McGowan 0-6 two frees, one mark; Eamon Wallace 0-2; Bryan McMahon 0-2; Jack Flynn 0-2 one '45'; Cian Rogers 0-2; Bobby O'Brien 0-1; Keith McCabe 0-1; Conor Rooney 0-1.
TEAMS
The Downs - Trevor Martin; Darragh Egerton, Peter Murray, Eanna Burke; Conir Coughlan, Mark Kelly, Joseph Moran; Charlie Drumm, Ciaran Nolan; Andrew Kilmartin, Niall Mitchell, Kevin O'Sullivan; Ian Martin, Luke Loughlin, Johnathon Lynam. Subs - Tom Tuite for Martin 53 mins, Liam Moran for O'Sullivan 59m, Dean Clarke for Drumm 61m, Dean Egerton for Kelly 63m.
Ratoath - Dara McPartlin; Ciaran O Fearraigh, Conor McGill, Ben Wyer; Brian Daly, Eamon Wallace, Gavin McGowan; Daithi McGowan, Ben McGowan; Cian Rogers, Jack Flynn, Keith McCabe; Bobby O'Brien, Cian O'Brien, Bryan McMahon. Subs - Conor Rooney for McCabe 41 mins, Padraig Byrne for Rogers 53m, Andrew Gerrard for G McGowan 54m, Brian O'Connor for C O'Brien 58m.
Referee - Barry Tierney (Dublin).