Domestic double still on for Horgan's Hoops
Previous
Next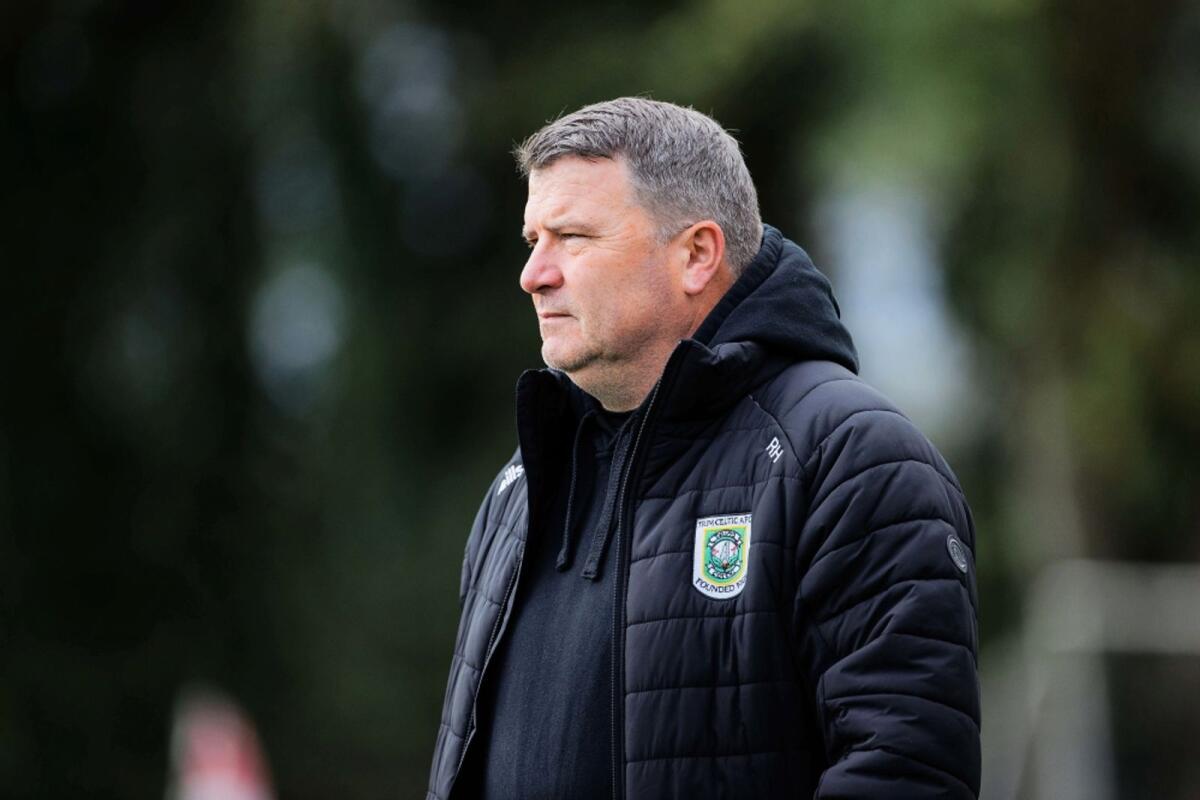 It's the problem for every successful manager as his (or her) team goes in search of success on a number of fronts. How best to juggle the resources available?
We hear a lot about teams rotating in the Premier League in England and elsewhere but it's an issue too for managers in amateur leagues such as the North East Football League. Managers like Robbie Horgan who is approaching the end of his first season as the guiding light at Trim Celtic.
Horgan has clearly done a fine job too because his team are chasing a veritable showroom of trophies. They just need one point from their remaining two games in the NEFL Premier to clinch the title. One precious point. On Sunday his team secured their place in the last four of the Challenge Cup getting the better of a gritty Robinstown side managed by Damien Sheridan.
The Hoops are also motoring along nicely in the Leinster Junior Cup and the FAI Junior Cup, competitions where winning even one round can be a formidable task.
A former goalkeeper with the great Shamrock Rovers team of the 1980s and later Drogheda Utd (as well as a few other outfits) Horgan has a deep well of experience to draw from.
Not only that he is a highly qualified coach. He knows how to get a team set up, get them ready for battle. You can see that even in the zippy, high-tempo warm up routines. As friendly and decent a man as you will meet at a local football ground on a Sunday morning Robbie is only in his early fifties but about three years ago he almost lost his life. He developed sepsis, a condition that develops when the body's response to an infection causes it to suppress its own immune system sometimes fatally. He was in a coma for a week. He was, as he told the Meath Chronicle last May, "on my deathbed."
Thankfully Robbie made it through. He decided to take up the offer to replace Alan Murphy as Trim Celtic boss when the latter stepped down at the end of last season and now the Hoops are on the cusp of a domestic double.
As he stood outside the Trim Celtic dressingroom on Sunday after his team's 3-0 victory he spoke about how it was pleasing to get to a semi-final. How he was not surprised by the indomitable, tireless nature of Robinstown's performance, how well organsied they were; how they never gave up; how his team had to work really, really hard to put them away.
He praised his own players too for their commitment to training to giving their best every week for the cause. He also gave an insight into what makes a team like Trim Celtic so successful.
He referred, for example, to how he feels it's essential to have competition for places, to have a big as squad as possible and other things besides. Nobody, but nobody can take a starting place for granted.
"We had 22 players here today and another four or five who aren't with us, jerseys are up for grabs and when you do get to wear the jersey you have to make the most of the situation because if somebody else comes in there's someone there to take your place. It's the same at the training sessions. It's healthy competition and gives me a headache, the kind of headache I want to have especially coming into the business end of the season as we are now."
He referred to how his players are "fully focused" on a possibly double without losing sight of something even more important - the next match. An old cliche yes but so true, so fundamental to success.
Robbie gave further insights to Trim Celtic's progress so far. "We have Chord in the Challenge Cup semi-final. When that comes around we'll deal with that, when the Junior Cup comes around we'll deal with that, one game at a time. At this stage of the season we do a lot of recovery sessions, we do our homework on all the teams we play, we have them watched, we have videos of them, but the lads are very hungry. They also know they have to be kept on their toes, ready."
What a battling display Robinstown put up. The odds were clearly stacked against the Div 3 outfit. They didn't lose heart, they didn't pack it in at any stage. Afterwards manager Sheridan expressed somewhat disappointed his team didn't get at least a goal from the game. They had chances, he felt, didn't take them.
There was the sense of pride he would have rightly felt at the way his forces "threw their bodies on the line." There were times when Robinstown could have wilted under the incessant pressure. They didn't. They kept believing. No manager can ask for more.
He pointed out how his team is composed of "a core of seven or eight lads" who have come up from the under-age system. They have clearly developed an indomitable espirit de corps. They stayed loyal to the bit o'red. "They are all great lads," is how the manager put it. Robinstown are not in promotion from Div 3 mainly because of a poor start to their season, they lost five and drew two of their opening seven games. Since then they have really found consistently, only losing one in 16 before Sunday. Damien Sheridan himself is someone who has shown tremendous loyalty to Robinstown FC over the years. One of the reasons why the club is still in business while others have gone off the radar.