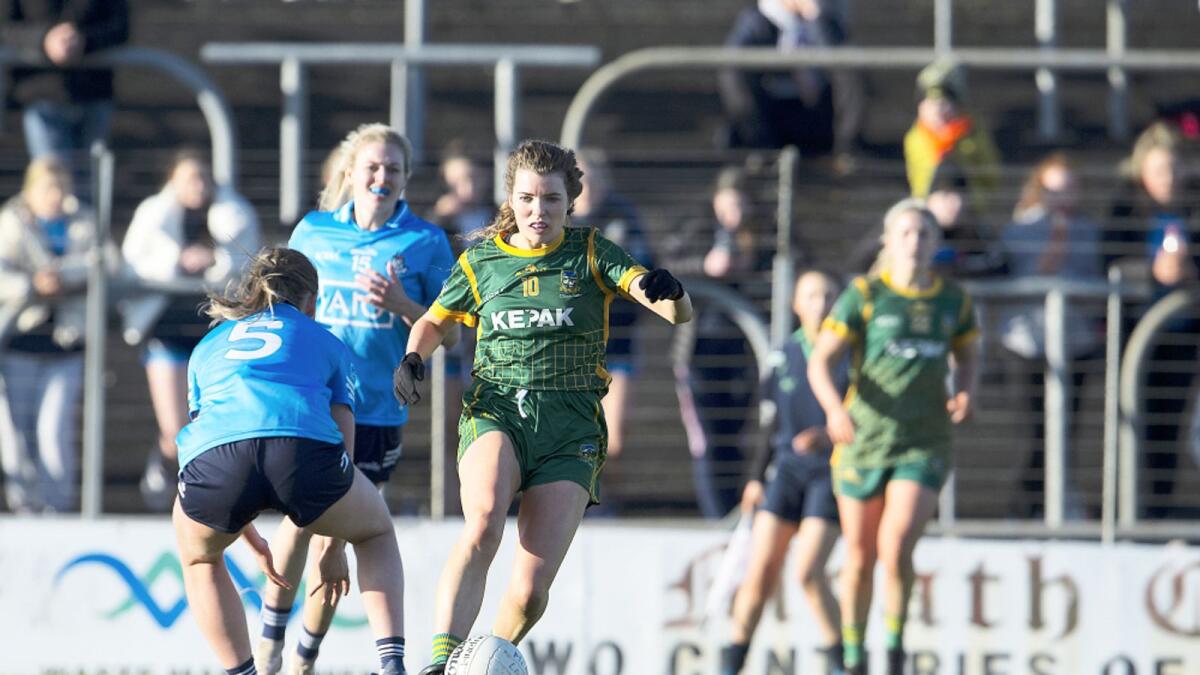 Murray sets record straight ahead of another Dublin showdown
Ahead of next Saturday's first Ladies Leinster SFC clash between Meath and Dublin since 2016, Meath manager wanted to clear up some of the controversy that surrounded comments he made prior to the Ladies NFL Div 2 final against Donegal.
In a Croke Park press conference to preview that league final Murray was asked about Vikki Wall going to Australia and he confirmed that that was the Dunboyne player's intention. He went on to express his views about the Australian Rules game which didn't go down well in some quarters.
Since then Murray, who always wears his heart on his sleeve and is open and honest when dealing with the media and the supporters, has felt remorse about what he said, especially comments made about a couple of Dublin players.
Murray insists that he mis-spoke at the press conference and didn't convey properly what he wanted to say when asked his opinion on AFLW in Australia.
The Meath manager is keen to draw a line under the controversy and insists he has nothing but the utmost respect for all the Dublin players.
"I understand why some of the Dublin players were upset at what I said before the league final, but that certainly wasn't my intention," Murray told the Meath Chronicle.
"Look it, I'm new to this level of media scrutiny since we won the All-Ireland and I wouldn't be as well versed when talking to the media as some of the other managers out there.
"I completely mis-spoke at the last press conference. I certainly didn't mean to cause offence, absolutely no way.
"Those players, Sinead Goldrick and Lauren Magee, are absolute legends of ladies football and they along with players like Niamh McEvoy and Niamh Collins are players we all aspire to emulate.
"If our girls end their careers with half the medals those Dublin girls have won then they can count themselves very lucky and they will have had hugely successful careers.
"My point about them going to Australia is that some of the country's best players are going over there and are getting injured. Then they are coming back home carrying injuries, which is disappointing for them.
"However, if the opportunity arises for them to travel the world, sample professional sport and enjoy that lifestyle then they are dead right to grab that chance with both hands and I wish them all the best of luck.
"It just goes to prove how phenomenally talented our girls are that they can go over there, adapt to a completely different sport and be the very best at it. Just look at Orla O'Dwyer picking up an All-Australia award, fair play to them.
"My only concern is Ladies football here in Ireland and with Meath. I want the best for our players. I appreciate it is an opportunity of a lifetime and fair play to them, I certainly won't be trying to put anyone off living their dream," said the Meath manager.
Not one for offending people Murray was delighted to get the chance to clear up what he really thought, but he was also eager to get back to talking about football - something he has no hesitancy commenting on.
Since talking over as Meath manager after guiding the minors to the All-Ireland B title in 2016 Murray has overseen the most dramatic revival in GAA history and has led Meath to NFL Div 1, 2 and 3 titles as well as All-Ireland SFC and IFC crowns.
Multiples of his players have picked up All-stars and Team of the Year awards along with countless other individual accolades and there remains just one trophy Murray has yet to get his hands on as Meath boss - the Leinster SFC Cup.
"You would think that after all these girls have won in the last few years that their hunger might wane, but that has not happened one iota," said Murray.
"Within a few days of winning their first Ladies NFL Div 1 title, those girls were back training harder than ever, hungrier than ever to try to win a Leinster senior title.
"They have that taste of victory and they just want more and more. The attitude of those girls is top-class and I am in constant awe of their work rate, desire, comraderies and determination every time they pull on a pair of boots.
"Whether it's a tough fitness session, a gym session or a skills session they put in total effort in everything they do and they do it with a smile on their face.
"I'm well aware that success breeds success and winning football matches helps keep those smiles on the faces, but I also believe that these girls love hard work and they do not want to let their team mates, their families, their clubs and their supporters, so they are prepared to work ferociously hard."
Obviously in awe of his players application Murray is reveling in the spotlight all these big games are bringing to Meath and he is hopeful it can only be good for the county.
"Playing Dublin for the third time in eight months, after not having played them for years before that shows just how far we have come and we are loving every minute of it," enthused Murray.
"Dublin will be up for this game next Saturday too and I think they are also enjoying this renewed rivalry between the two counties again.
"Hopefully our bit of success in recent years can rub off on the lads team. Meath needs strong GAA teams and we will continue to do our best to bring silverware back to the county. winning a Leinster would be cool, but first things first, we have to face a very strong Dublin team next Saturday night and we will be going all out to win that too," concluded the Boardsmill resident.