'Refereeing was a good way to get going again, not feel sorry for yourself'
Previous
Next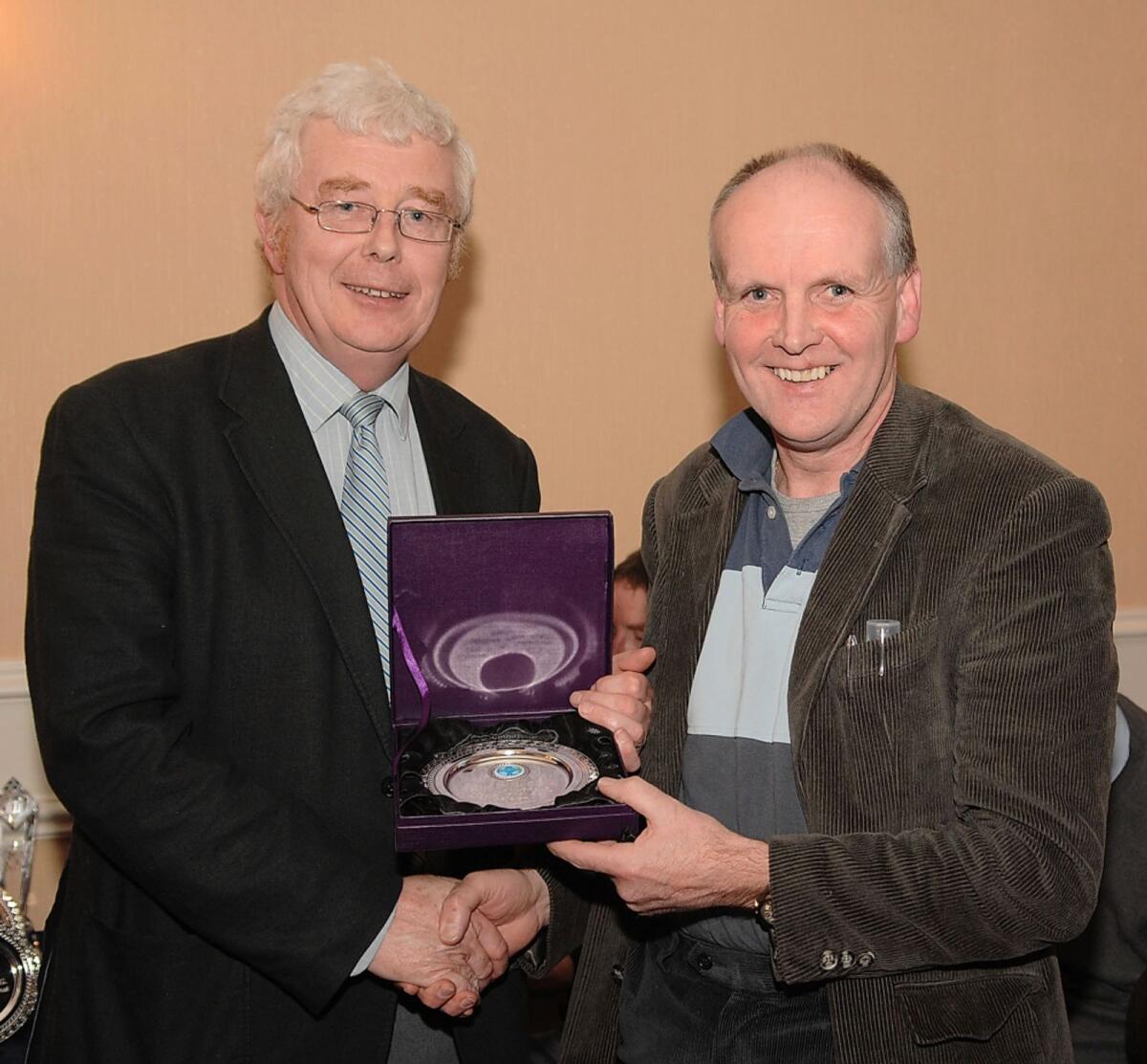 It was a special moment; emotional too. That moment when Gerry McGivney blew the final whistle for the last time and brought the curtain down on a 21-year refereeing career.
It was at the end of an u-15 girls Gaelic football game a few weeks ago between St Colmcille's and Navan O'Mahonys. He had decided some time before to hang up the whistle. He thought it was all over. Then he got a call.
"One of the mentors with O'Mahonys rang me and asked me would I do a challenge game between themselves and St Colmcille's. I said I would do it, no pressure. After the game the girls gathered around and wished me good luck, clapped me off the field, it was a nice way to go out."
He had given a lot to refereeing but it had given a lot to him too; helped him through some of the darkest days of his life.
Apart from helping someone out, Gerry McGivney took charge of the St Colmcille's, O'Mahonsy game for other reasons. His partner, Cepta Burke - who works in the St Colmcille's catchment area as the principal of Donacarney Boys National School - had wanted to mark his curtain call by getting a few photographs. Precious mementoes. She did just that; carefully capturing for posterity as the players stood around with Gerry in the middle. It was all smiles, everyone happy as the photographs were taken.
By taking charge of a game that involved a St Colmcille's team McGivney also completed a circle. Neatly. When he started out as a referee 21 years ago his first match was a game involving St Colmcille's. Only then there were no smiles, no appreciative audience to clap him off the pitch at the end of the game.
Then it was all angst and anger. Then, instead of benign congratulations and kind words, the air was filled with the jarring sound and fury of grown men venting their annoyance and irritation, if not at the referee, then at each other.
"I used to referee in the mini leagues out in Simonstown, the under-sixes, and Colum Cromwell (the renowned Meath GAA official) asked me would I do a referees course and I said I would. He said the club wouldn't get league games unless we had someone to do the referees' course, so I did. I got assigned to a game between St Colmcille's and Slane. It was on a Sunday morning, 11am. I threw in the ball but nobody was interested in football," Gerry recalls.
"A week later I met Colum and he said to me: 'Congratulations.' I asked for what? 'Oh, we only have a special investigation into the events in a game every two or three years, but you got one in your first match'."
Sitting in the offices of the Meath Chronicle recalling that story McGivney laughs heartily, something he does readily, even if it is at his own expense.
"There was a melee at the game, somebody dislocated his shoulder and I ended up sending three people off that day. My first game!. I didn't send three people off in one game ever again, most games went according to plan but that one certainly didn't. My wife June was at that game, but she didn't go to many after that.
"Somebody said to me, don't let that put you off, these things happen. They said you might be refereeing for the next 20 years and and it mightn't happen and they were right. That was the only investigation I ever had but when you do a match like that, your first match, you ask yourself: What am I doing here.?"
McGivney took the advice on board. He didn't let it put him off. He continued refereeing - and he's so glad he did.
NOBBER
From the age of 12 Gerry McGivney played football for his local team, Nobber. At 17 he graduated onto the club's first team. It was the start of a journey that had as many ups and downs as a rollercoaster ride.
"When I started off Nobber were a Junior B team but we went from Junior B right up to a senior semi-final. I played alongside Gerry McEntee, we won the intermediate football championship in 1981."
Yet it was far from a seamless progress for McGivney, McEntee & Co. There were numerous setbacks too along the way. A rocky road.
"As a referee I have taken charge of two Junior B finals, one Junior A, ladies senior final, Div 1 league, Feis Cup final, never did a men's senior or intermediate. It's a funny thing but taking charge of finals was never my goal as a referee maybe because I was defeated in six of them myself with Nobber. I would always feel great sympathy for the losing team, I knew how they felt. Some people see taking charge of finals as the be all and end all. I was happy enough to do the league finals and the championship matches."
No matter where he went football was never far away. McGivney worked as a teacher. He was based in Trim specialising in subjects such as woodwork and mechanical drawing.
"When I started in Trim it was the Brothers who ran the school, Brother Sweeney was my first principal. The Brothers pulled out, then it became a diocesan school. Then we amalgamated with the vocational school and became the Boyne Community School. So you could say I taught in three schools in the one location."
For 25 years he coached the school's senior football team, first with Fergal Giles, Trevor Giles' uncle, later with Ray Tully. McGivney utilised the football to help when it came to the classroom work as well.
"I always found sport made the teaching that little bit easier because every morning you would walk in lads would want to talk football. You'd talk football for a few minutes and then you had them with you straight away, it helped to get them on your side."
Gerry and his wife June were also busy raising their three sons - Joseph, Robert and Shane. With his job and the refereeing it was a full-on, but happy life. Then in 2012 tragedy struck, casting a dark cloud over everything. June was diagnosed with cancer. She passed away two years later. She and Gerry had been married for 34 years.
He says the staff in the Boyne Community School were fantastic in supporting him, filling in his classes when he needed to get away and take care of June. The GAA community too were brilliant, especially after June passed away.
"I did need to get out there again and refereeing was a good way to get going again, not feel sorry for yourself. The umpires rallied around me and brought me out for a drink, a chat. They'd say we'll see next weekend, there was no time to feel sorry for yourself, they all rallied around."
The comraderies, the craic, the banter Gerry McGivney experienced with his umpires is one of the chief reasons why he's glad he stayed refereeing. Strong, genuine friendships were forged. They remain strong.
"I've had the same team of umpires down the years, Jim Reilly, Jim Campion, Pat Quinn, Benny Laverty, Peter Matthews, Johnny Doonan, I never had any problems getting umpires, great men, great people. They are the unsung heroes of the GAA, they give up their Sunday afternoons. You do need people to watch your back because there are always little things going on in a game."
Never physicially assaulted McGivney has heard from time to time, harsh words directed at him from outside the wire.
"It didn't bother me. You'd hear what they were saying but they clearly never read the rulebook. If there was one thing I didn't like was togging out at this time of the year, in freezing rain."
Yet, while he heard the harsh words from time to time, more often than not he was thanked for his efforts.
There were few things he liked better than going out on a pleasant summer's evening and refereeing a game. He recalls how one June evening he was assigned a match involving Meath Hill and Ballinabrackey in Meath Hill. Because of the distance the 'Bracks had to travel the game didn't get underway until it was 9.30. He understood.
A few years after June passed away Gerry met Cepta Burke and next January they are to be married. They have plans to travel, do some hikking and walking. It seemed a good time for Gerry to give up the refereeing. So when he brought it all to an end with that u-15 girls game between St Colmcille's and O'Mahonys it closed a chapter in his life. A very significant chapter.
A chapter that had its moments of angst but mostly fond memories and hearty laughs too.