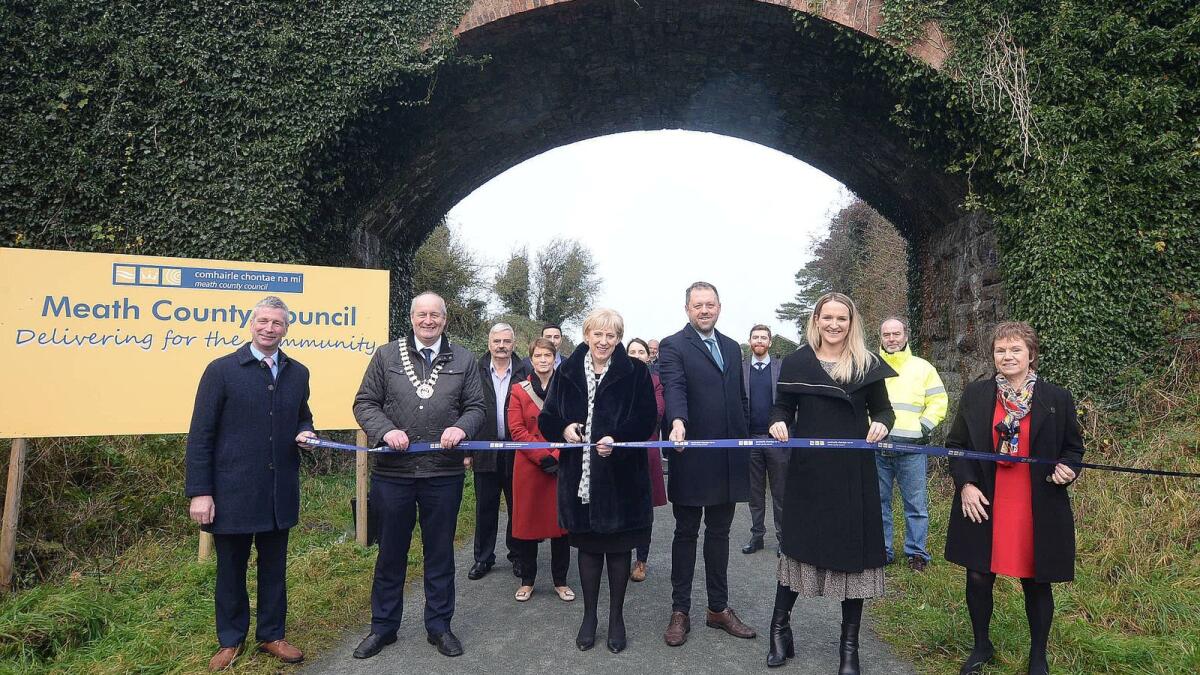 Funding boost of €500,000 as greenway officially opened
Rural and Community Development Minister Heather Humphreys officially opened the Nobber Greenway on Monday and brought more good news for the project with the announcement of an additional €500,000 in funding.
It is one of 84 projects nationwide to benefit from €15.5m in funding announced by Minister Humphreys while in Nobber, under the Outdoor Recreation Infrastructure Scheme.
WATCH: Offical opening of the greenway and news of more funding for outdoor recreation projects with €900,000 for Meath
There are two short sections at Nobber and Castletown completed on the Boyne Valley to Lakelands County Greenway, which is being developed along the old Navan to Kingscourt and the funding announced will be used to develop the section between Castletown and Wilkinstown.
Funding is already in place for the remaining sections to link the greenway all the way from Navan to Nobber, with work recently starting between Wilkinstown and Gibbstown.
Other local projects to benefit from the ORIS funding include €200,000 for the Drumconrath Walking trail which will see a footpath constructed to link the village with the GAA club, while Ribbontail Car Park Amenity in Longwood will receive funding of €152,000 for a car park and public lighting at the access point for the Royal Canal Greenway.
A sum of €39,900 has been approved for the Laytown Riverside Park for detailed planning and design for a park adjacent to the mouth of the River Nanny and Laytown beach, under the scheme's project development measures. Six projects also received funding under the smaller grants section which is for sums up to €20,000.
Also at the official opening of the greenway and the funding announcement were local ministers Helen McEntee and Thomas Byrne as well as Meath County Council Cathaoirleach Sean Drew, Meath County Council Chief Executive Jackie Maguire, Orla Carroll of Fáilte Ireland, council officials and local councillors Eugene Cassidy, Mike Bray, Sarah Reilly, Paul McCabe and Michael Gallagher. Tributes were paid to local councillor Eugene Cassidy for all his hard work on the project with Minister Humphreys joking that Cllr Cassidy must have had her on "speed dial".
"I have probably heard more about this project than any other project that my department has funded this year. You can thank Eugene Cassidy for that as he has me on speed dial. It is a great project and it is great to get out and see firsthand the kind of projects we are funding under outdoor recreation infrastructure scheme. Covid has given us all a newfound appreciation of our outdoor amenities and the benefits that they provide in terms of our physical and our mental wellbeing and projects like this in Nobber are not just places where we can go for a run or a cycle, they are places where the family can come together and we can come and meet our friends. They really have become social outlets for so many over the past two years."
"It's always a dangerous thing for a Minister to come to places like Meath emptyhanded, so before I officially open the greenway, I have some further good news to bring to you all," said Minister Humphreys as she announced €15.5m in funding for ORIS projects across the country, including €500,000 for the greenway.
"Every county in Ireland will benefit including €900,000 for County Meath. €500,000 of this funding is for the development of the greenway between Wilkinstown and Castletown and this link will link the existing sections of this greenway delivering 18km of greenway from Navan to Nobber and now that it is in Nobber, it is going to go to Cavan and I have no doubt it will go the rest of the way to Monaghan."
A delighted Cllr Cassidy said: "It is a fantastic day. It is great to have the Minister here to officially open the greenway. It's phenomenal to have the announcement of €500,000 which will do from Wilkinstown to Castletown and that means we have funding to do the whole way from Navan to Nobber. Then the next step is from here to Kingscourt."
Minister McEntee also paid tribute to Cllr Cassidy's work saying his vision and relentless work had brought the Boyne Valley to Lakelands County Greenway to life.
She commented that Cllr Cassidy had a path worn for every single type of application going and that the greenway would not have happened without him.
"It has taken a long time to get to this point but all good things come to those who wait and we really have seen things develop in particular over the last two years with the development of the two local loops, which were really perfectly timed given the need for people during Covid to be able to walk and use local amenities," said Minister McEntee.
Meath County Council Cathaoirleach Sean Drew said the greenway is proof that the investment programmes that Minister Humphrey's department administer, deliver tangible benefits for local communities across the country and he highlighted the benefits, especially during lockdowns.
He said it is a fantastic amenity to the village and the area and there were great ambitions to extend it further even beyond county Meath. He also thanked members of the local Nobber committee for their commitment and hard work in realising this project and also maintaining the greenway.
The next phase of the project which funding is being sought for is from Nobber to Kilmainhamwood and on to Kingscourt which will complete the 30km greenway but there are hopes that it could be developed further into Monaghan in the future.
Minister Humphreys said she was "absolutely committed" to investing further in the greenway. "€35m has been announced this year and next year more funding will be made available for outdoor recreation.
"Rome wasn't built in a day but I am absolutely committed to bringing it on to Kingscourt and into Monaghan."
There was also a special appearance by Minister McEntee's baby son Michael who came along after the opening with dad Paul Hickey. Seven-month-old Michael had smiles all round and was clearly loving all the activity and attention.