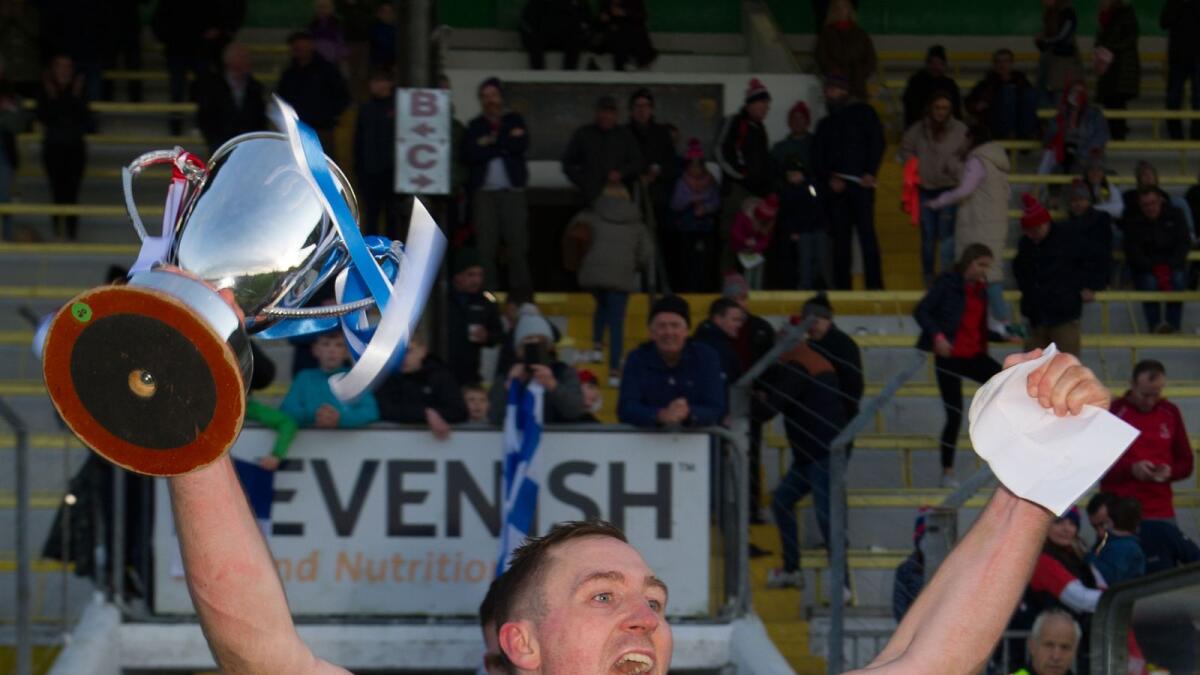 Boardsmill bounce back, but do it the hard way
Junior 2 consolation for Drumree
Somebody should have called the Gardaí to Pairc Tailteann this afternoon after Boardsmill robbed Drumree of the IHC title in a thrilling conclusion to a slow-burning final that ended with Vinny Guy's men stealing a 4-12 to 1-14 victory in extra-time
All joking aside Drumree must be scratching their heads this evening wondering how they let a six-point lead with six minutes remaining slip from their grasp as they allowed Boardsmill snatch a late, late goal to force extra-time.
In the additional period Boardsmill punished the deflated Drumree men to claim the crown, but such an outcome looked unlikely as they trailed from minute one to minute 62 before Fergal Flattery fired a wonder goal to draw his side level, 2-10 to 1-13.
Captain fantastic Neil McLoughlin fired Boardsmill into the lead for the first time in extra-time and they never looked back as McLoughlin added another two points before Danny Dixon bagged his second goal of the contest to put the issue beyond doubt and spark wild celebrations for the Boardsmill supporters.
SCORERS
Boardsmill - Danny Dixon 2-2; Fergal Flattery 2-1; Neil McLoughlin 0-5 two frees, one '65'; Liam O'Brien 0-2 one frees, one '65'; Thomas Leonard 0-1; Stevie Gibbons 0-1.
Drumree - Sean Doyle 0-5 three frees, one '65'; Josh Wall 1-2; Cathal McCormack 0-3; Kevin Bawle 0-2; Sean Kilcoyne 0-1; David Reilly 0-1.
There was some consolation for Drumree today as they didn't leave Pairc Tailteann empty-handed following their second string's 2-7 to 0-10 J2 HC final extra-time win over a fancied Kildalkey side.
The concession of soft goals and a litany of poor wides, 15 in total, proved to be Kildalkey's downfall, but Drumree deserve huge credit, and in particular the excellent Caoimhin King, for producing the perfect defensive display to claim the crown.
Kildalkey started well and hit the first two scores of the contest, but Brendan Walsh's goal settled Drumree and by half-time Conal O'Sullivan's similar strike had secured a 2-3 to 0-6 interval lead.
Paul Fagan helped Kildalkey draw level, 0-9 to 2-3, by the 56th minute and with Drumree failing to score in the second-half Kildalkey forced extra-time.
Neil Mangan ended Drumree's scoring drought early in extra-time and when they got in front they stayed there as Liam Shanley and Shane Troy saw them over the line.
SCORERS
Drumree - Brendan Walsh 1-0; Conal O'Sullivan 1-0; Stephen Doyle 0-2 frees; Mark Devaney 0-2; Neil Mangan 0-1; Liam Shanley 0-1; Shane Troy 0-1.
Kildalkey - Paul Fagan 0-4 two frees; Thomas Reilly 0-4 frees; Ger Geoghegan 0-1; Andrew Fagan 0-1.
Be sure to get you Meath Chronicle on Tuesday evening for full match report and details.