Motoring: Age no barrier to electric Mercedes
Previous
Next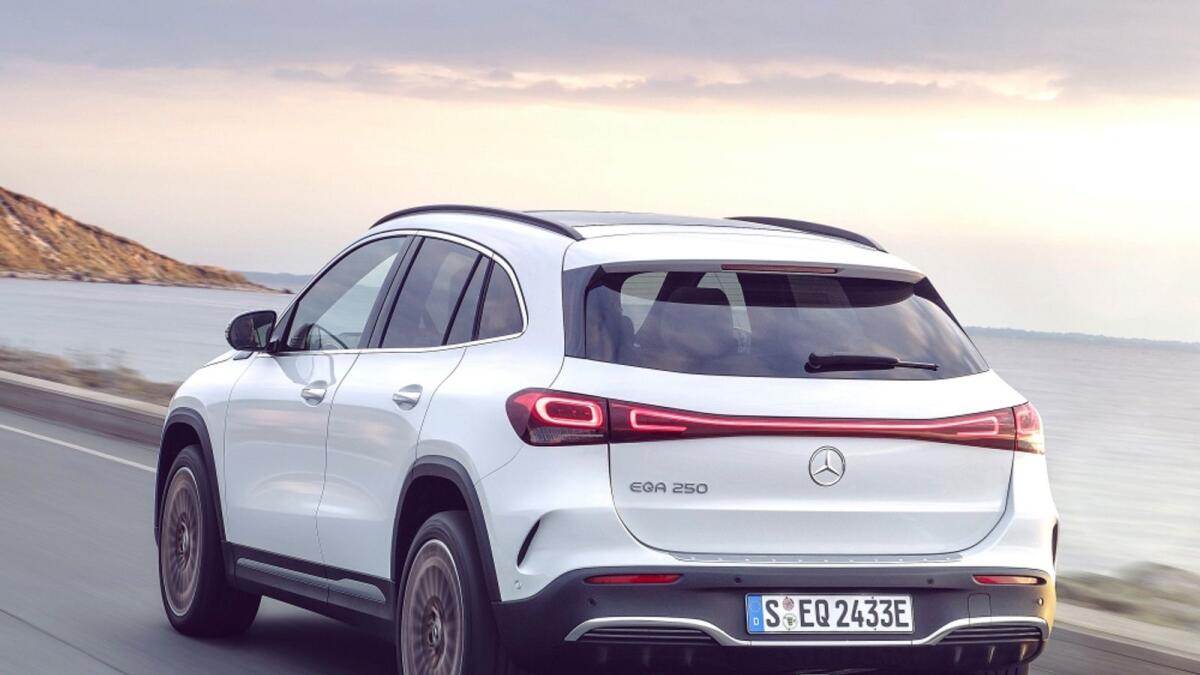 I dislike typecasting, especially when it comes to cars. Age should have nothing to do with what kind of vehicle anyone aspires to.
And I consider it silly when a car company goes out of its way to target a specific audience.
Of late, I would have said Mercedes-Benz has been pretty successful in winning favour with the younger generation, recent evidence of which was when I saw a young lady in her early twenties take delivery of her new A-Class.
Mercedes cars today are regarded as being more attractive to younger motorists than some years back when Mercs were mostly purchased by more mature drivers.
Mercedes-Benz's strategy in recent years has been to create attractive new cars across a wider spectrum, thus winning many young hearts and minds.
There is no need for the German carmaker to say it has its sights set on the younger generation of eco-conscious motorists with the arrival here of the company's new EQA, the all-electric version of the popular compact A-Class range. This is a car that will appeal to any age group which wants to do its bit for the environment.
With its GLA-styled SUV body, the EQA's fully electric pedigree is evident in its distinctive Mercedes EQ appearance. At the front, its black panel grille and star, EQ blue headlamp strips and distinctive fibre-optic strip running along front and rear reveal its Mercedes EQ family membership.
Other traits hinting at its electric character are found inside the EQA. These include backlit trim decorative elements on the ventilation outlets, seats and key.
It's a beautifully built and stylish car that is likely to appeal to a wide customer base, not only because of its electric credentials but also because of its practical size.
Aware that low wind resistance equates to high efficiency and the promise of greater range, Mercedes worked creatively to achieve a 0.28 Cd value. Features that have helped achieve smooth airflow over the body include front and rear aprons, a smooth underbody, closed cooling air system and wind-optimised 18" wheels and spoilers.
My test model was badged as the EQA 250 'Progressive', but other versions Mercedes-Benz has in the pipeline are all-wheel-drive models with greater power and which come with a driving range above 500km.
Mind you, the range on the EQA 250 itself is not bad. Offering a WLTP (Worldwide Harmonised Light Vehicle Test Procedure) range of 423km, I suffered no panic attacks worrying whether I had sufficient power to get to my destination and back over the many journeys undertaken during the course of a week's test-drive.
This lavishly equipped SUV has a 66.5kWh HV battery built into its floor that powers a single electric motor found under its bonnet.
Driving the front wheels and capable of delivering 188bhp and 375Nm of torque, this automatic Mercedes will cover 0-100km/h in 8.9 seconds while its claimed top speed is 160km/h.
It starts off with a rather subdued type of pedestrian-warning system, but a greater hum - even a low growl - develops at speed. By keeping a close eye on the car's monitoring system and using the range of regeneration adjustments carefully, it is easily possible to select a level of energy recuperation that will give good mileage returns.
The best I could get - and this was me rising to the occasion and putting my brain in eco mode - was just short of 385km.
The EQA offered a lovely, refined drive over the mixture of surfaces on which I travelled. It proved comfortable and reassuring in its handling and the high driving position gave me a commanding view of my surroundings.
In keeping with other Mercedes-Benz models, standard specifications on this car includes Mercedes's own MBUX User Experience infotainment system and 'Hey Mercedes' voice control driver assistance feature that will bring your phone, navigation and radio to life by just calling out.
The interior of the EQA is lavishly equipped and everything looks very well-applied. From the supportive and sumptuous-looking Artico beige leather seating, through the car's many safety items, to its heat pump which uses waste heat from the electric motor to warm passengers, this Merc is a joy to drive – no matter what age bracket you may fall into.
Price: €57,546.