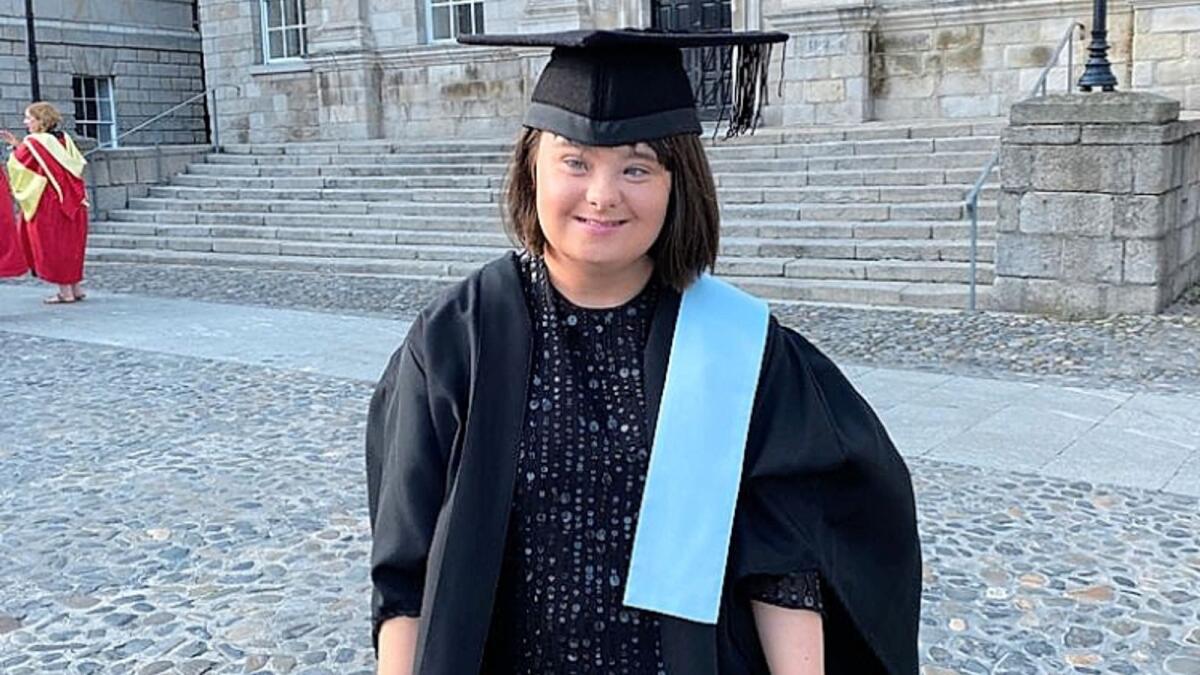 'It was such a proud day watching Julie graduate'
A PROUD Trim mum who once feared her Down Syndrome daughter might not get the chance to attend school says she was "over joyed" when the young woman graduated from Trinity College earlier this month.
Lynda O'Brien's daughter Julie (22), successfully completed her two year course in Arts, Science and Inclusive Applied Practice and reaped the rewards of her hard work with a graduation ceremony in the world famous college last Thursday.
"She surpassed all of our expectations and took the opportunity with both hands" said Lynda who works in Trim Castle Hotel.
"When she was young the first thing you think about is, will she make it to school will she get to do the same things as other children her age?
"It was such a proud day watching her graduate.
"She loved her time in Trinity and it gave her so much independence it was beyond belief.
"She made lovely friends, she is a people person and loves company.
"She works at weddings in the hotel and she's brilliant, it took her a few years to learn it but now she goes in like everybody else."
Julie is currently working as an intern with the communications and legal teams in Optum Ireland. Optum is part of the United Health Group a global company and is a business partner of the Trinity Centre.
The young woman has learnt many new IT skills as working virtually. She has met many new colleagues from Ireland the UK and the USA and has managed charity events and raised much need funds for The Sunday Pittza Club and Irish Guide Dogs for the blind.
The Internship has been virtual so far but she is starting to work from the Dublin office this week.
Julie who attended St Mary's Primary School and Scoil Mhuire secondary School says she never thought she would get the opportunity to go to college with her two cousins and fit in so well. She added:
"It really was such an amazing experience. Having a disability is not always easy but when you have the support of your lecturers, family, extended family and some very special friends anything is possible."
Julie's mum Lynda says it's important to highlight that even though someone has a disability does not mean they cannot achieve great things and follow their dreams. She added:
"It's about the people that are out there too, the company that have taken her on and the time they are spending with her and that's amazing and society seems to be progressing that way which is a great sign."