Reopening Meath: Businesses welcome their customers back
There was excitement and relief across Meath yesterday as customers flocked to hairdressers, barbers and beauty salons, and went shopping by appointment.
Hairdressers across the county were in huge demand as they reopened after four months of closure.
At Jenny's Hair Design in Navan's Railway Street the atmosphere was electric.
"People were just so glad to be back. They were so delighted, they would have been kissing us if it wasn't for social distancing," laughed proprietor, Jenny Fitzsimons.
"There were some serious mops of hair coming into us and we were welcomed back with chocolates and flowers.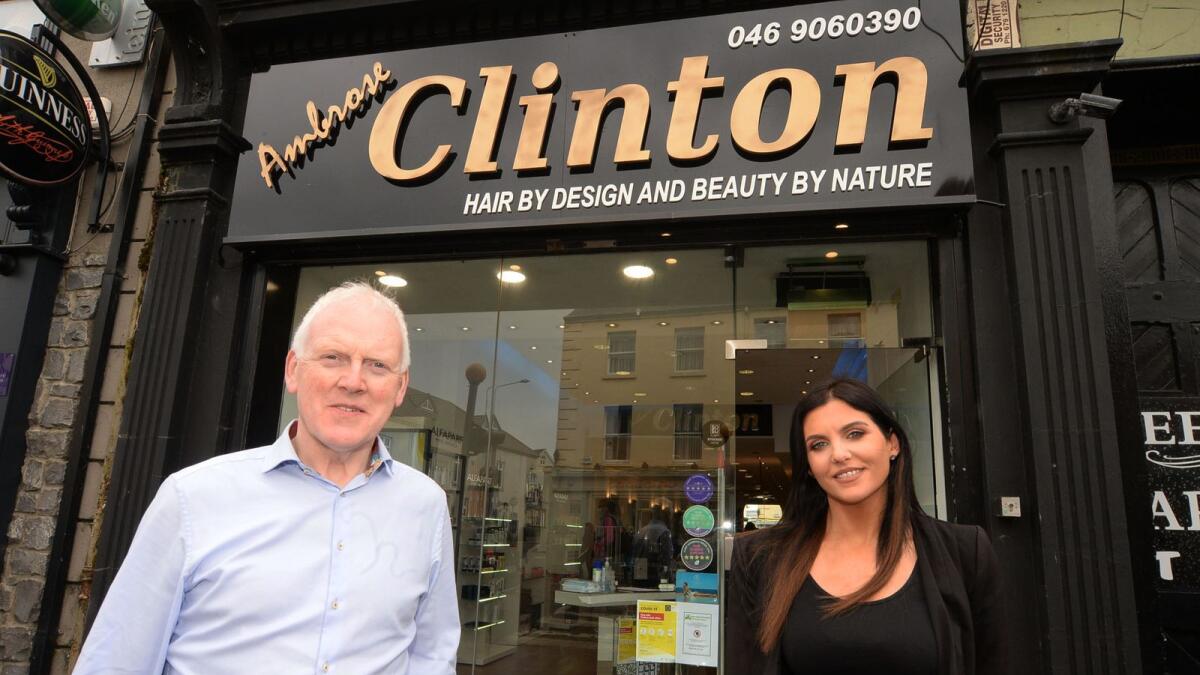 "We were very busy and will be for the next few weeks."
Ambrose Clinton's salon on Trimgate Street was also extremely busy.
"People were very anxious to get back and we are fully booked for the next two weeks," he said.
"We phoned all our people over the past two weeks, when we knew when we would be reopening and booked them in, so we were well organised.
"Reopening the salon this time was very much simpler than after the first lockdown, as we already have everything in place.
"We are lucky in that we have oodles of room, hand sanitisers, our customers fill in the forms, we take their temperatures. We put all their stuff in a plastic bag which they bring with them to their stations.
"We are very happy to be back. We are very busy, but its great. We were closed for 20 weeks altogether. It was a long time."
Retail outlets, who are preparing to reopen fully next week, were open for click and collect and shopping by appointment from yesterday.
Again, there was great excitement as people were anxious to get back shopping after four months.
Pat Mullaney of Navan Shopping Centre said the shopping by appointment was being done in a very controlled environment.
"Penneys have had shopping by appointment and they have 73 people allowed in per hour. It is working well. They are allowed in on the hour and must be out again ten minutes before the hour.
"There were queues of about 40 or 50 waiting to get in for their appointments, but these only last four minutes or so.
"People were in great humour, very happy to be out and about".
Joan Donnelly was one of those who booked a shopping appointment in Penneys.
"It was great to be out and about and I got my few pieces. The girls there were lovely. They were pleased to be back and I was delighted to see them.
"It was great to be able to go in and see the clothes.
"I don't like shopping online and have to rely on my daughters to do it for me," she said
David O'Shaughnessy of McKenna man in Navan Shopping Centre said click and collect business was going well and they had sold a lot of gift vouchers on Monday, their first day open for click and collect.
He explained that the shopping by appointment had been limited to wedding hire customers.
"While a lot of weddings have been cancelled, they are others still going ahead. There were a lot of anxious customers who wanted to get in, so they've made appointments which will help settle their nerves," he said.
He said he couldn't wait until next Monday when they can welcome back all their customers.
"We are excited and we are ready. We are well stocked with new spring and summer arrivals," he said.
- See more Meath Re-opening pictures in this week's paper