Reilly was the last link with a Leinster final success
In part one of this interview with Graham Reilly the St Colmcille's man explains why it was the right time to call a halt to his inter-county career, his disappointment with how it all ended and how the game changed from when he first pulled on the green and gold.
Image 1 of 5
Image 2 of 5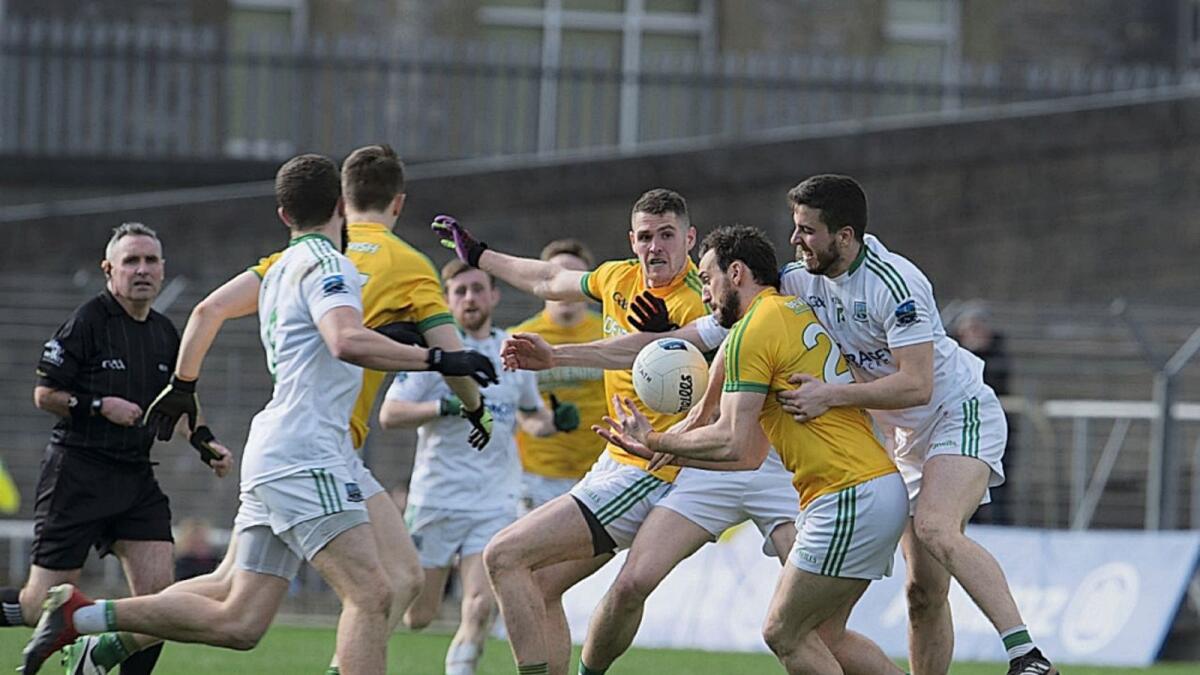 Image 3 of 5
Image 4 of 5
Image 5 of 5
Previous
Next
Graham Reilly's announcement to draw the curtain on his days as a Meath footballer broke the last remaining link between the 2019 panel and the side that last claimed a Leinster SFC title for the county back in 2010.
Even though Reilly didn't feature for Meath in 2020 he was still available to Andy McEntee for selection, but with Covid-19 limiting his chances to impress the Meath manager with his club, the St Colmcille's man didn't get the call back and has now decided to give up the ghost of ever representing his county again.
Reilly was the last of that Leinster SFC winning team to call time on his Meath career and while he was disappointed to miss out on inclusion on the panel for 2020 the 31-year-old attacker admits he doesn't see a way back into McEntee's plans at this stage of his career.
"I met Andy at the end of 2019 ahead of the 2020 season and he informed me that I was going to be omitted from the panel, but that I would be closely monitored with my club," Reilly told the Meath Chronicle.
"I went away then determined to concentrate on the club and do my best for them and see where that would take me.
"So at the start of 2020 I thought I was moving well, we had a couple of Feis Cup games and I played well and scored highly, but then Covid hit so that was the end of any chance I had of making it back.
"I haven't really heard from Andy since and after Christmas I just decided to take the matter into my own hands and call time on my Meath career.
"I have nothing against Andy at all, I have a lot of respect for the man and I get on very well with him, so I just took it out of his hands and said that time is up for me," said Reilly.
The writing was on the wall for Reilly during the 2019 season when his appearances were mostly limited to cameos off the bench, but the St Colmcille's man felt he was making enough of an impact in the latter stages of big game to warrant his inclusion again.
Despite a rare start in the Leinster SFC final against Dublin, Reilly was back on the bench for the All-Ireland SFC qualifier against Clare and for the first game of the Super 8s against Donegal, but in both games he made an appearance off the bench.
So it came as a major surprise to the experienced Meath attacker not included in the matchday 26 for the second Super 8s game against Mayo and he removed himself for the extended squad for the final game against Kerry.
"I was surprised to be told at the end of 2019 that I wouldn't be involved in 2020 because I thought I was doing well, especially in the league campaign," reflected Reilly who produced several match winning performances as a substitute during Meath promotion drive from Div 2.
"That was probably the first year since I broke into the team that I wasn't getting regular game time and regular starts.
"Of my 12 years with Meath I was a regular starter for about 10 of them, unless I was injured or if I had a dip in form I always expected to start, so 2019 was a bit of shock for me.
"I was frustrated not to start the first few league games in 2019, but Andy and the management team were happy with the impact I was making when I came in. They explained that the team was settled and it was hard to change it. It was hard to argue with that because the lads were winning games.
"We ended up being promoted to Div 1 so that was a good team. There were a few games, probably the Kildare game and the Clare game in Ennis where I got the goal, that my performances were as important as anything else.
"In 2019 I started just two games for the whole year. I played an O'Byrne Cup game against Longford in Ashbourne, the day before the Sean Cox charity game. I thought I played well in that charity game against Dublin when I kicked three or four points, but I just didn't get a look in after that.
"There was a time between the Clare game and the last league game when Ben (Brennan) got injured and I thought that would be my opportunity, but I was still named on the bench. I accepted that that was going to be my role.
"It was difficult to motivate myself to get on the edge at training and get better and fitter, because I felt I wasn't going to start and I was only going to get 20 or 25 minutes unless something major happened.
"There were a few of us like Mickey Burke and Sean Tobin who were in our 30s and it was frustrating not to be getting much game time, but I stayed on for all of 2019 just to help the team and the county and to help us push on.
"The impact I was having coming off the bench was nearly always a positive one, so I stuck with it because I felt I was contributing to the team and the results.
"When it came to the Super 8s I didn't even make the panel for the Mayo game, that was hard to take because I believed there were games during the year that I helped turn for the team and I felt I could still do that in the Super 8s.
"That was when I decided to step away for a couple of weeks. I wasn't there for the build up to the Kerry game so I wasn't included then either because it got too frustrating for me.
"To be omitted then from the panel altogether for 2020 was disappointing because I expected Andy to challenge me to stay in the panel rather than omit me altogether, but that didn't happen," said the St Colmcille's man.
Since first coming onto the senior scene as an extended panel member in 2007 and finally making his big breakthrough in 2010 Reilly has widely been regarded as one of Meath's most stylish and dangerous players.
His form led to plenty of accolades and he was twice recognised with Allstar nominations and a young-player-of-the-year nomination.
However, as the tactics of Gaelic football changed in recent years so to did Reilly's game and much of his natural attacking flair and ability to turn a game on its head was dulled by a necessity to play with a more defensive mind.
"The game changed a lot from when I first came into the county set-up in 2007. Back then there was no real defensive strategies," recalled Reilly.
"2010 was my first proper year when I was starting regularly, you had to do your defensive duties, but as a wing-forward back then I was expected to be scoring, not to be setting up play.
"I always considered myself as a scoring forward, so if I wasn't getting two to four points a game I was getting frustrated with my performance. Back then I wasn't looking at how many turnovers I got or how many tackles I made, I was judging myself on my scoring contributions.
"However, in the last few years, under Mick O'Dowd and then Andy, the game changed and so too did the role of a wing-forward. Wing- backs are now bombing forward at every opportunity, so if I didn't track him back I would get it in the ear.
"My Dad used to say to me that I can't be expected to score three or four points in every game if I am going to be tracking back and picking up ball from the full-back all day.
"My role didn't change on purpose, it was more that the game changed. The teams we were playing were attacking from a lot deeper so the role of the wing forwards was to track back and win more breaking ball.
"Look back at 2010 when Seamus Kenny was at 10 and I played at 12. Seamus would have done all the dirty defensive work tracking back, while I was getting the plaudits for sticking the ball over the bar, but a lot of that was down to Seamus and lads like Brian Meade who were grafting all over the pitch.
"In my first year under Andy I was playing in the full-forward line, but drifting out to operate as a second centre-forward and there were times when that worked well.
"When I was captain of the team in 2017 and I played in that role I scored seven points from play against Clare in Ennis and we played Louth in the championship and I did the same again in the exact same role.
"However as the championship moved on teams copped on to what I was doing, so I was easier to mark because they just compacted their defence around the centre-back position," said Reilly.
TOMORROW - In part two of the interview Graham Reilly reflects on his happiest memories in a Meath jersey, his biggest regret from his 12 years playing with Meath and what he believes the future holds for the county's footballers.