"If I focused on all of the struggles I face everyday I would always have something to complain about."
An inspirational young Dunshaughlin man who became paralysed from the shoulders down after suffering injuries in a freak swimming accident on holiday in Portugal in 2012 has spoken of how after facing such adversity he is now helping others to overcome challenges in their lives.
Jack Kavanagh (28) was working as a lifeguard and windsurfing instructor when he went on holiday with friends to Portugal in 2012 before starting his second year studying pharmacy in Trinity College.
He was enjoying the water and diving into the waves all day, but on the last dive he hit a hidden sandbank and snapped his neck.
Jack's injuries resulted in him being quadriplegic and admits he "had to learn to do everything from scratch again."
Now working as a life coach, speaker and facilitator, the Dunshaughlin man has launched "The Only Human Podcast" where he and guests discuss how "everyone is both a masterpiece and a work in progress."
He is also relaunching his award winning Amazon Prime documentary "Breaking Boundaries," a TV show that sees him and some close friends embark on an adventure trip around the West Coast of America.
Speaking on that fateful day in 2012 Jack said:
"At the end of the summer I went away on a holiday with some of my best friends and on the first day as I had done so many times that day I ran down the beach and dived into the water over a wave not realising how shallow it was and my head collided with a sandbank and I broke my neck.
"I was on a ventilator, I was paralysed from the arm pits down, from the shoulders down originally then I gradually regained 15 percent muscle function.
"I spent a couple of weeks in intensive care then I flew back to Ireland and eventually ended up in rehab and that was really like starting from scratch again like a baby, my first job was to learn to breath unaided."
"I remember waking up in intensive care with tubes going down my nose and throat and my head in a cage, I became aware of one my best friends walking around the bottom of my bed and he was smiling but crying.
"I couldn't speak but I just mouthed the words, it's going to be ok, that was my first decision, now I completely fell apart after that many times but that was my first decision."
Thirteen months later when he moved out of home and back to college the only person that wasn't surprised was Jack.
"It would take me three hours with the assistance of two people to get everything that I needed to do just to get up in the morning, I would be so exhausted half way through the day that I would be falling asleep at the desk.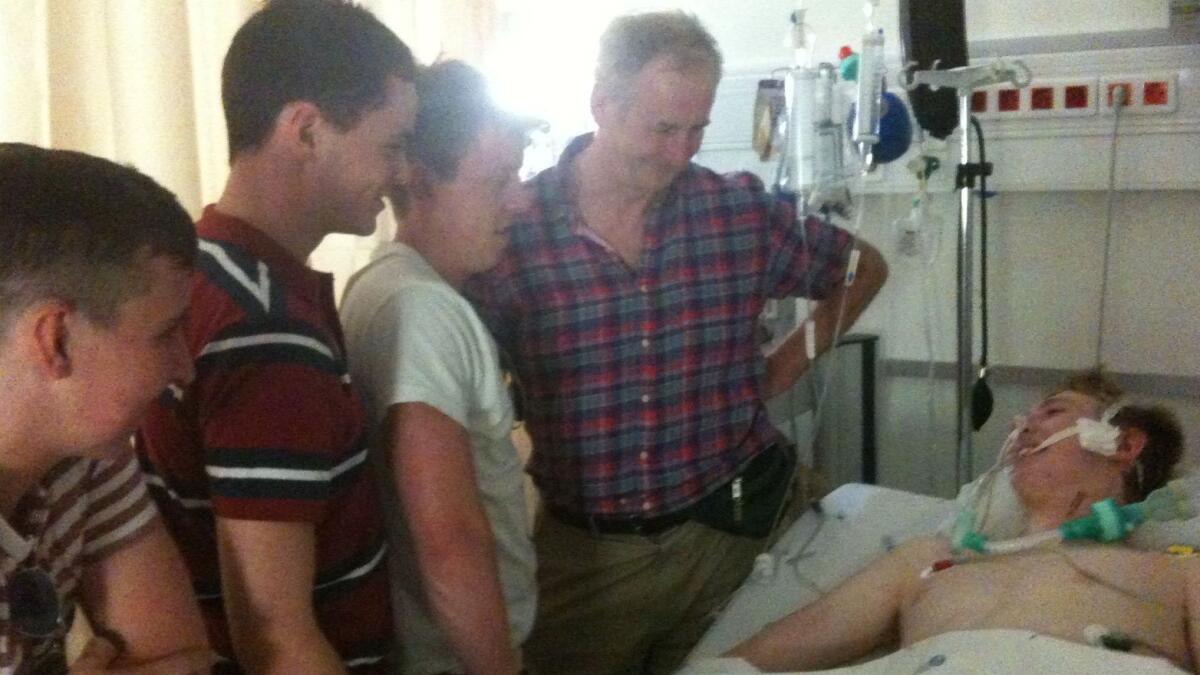 "People saw it as a physical struggle but there was a mental and emotional struggle there as well and I hit some dark places at times but I also overall had a very good outlook
"Gradually I started to adapt and began to minimise the impact the spinal injury was having and built in a routine and was reclaiming independence."
It took a village to give him the strength to persevere and forge ahead with life despite his challenges according to the determined former pharmacist who said:
"My family and friends were absolutely instrumental. People talk about resilience and they think it's an individual thing but it is dependent on so many different factors, when you are in periods of struggle it's the cheerleaders and supporters around you that give you the capacity to continue to be resilient to whatever you are going through."
"People began to ask me to start sharing my story, I was always quite articulate but I didn't really want to be the centre of attention, so whenever I spoke I would use this phrase that "my story is just your story written in different words," the essence of that is that I would talk about what I was going through and pull out very human lessons that I was learning a long the way in the hope that others would be inspired to persevere with their own challenges.
"I then did a Ted Talk and that really began to open a lot of doors and from there I went to make a documentary called Breaking Boundaries.
"Having been told that I would never travel again follows story of me and some of my best friends travelling the west coast of America doing all sorts of things that you'd never imagine a quadriplegic in a wheelchair doing like white water rafting and sky diving, that adventurous spirit in me never really died.
"The centre of everything I do is that I fundamentally believe that everyone has magic within them and what we need to do to get people to see that for themselves is to create environments where they feel less disillusioned and they feel more connected to themselves and people around them.
"And where they have permission to lower the masks that they wear in doing so you give someone the permission to let the potential or the magic they have flourish.
"If I focused on the 85 percent of my body that wasn't functioning, that would be a horrible world to live in, if I focused on all the things I couldn't do anymore that would be a horrible life to live.
"If I focused on all of the struggles I face everyday I would always have something to complain about.
"I didn't want to live a life like that, I chose to see possibility and to go after opportunity, that was by no means the easier path.
"Ultimately the relationship I have with myself is the most important thing and if that's a hostile place to be everything else in my life Is going to suffer."