'It doesn't matter what size you are, you are beautiful'
A special needs assistant in a Navan school who was one of the first ever plus size models to appear in London Fashion Week last year says she has made it her 'mission in life' to promote body positivity.
Rhian Thompson (36) was crowned 'Miss Voluptuous Ireland 2019' is a teacher in the special care unit in St Mary's Special School in Navan.
The part-time model who lives in Drogheda has won a variety of competitions during her modelling career and has never let her weight hold her back.
Image 1 of 5
Image 2 of 5
Image 3 of 5
Image 4 of 5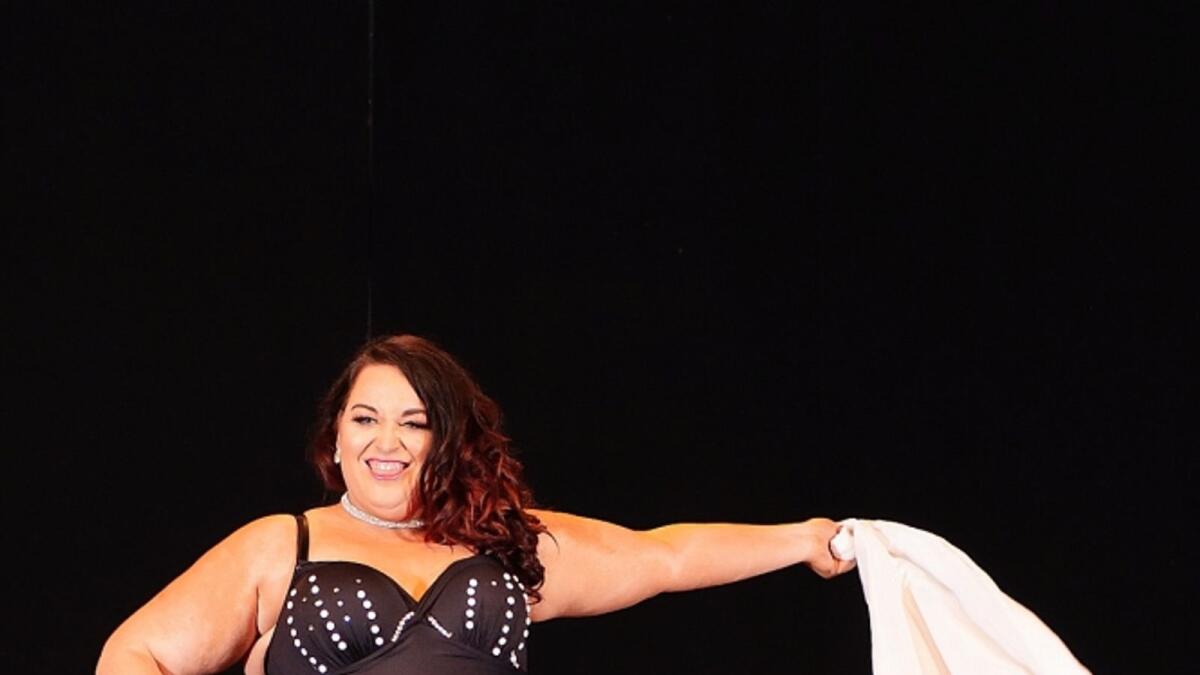 Image 5 of 5
Previous
Next
From international fashion shows and pageants to helping young people with body dysmorphic issues, the talented teacher originally from Wales is determined to push boundaries and make a difference.
Speaking on her success to date she said:
"I got into modelling by default really about five or six year ago. Before I got into teaching I went to drama school so I was used to being on stage.
"There was a competition to be a plus size model for a bridal shop and my mum entered me in it and I won that.
"I somehow got into pageantry along the way which has been a real adventure and led me to do some amazing things.
"I will be representing Ireland in America next year for Miss Voluptuous USA.
"I was previously runner up in Miss Pin-Up Ireland, Miss Supreme Beauty Curves and Miss Curves Ireland.
"I was one of the first plus size models used in London Fashion Week last year. It had never been done before.
"London Fashion Week was a surreal dream that I feel privileged to be part of.
"One of the designers who saw my work online approached me and asked me to model for them.
"I was modelling couture so the clothes were all made for me by the label Nana Lola Couture in House of ikons.
"Walking down the catwalk didn't feel real.
"After the show myself and the other few plus size models were featured on news segments and articles from all around the world which is just mindboggling.
"I am glad they are using diversity in size on the mainstream stage now as why should we be segregated.
"I think it's about time there are more diverse models out there, fashion is changing and I'm not saying everyone needs to be big and I'm not promoting being obese it's just about learning to be happy with yourself without always striving for this perfection that actually doesn't exist. "
The SNA explains why it is important for her to be part of a body positive movement.
"I think it is so important to promote body positivity as everyone is different. It doesn't matter what size you are, you are beautiful.
"I have seen so many teens during my time working in hospitals and schools with body dysmorphia making themselves ill as they are trying to achieve perfection and it is so sad.
"I am not saying don't get healthy, I go to the gym and try to eat right but to make yourself ill to try to create a perfection that is either not your natural body shape or that you have seen after Photoshop and stylists and clever angling can be dangerous.
"I think it is changing and more and more models are sharing more natural pics of themselves which is great but we still have a way to go."
The world of beauty pageants has always been a controversial topic but unjustifiably according to Rhian.
"Pageantry is really not what people think. There are so many misconceptions.
"People think pageants are bitchy and backstabbing fully of pretty girls who are fake.
"It's just a fabulous way to meet nice people. The amount of charity work that you do behind the scenes is a huge part of it.
"It focuses a lot on that element, what you do for society.
"I do a lot of voluntary work around mental health, cancer and body positivity I think all three of those everyone is affected by at some point.
"I volunteer for a mental health charity, Me for Mental Health and operate their social media at the weekends.
"Pageants are like a family. You create a whole bunch of new sisters. My dress fell apart just as I was about to go on stage once and I had the other girls stapling things back onto my dress to make me presentable as I walked back on.
"We lend each other jewellery and shoes on the day, there is always one talented lady who is helping sew people into their dresses, and others helping you get out quickly.
"If your outfit if easier to get on you help the others. There are no marbles on the floor to sabotage, well not on the ones I have been part of.
"There is usually a group chat before the day so you feel you know each other before it happens. It promotes love.
"And also a huge part is what you do for your community, what cause you promote and what you do to help your platform.
"How you volunteer your time to help others. You often have a chance to let the judges know about your platform before on stage or in interview. To win you have to be considered a good role model and ambassador to the system."
The inspirational model says she will 'never shy away from anything' because of a preconceived notion of what beauty is.
"I was doing a pageant once that didn't have a swimwear round but had a recycled fashion round so I wore a pre-loved swimsuit and covered it with slogans about mental health and body positivity.
"People don't expect someone of my size to model swimwear. I like the push the boundaries.
"I was always big, I have very supportive parents who have always allowed me to embrace myself, I always experimented clothing wise and always looked like the crazy one of the group, they allowed me do that.
"Someone said to me before you are body confident, I'm not body confident I'm body acceptant, I don't necessarily always like what I see in the mirror but I would never ever let it stop me from doing what I want.
"I danced as a child, I don't look like a dancer but used to compete. I liked the fact that no one ever thought that I'd win but I did.
"That's' always been with me, I like to confuse people because I don't want anyone to put limitations for me on what I can and can't do."
The caring teacher admits that she 'can't wait' to see her students in St Mary's Special School again.
"I miss them so much. I am still sending video lessons everyday and have loads of work but can't wait to see them.
"It is so important to do this when it is safe to do though.
"These children are just adorable they absolutely melt your heart, they are wonderful and I love my job more than I can tell you."