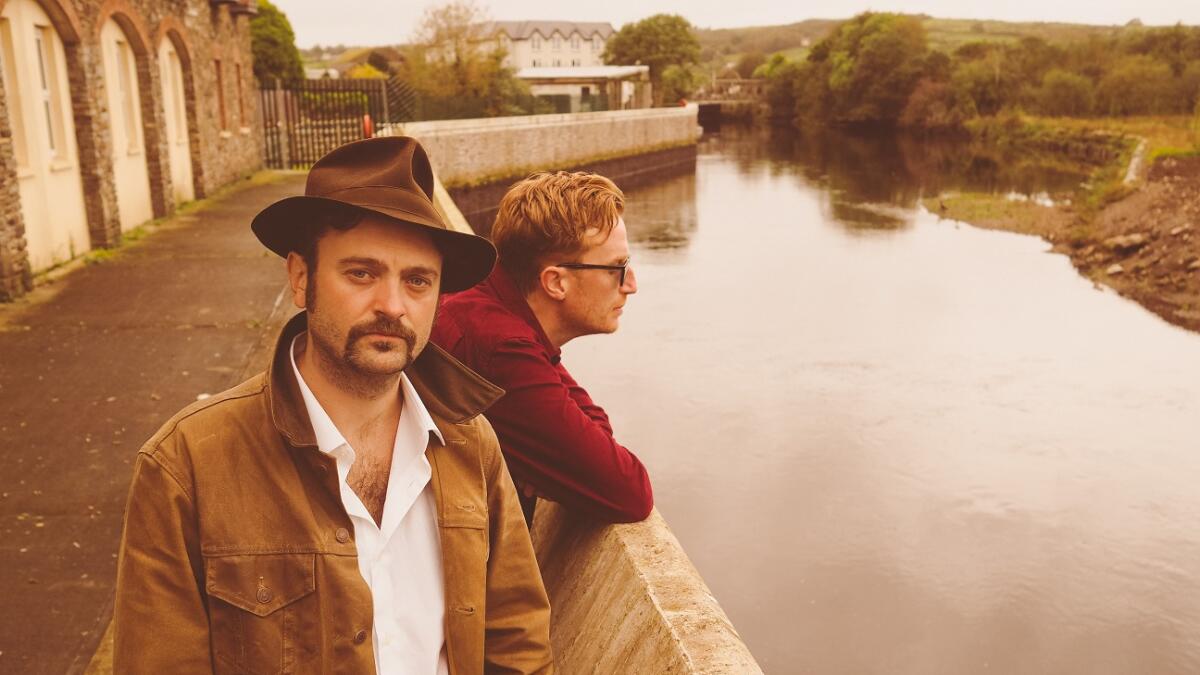 Lost Brothers new album influenced by River Boyne
Irish duo The Lost Brothers, Oisin Leech from Navan and Mark McCausland from Omagh, have announced a brand new album entitled 'After The Fire After The Rain' ahead of their annual winter concerts at The Solstice Arts in December. This year the special homecoming shows will take place on Friday 13th and Saturday 14th December.
The band has also released the first new track, 'Fugitive Moon' from the forthcoming album which features Bob Dylan's long time cohort Tony Garnier. The first new song they've released was inspired by the River Boyne.
"The first single Fugitive Moon is very much inspired by the River Boyne and the Hill of Tara. Magical places really. In fact the new album is more about where we are from and less about travels over the last few years," ," explains Oisin.
"We are thrilled to be returning to The Solstice Arts Centre in Navan in December" explains Oisin. " They are really special concerts for us and this year we'll be previewing the new album as well as playing all the hits. It's been fun to see these nights grow over the years and I'm hoping everyone shows up again! We've a few surprises for these two shows."
It's been a remarkable passage for The Lost Brothers. Shortlisted as one of MOJO magazines albums of 2018, and nominated for Best Band and Best Album at the inaugural RTE Radio 1 Folk Awards, The Lost Brothers have become known as one of the very finest bands around. Collaborations down the line have included work with Brendan Benson of The Raconteurs, Richard Hawley and Glen Hansard.
They now add to their growing repertoire with their forthcoming sixth studio album, After The Fire After The Rain. With five highly acclaimed albums already under their belt and a brand new sixth release on the horizon, they have a rich well of songs to draw from for a spectacular live show.
Pre-production on the new album entitled 'After The Fire After The Rain' took place over several months with Steve Shannon in Crumlin after which the songs were taken to New York where the album was co-produced at Strange Weather Studios Brooklyn by Tony Garnier (Bob Dylan's long time bassist of the last 30 years). Garnier has played on many classic albums down the years including Dylan's 'Time Out Of Mind' and Tom Waits' 'Rain Dogs'. On the new track 'Fugitive Moon' Garnier plays an upright double bass once owned by jazz luminary Charles Mingus.
"It was a lot of fun having Tony with us in the studio working on these songs," says Oisin. "He and the co-producer Daniel Schlett make a really great team." The atmosphere of fun and camaraderie in the studio and of simply friends making music was one shared by the others including Garnier.
"It was a joy to work on these songs and to be around these guys …it's a spectacular record".

Daniel Schlett who has recently worked with the likes of Steve Gunn and on the Grammy Award Winning album 'A Deeper Understanding' by The War On Drugs, engineered the album and plays a Jupiter 8 synth on the album and the new track Fugitive Moon.

The new album also includes contributions from an all- star cast including Howe Gelb, Steve Wickham, Jolie Holland and indie guitar maestro M Ward who plays electric on Fugitive Moon. Ward has remained friends with the band since they recorded their debut in Portland in 2008.

"For years we've always looked across the ocean to American roots folk and blues for inspiration," Oisin says. On this album and this new song "Fugitive Moon" we turned homewards and gave a nod to the places that our special to us - I'm fortunate that the river Boyne runs very close to where I live in Meath. More than any other album, these songs are inspired by where we grew up, our native land, with all its rain, dreams and storms."

"When you are out on the road for a long spell, it's the mundane things you end up longing for from back home," Mark says. "You miss the rain. And when you return, all of a sudden, all those things you took for granted are suddenly magical. Fugitive Moon is a nod to this magic."

Speaking of the new song musician and producer Philip King states: "This record is a wonderful sonic expedition and an album that is beautiful in every way. The writing is deep and emotional, an antidote to the virtual life and all its anxieties."

Saturday night, 14th December has sold out at Solstice. The band will perform their biggest Irish headline show to date at Dublin's Vicar St on Saturday 21st March next year.

For more information on the Vicar St show in March and on the new release visit www.thelostbrothersband.com where 'After The Fire After The Rain' is available for pre-order on signed limited-edition vinyl, cd and digital from www.thelostbrothersband.com
Watch the brand new Lost Brothers video for Fugitive Moon featuring M Ward and Tony Garnier - https://youtu.be/m5imwnx5B7Y