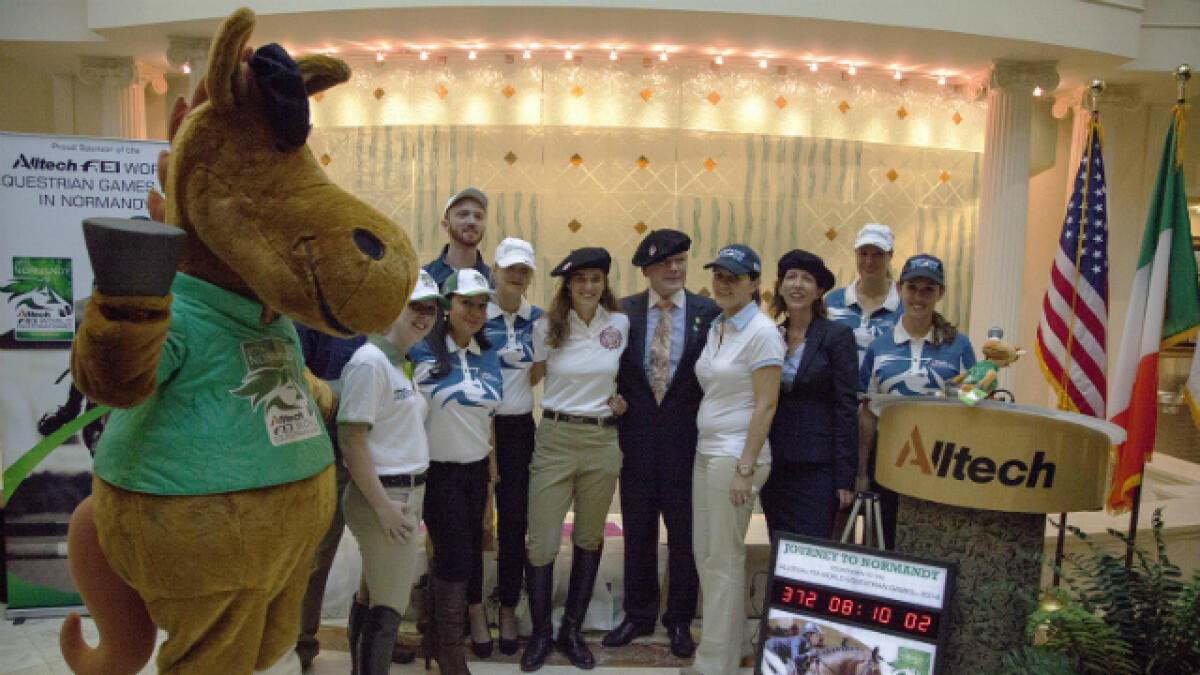 Alltech marks one year to world equestrian games opening
The one year countdown to the Opening Ceremony of the Alltech FEI World Equestrian Games2014 in Normandy began today. In just 365 days, the streets of Caen will overflow with excitement as Normandy opens its doors to 1,000 international competitors, their families, trainers, more than 1,000 horses, 1,200 journalists and more than 500,000 fans and spectators from 60 countries for 16 days of world championship sport from August 23 until September 7. Alltech, a leader in optimal animal health, nutrition and performance, is the proud title sponsor of the Alltech FEI World Equestrian Games 2014 in Normandy, and will make history in France with the largest equestrian event ever held on French soil. Alltech has its European base in Dunboyne.
"The Games in Normandy hold a special significance for Alltech, touching every aspect of our business, motivating employee engagement, supporting our philanthropic and educational endeavours and establishing solid ties in the Normandy region for years to come," said Dr Pearse Lyons, president and founder of Alltech. "We are proud and delighted to be a part of this one-world event for the second time, having become the event's first title sponsor through the last edition of the Games in Kentucky in 2010."
As the world population moves closer to a nine billion apex by 2050, Alltech's title sponsor status provides them with a unique opportunity to feature the importance of agriculture to a global audience and to communicate Alltech's passion for improving efficiency, profitability and sustainability on the farm through natural nutrition and scientific innovation.
The greatness associated with crowning eight world championships during the Games embodies Alltech values of peak performance and excellence, achievable in humans and animals by natural nutrition.
Alltech believes in supporting where they work and live. The 2010 Alltech FEI World Equestrian Gamesin Kentucky produced close to 400 Million USD in supplemental tax and tourism revenue for the state. For 2014, Alltech is actively supporting tourism to Normandy. Alltech already led a Kentucky delegation of business leaders to Normandy in 2012. In April of this year, Alltech welcomed 30 of its Alltech Official Games Partners to France from 27 countries. In 2014, for the Games, 40 Alltech Official Games Partners will return, yet with hundreds of their clients and families this time. Alltech will also organize one of its most important annual conferences in Normandy in 2014, gathering more than 500 international dairy and beef farmers in the region during the Games.
Over the course of the next year, Alltech will increase staffing at its newest office in Caen, drawing approximately 100 employees from around the world to support its sponsorship efforts. In France, Alltech is also expanding its sales force and has invested in a three-year digestive equine research project with the AgroSup Equine Masters Program in Dijon, France.
The Alltech FEI World Equestrian Games 2014 in Normandy have an internal benefit for Alltech as well - engaging and unifying its employees as brand ambassadors.
"The title sponsorship is now a part of the company's DNA, and our brand ambassadors, all 3,000 of our employees, are actively spreading the excitement about the Alltech FEI World Equestrian Games2014 in Normandy in 128 Alltech countries around the world," said Catherine Keogh, chief marketing officer at Alltech.
"We salute Alltech's enthusiasm to support Normandy in so many creative ways. Alltech truly lives their values of passion, performance and excellence, going above and beyond in everything they do, which includes promoting Normandy and the spirit of equestrian sport around the world to their partners, customers, and employees," said Laurent Beauvais, president of the 2014 Organizing Committee and president of the region of Lower Normandy.