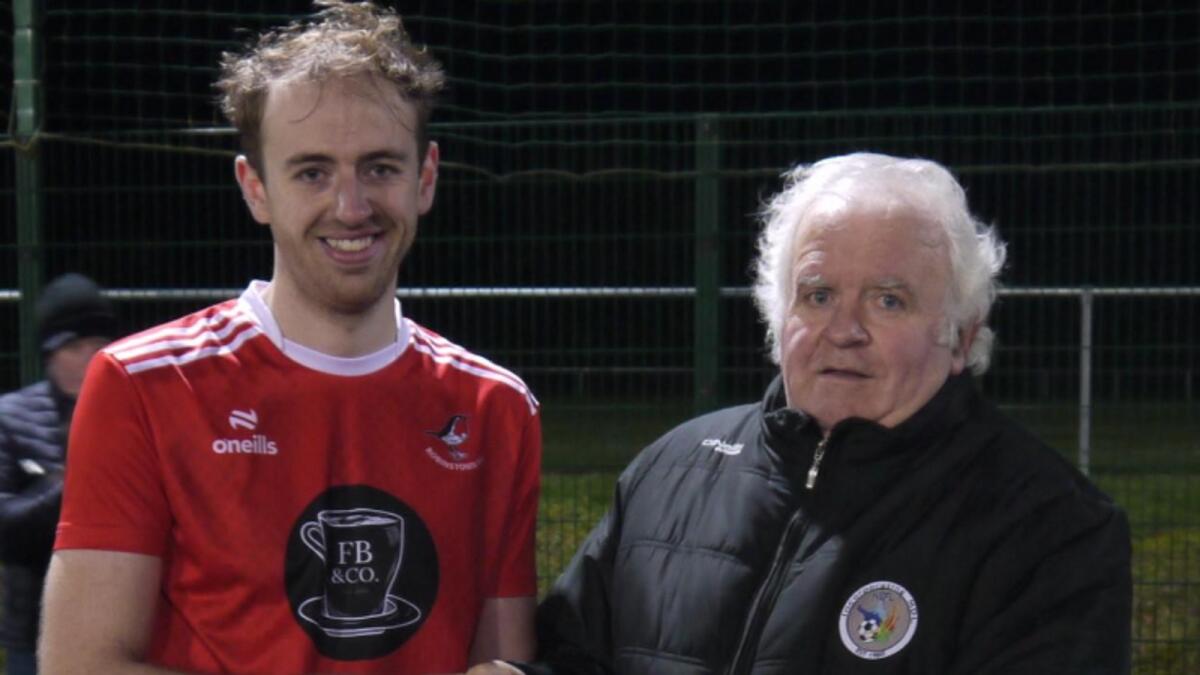 Memorable run for Robinstown as treble is completed
Manager Damien Sheridan says 2023 "our greatest year" as club enjoys sustained spell of success
Robinstown 2
Carrick 3
What a year has turned out to be for Robinstown FC. They have been hunting for trophies at senior level for 30 years and 2023 was the year they found three.
On Saturday evening in the MDL they were crowned Div 3 champions, adding to their Leinster Junior Shield and O'Neill Shield triumphs.
They had known for a couple of weeks that they had secured the league title but waited till Saturday to receive their crown.
A massive hats off to Carrick Rovers who gave up home advantage so Robinstown could celebrate receiving the title on front of their families and friends.
There was a ceremonial feel to the game but credit to Carrick who made it fiercely competitive.
Robinstown's two top scorers Paul Curtin and Cody Rogers had put them 2-1 up at the break but Carrick fought back to win it 3-2.
That didn't deter the hosts from celebrating their success and we're sure they did that long in to the night.
It was, after all, a memorable year for the Robins.
Afterwards Robinstown manager Damien Sheridan reflected on the a remarkable run of success for the club.
"Its just like when things are going bad, it's not just one problem it's a combinations of things. The same for when it's going well, it's numerous positives," he said.
"We've had a great year, we've had a nucleus of lads together for a number of years and their togetherness and spirit is there for all to see.
"We've signed some new players and they quickly bought in to the way we do things. The depth and quality of the panel improved and all the lads bought into our rotation system and we just found a way to get through every match.
"The Leinster Junior Shield was the spring board for our season, we got a taste for success and wanted more. We followed it up with the O'Neill Shield and all the while we sat top of Division 3.
"We've only lost four ties in the year, one of those on penalties so we've been pretty consistent."
He spoke about how the foundation for the club's progress is based on the efforts of a number of people including players and others.
"It's a team effort on and off the pitch, Davy Fay has been an outstanding assistant to me the reserve Team Manager Johnny Friel along with his assistants Ellis Bager & Ben Coleman, they've all contributed to this.
"To the players well they've just to put it simply been brilliant, football comes at you hard and we know next year in Division 2 will be tough but we'll relish the challenge but for now we're going to soak up this moment.
A treble is something that will be looked back on for years, our greatest year."
Robinstown - Ian Corry, Josh Finegan, Ionut Todea, Eoghan O'Neill, Dylan Kavanagh, Paul Maxwell, Brian Fay, Ciaran Roche, Paul Curtin, Cody Rogers, Eoghan Daly, Jack Harte, Sean McSweeney, Lee Walsh, Paul Garry, Callum Bartley, Jack Brady, Cian O'Neill, Mark O'Neill.