New Kellihers Electrical branch brings a world of energy to Meath
Leading wholesaler opens new store on Commons Road in Navan
Previous
Next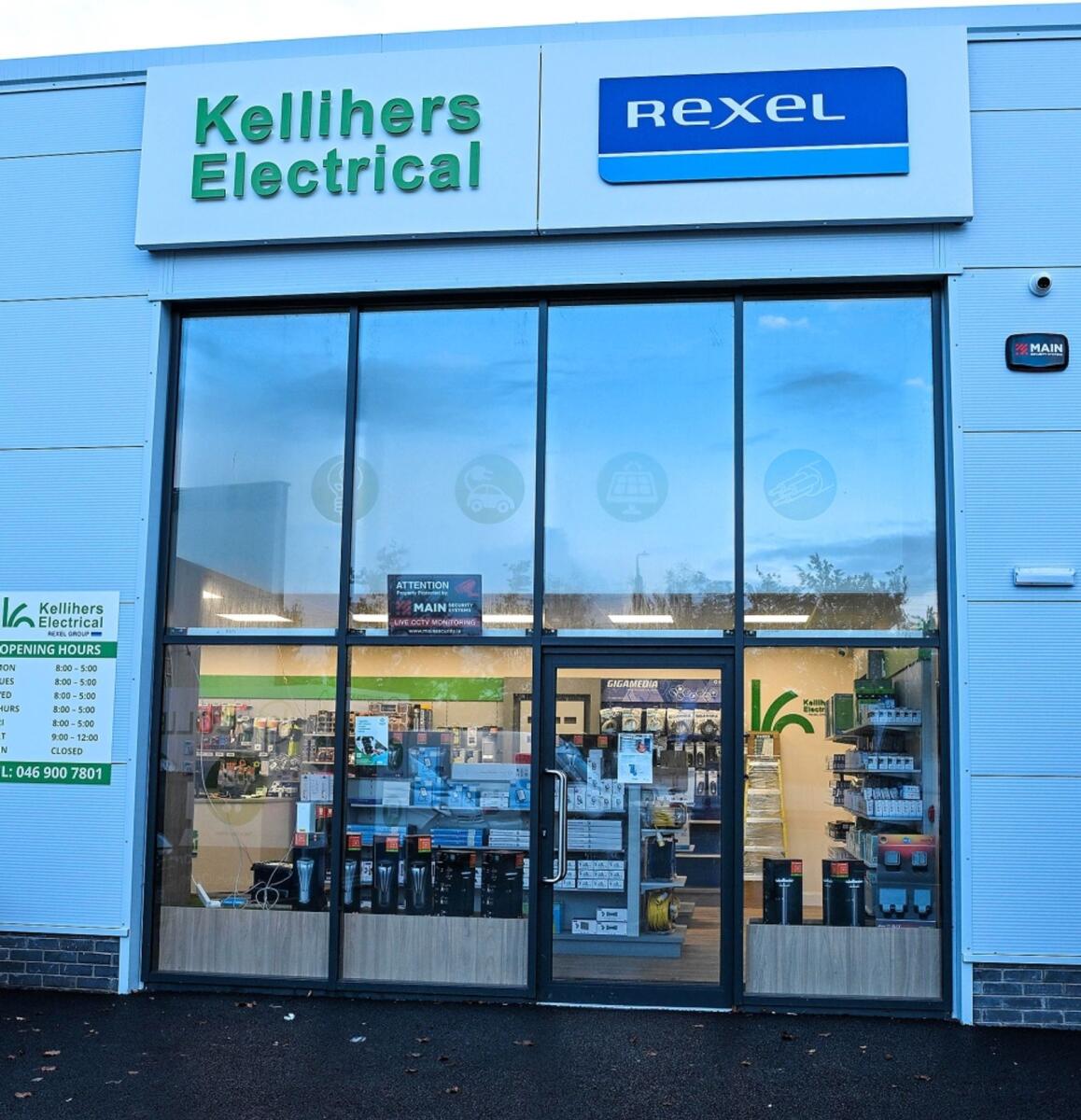 Kellihers Electrical has been the electrical wholesaler of choice for Irish electrical contractors since the 1980s. The business has grown from humble beginnings in Kerry to a network of 24 branches around the country.
The new branch in Navan brings an extensive product supply, excellent customer service and knowledgeable staff to the electrical industry in Co Meath.
Kellihers are part of the Rexel Group – a global player in the energy world and are the leading electrical wholesaler in Ireland with 24 branches nationwide.
Its comprehensive stock profile, reliable delivery, competitive pricing, and knowledgeable staff are the reasons it is the supplier of choice for electrical contractors and domestic customers looking for the most energy efficient electrical solutions available.
Justin Lynch, Branch Manager of Kellihers Electrical in Navan, says: "With people having a renewed and increased interest in climate change, customers are now very informed as to the types of lighting and heating that will give them the best reward in return for the least impact on the environment".
"At a time of ever increasing energy prices and rising inflation many people realise that they can save money by installing the most efficient and best quality low energy heating and lighting equipment, and our experienced staff here at Kellihers Navan are the experts when it comes to maximising those efficiencies."
Justin Lynch added that around the country Kellihers are seeing a surge in domestic customers visiting the stores as people continue to invest in upgrading the lighting, heating, and electrics of their home.
"Our customers come to us because they know that our strong focus on customer service means that they can trust us to deliver the highest quality products and service, in other words we have what they need - when they need it. We have staff here for many years and it is the familiar face they can trust, along with the experience and excellent service that keep them coming back to us."
Speaking at the opening of the Navan branch, Ciaran Foley CEO of Rexel Ireland, said: "Our investment in this new branch in Navan, as well as a 100,000 square feet Distribution Centre on the Naas Road in Dublin, shows the commitment of the Rexel Group to our business in Ireland.
"It allows us to continue to lead the market in customer service through an improved delivery promise, product availability and sustainability offer.
"We invest in high levels of stock to ensure that our trade customers see us as a reliable supply chain partner to their business. We also employ product specialists across all product categories to provide support on projects from design right through to the installation.
"We are one of Ireland's leading suppliers of renewable energy products and have invested in innovative products like LED lighting, EV chargers and Solar PV panels and we are in the process of installing solar panels at our own branches around the country," he said.
"The nationwide network of 24 branches means that Kellihers trade customers can walk into any branch and use the same account.
"This is a great service for contractors who are travelling or working outside their local area. Now more than ever with more people working from home they are investing in their homes.
"People are more informed on efficient energy options. Customers have an idea of what they want, and our staff have the experience and the expertise to guide them," Mr Foley continued.
Justin Lynch added: "With more and more people working from home, the standard of cabling required for a domestic house has changed over the past few decades. The world of cabling and cable management has come a long way since a coaxial cable was all that entered homes a few decades ago. Now, almost every house is a data network of its own.
"People who are building, or revamping houses are now conscious that they need to super proof their houses, so that it will be able to supply the data and media needs of those who live and work and study there.
"This is the challenge for electrical contractors, and they know that they can depend on Kellihers Navan to supply the most up to date and advances cabling system required to match the needs of the householders," Mr Lynch continued.
"Kellihers Electrical source all their cable direct from the factory gate and ensure it meets stringent quality standards. We only deal with quality, industry-leading brands like Philips, Schneider, Dimplex, Robus LED Group and Gigamedia. Furthermore, having lighting agencies such as Southgate Lighting, NVC and Disano/Fosnova cements their position as Ireland's leading electrical wholesaler."
As a sign of its commitment to its Navan customers, Kellihers Electrical have made a further investment in their Navan branch with an extensive lighting display area, a coffee dock with complimentary coffee and hot drinks for customers as well as a 24/7 order collection area for customers who want to collect their orders outside of normal working hours or at the weekend. Full details are available from Justin and the team.
This is an exciting time for their business, and they welcome everyone into the branch to see the changes and say hello to the team.
Kellihers Electrical is located at Unit 2, Commons Road, Navan C15 H5TK and on (046) 900 7801.
Manager Profile: Justin Lynch
Justin worked at Kellihers/Fitzpatricks in Navan from 2005 until 2012 when that branch closed due to the recession.
He then moved to CEF in Finglas as Account Manager, but was recruited back by Kellihers in August 2015 as the Sales Representative for Dundalk branch.
Justin is well-known in G.A.A. in Meath as a player for both Gaeil Colmcille in Kells and the Meath team from underage to adult level. Justin was the Head Coach of the Meath minor football team in 2023.
Justin's ambition is to grow the Kellihers Navan branch into the leading electrical wholesaler in Meath - providing trade and public customers with the best service and supply of electrical and PV products in County Meath.