Musicals collide as orphans reunited... Annie meets Oliver in new 'twist' on old stories
Previous
Next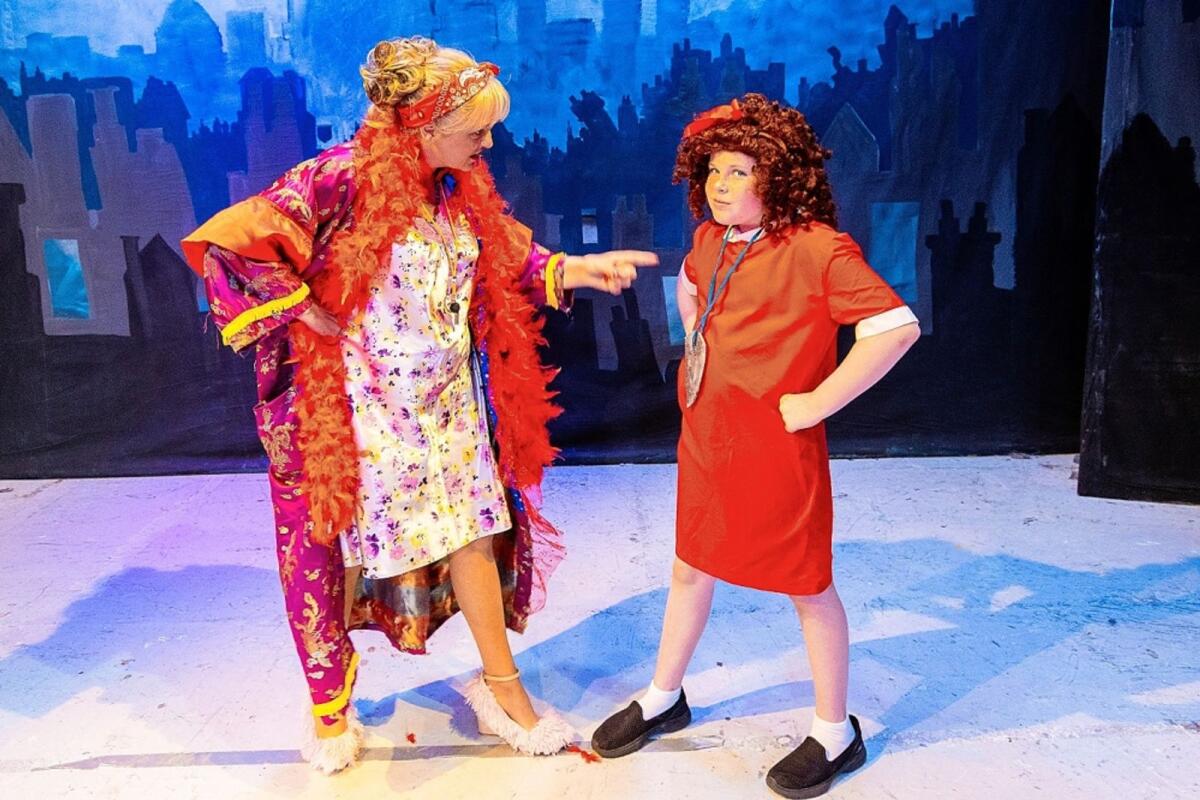 'Oliver meets Annie', a unique show written and directed by John Grant, will take to the stage in Kells later this month.
The musical is full of great foot tapping songs from both shows 'Oliver' and 'Annie' and features a very talented cast of 80 performers – children, teens and adults.
This family show will take place in in Kells Theatre on Thursday 21st September at 7.30pm, Friday 22nd at 7.30pm, Saturday 23rd at 2.30pm and 7.30pm and Sunday 24th at 2.30pm.
Set in London, Annie (Lucy Jarrett) escapes from an orphanage run by the mean Miss Hannigan (Barbara O'Neill) in search of her long-lost brother. Annie believes that he has the other half of a locket given them at birth. When a rich man named Oliver Warbucks (Seamus Ennis) decides to let two orphans live at his home to promote his image, he sends his secretary Grace (Jeanne Mc Govern) out in search of a male and female children.
Young orphan Oliver Twist (Keifer Byrne, who reached the live finals of Ireland's Junior Eurovision) escapes from the boy's workhouse run by Mr and Mrs Bumble (Aaron Byrne and Crystal O'Doherty) to search for his long-lost sister who he hopes has the other half of a locket given them at birth. Both Oliver and Annie meet by accident and share their story not knowing they are related.
They both fall in with a group of street-urchin pickpockets led by the Artful Dodger (Noah Eoghan) and masterminded by the lovable criminal Fagin (John Grant). Fagin's henchman, Bill Sikes, (Stephen Stafford) plots to kidnap Oliver, who witnessed him carrying out a violent and nasty robbery, to keep him from talking. Nancy (Ciara O'Neill), Sykes' lover, wants no hand in the kidnapping of Oliver. Both Oliver and Annie go on the run and all of London is out searching for them. They eventually get caught by the 'Bow Street Runners' and their Captain Blip (Brian Wakeling) in a climatic ending.
Newcomer to the Kells stage is Emma McQuillan who plays Nancy's friend, Beth. The comic drunken Judge is played by Pat Byrne and his court assistant Watkins is played by Conor Reilly. Annie's special friends are played Madison Mulholland as Duffy, Alison McGuirk as Mollie, Jessica Magorrian as Pepper and Holly Dardis as Tessie.
The chorus of Londoners are Louise Rogers, Alanagh Gavin, Kellyanne Costello, Molly McQuillan, Oisin Curran, Rian Ginnity, Willow Dowds, Erin Reid, Annabelle Leonard, Isobel Costello, Hollie O'Neill, Aoife Farrelly O'Halleran, and Caoimhe O'Dowd.
The child sellers are Jessie Brogan, Emily Farrelly, Sunni Moran, Bonnie Curran, Bronna Curran, Frayer Maguire, Haden Maguire and Alice Gernan.
The orphans are Grace McMullen, Mary Farrelly, Sky Eogan, Neasa Tinnelly, Katie Kenny, Caitlin Carroll, Caithlin Reilly, Isabelle Mulholland, Naoise Farrelly, Mollie Mulholland, Machaela McLoughlin, Joel Gernan, Halle Mae Mulligan, Alexandra Reid, Sophia Reddin, Indyah Mulligan, Brooke Mulholland, Aisling Monaghan, Demileiye Mulligan, Freya O'Loughlin. The Bow Street runners are Machaela Flanagan, Sammie Kelleher, Caitlin Carolan, Anna Kavanagh, Lilly Carville, Killian Reilly and Kilian Olszewski.
The choreographers are Helena Sheridan and Chantelle Neary, the prompter is Susan Tuite and Shanice Ennis is cast manager. Lighting is by Brian O'Neill Junior and Brian O'Neill Snr, while sound is by Mark Reddy and Emer Gogarty is responsible for show effects, The front of house manager is Sandra McDonnell, while the stage manager is Derek Booth and crew.