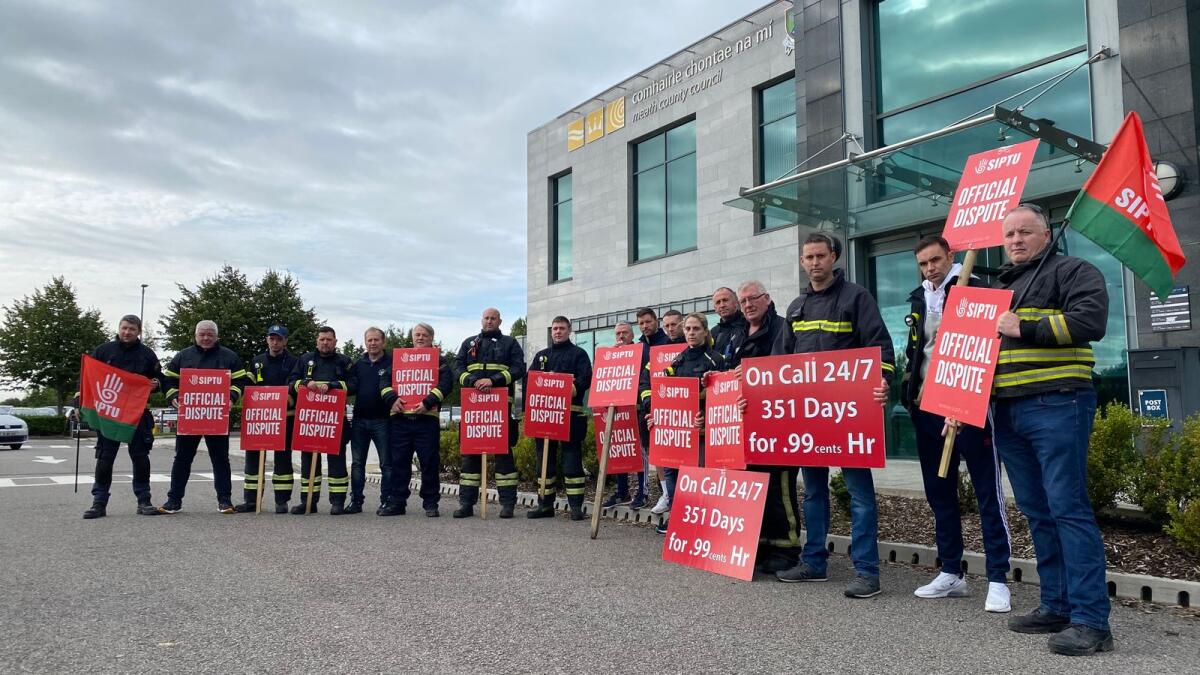 VIDEO Firefighters picket council HQ as protest escalates
Firefighters picketed Meath County Council's Headquarters at Buvinda House in Navan this morning (Tuesday).
Ciaran Finn, Station officer, Ashbourne said the firefighters needed a break.
"As part of the industrial action we initially offered to go to life threatening calls and it was decided nearly all calls were life threatening. We agreed but our stipulation was that as they were life threatening calls we should have three brigades sent to each event, but that was refused by management here, so we have no option but to escalate the action and go for closing half the stations every day," he said.
"So today, on Tuesday after a busy weekend, we have stations in Ashbourne, Trim and Kells closed and the rest of the county is covering us. And it's been a busy weekend around the county. We've had a lot of flooding on the east coast. We had a number of trees down on Saturday morning.
"We are out here to make our point. We can't just can't keep going like this. We want a better, workable system.
"We were pumping sewerage all weekend, not something we ever thought we get into in the fire service. We dealt with bad crashes. We'll dealt with what we're given, will take on any tasks. But we also need a time off. We need a break too."
Meanwhile over the past week, SIPTU has undertaken a national consultation with all retained fire stations ahead of a meeting of its National Retained Fire Service Strike Committee meeting tomorrow (Wednesday)
Following a meeting of the strike committee on Tuesday of last week in Liberty Hall, SIPTU Public Administration and Community Divisional Organiser, Karan O'Loughlin, said: "Over 2,000 retained fire fighters are on strike seeking improved and more secure pay and conditions with more structured time off. The full strike has been running for a week now, with stations only responding to life-threatening incidents and 50 per cent of stations off the run at any one time.
"Retained fire fighters find it emotionally and psychologically difficult to undertake this action because of their huge commitment to their communities. They realise, however, that their employers and the Government are not listening and that there is currently a lack of political will to engage meaningfully to resolve this dispute. In these circumstances, the dispute actions will have to be escalated. That is why, over the next week, the union will be undertaking a series of meetings with members in all of the stations to ensure everyone is escalation ready and that our actions can be co-ordinated and effective.
"The week on the picket line has hardened our members' resolve to carry on and deliver for the service and for the public.
"The national committee will meet again next Wednesday (9th August) to consider the consultation outcomes and actions."
Meanwhile, striking firefighters in Dunshaughlin left their picket line last Thursday morning to come to the aid of a young local woman who had suffered a suspected cardiac arrest.
Despite being "off the run", firefighters from Dunshaughlin Fire Service immediately responded to the call after seeing the seriousness of the situation.
Dunshaughlin Station Officer, Fionnan Blake explained they were on the picket line last Thursday morning when the call came through for an ambulance assist for a cardiac arrest for a woman in her early twenties.
"We got a call to a cardiac arrest when we were on the picket line. We got the page and the print out and saw what it was. There was five or six of us on the picket line. We jumped into the jeep with the AED and went down to the house. There was no ambulance, the ambulance was 20 minutes away.
"The woman was unconscious when we got there and we did a little bit of work on her. She came back to being conscious and we were backed up by Ashbourne. They were covering us for the day while we are on 50/50. The ambulance came and by the time she was leaving, she was sitting up and talking."
Thankfully, there was a positive outcome for the young woman involved and Fionnan said many people don't realise that the fire service also provide an emergency first response to cardiac arrests.
"When we saw it was a local family and a cardiac arrest, we left the picket line. We didn't put in for the call and aren't getting paid.
"When we saw the seriousness of it and how long the ambulance was away we decided to turn out, and afterwards we returned to the picket line."
Fionnan said the last thing firefighters want to do is strike and says he hopes a resolution to the dispute can soon be found so they don't have to "make a decision like that again".