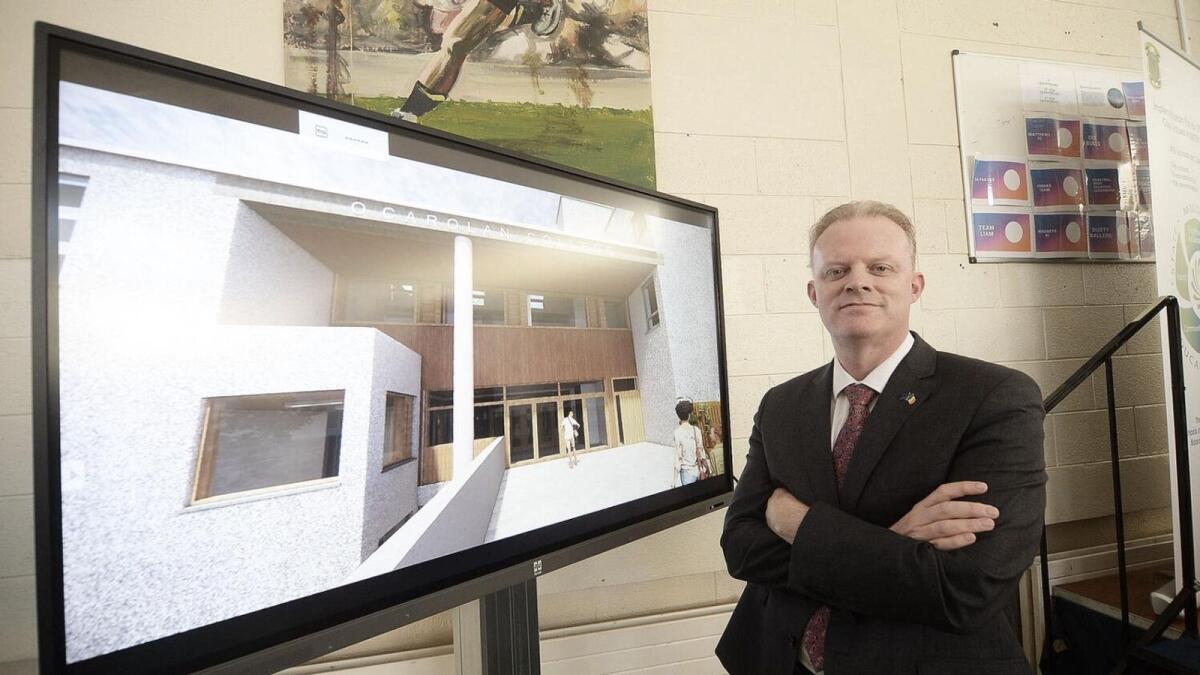 School principal's shock as second autism unit fails to get approval
A NORTH Meath secondary school which was planning to open a second autism unit to meet demand for places this September has been told by the National Council for Special Education (NCSE) that the unit isn't needed and that the children who have qualified in their catchment area should go elsewhere.
Brian Goggins, principal of O'Carolan College, Nobber, was totally taken aback and shocked that the school would not get approval to open a second unit and believes the demand is there.
The school received six applications for their special education unit this year- two from within the school and four from students who would be starting in first year.
Mr Goggins said they were surprised that all six children were told didn't meet the requirements but the parents went back and got more paperwork but just two were ultimately approved for special education places, while the other three were refused. A sixth application is still awaiting a final decision.
The two children who have been approved for a special education class have both have been told to go elsewhere. This is despite the fact that one of those children already attends the school and has a sibling there but now needs extra supports.
"One of the children is already in the school and has found it increasingly more difficult to cope and is now at the breaking point that in the absence of extra support , doesn't feel that they will be able to return to school next year," said Mr Goggins.
This child has been approved for access to an autism unit and because the existing unit in Nobber is full, unless another class is approved, the child will have to go to another school.
The school is being told that there are places available in the surrounding areas and that children who qualify should take up places there but Mr Goggins is arguing that this child should be able to attend their local school.
He said the NCES is arguing that they were not aware of the need before six months ago and that is why it is not being provided. However, Mr Goggins says education needs arise at different times and that they can't just say "because you didn't tell us at the start, you lose".
Another child who is in the school and is struggling and needs extra support has been refused a special education place. His report was late but this was due to difficulties in getting reports done. This child did not have a report done in primary school, and Mr Goggins explained that O'Carolan College does not have a NEPS psychologist attached due to a shortage.
While a budget was offered to the school to contract someone privately to do the reports, Mr Goggins said the school was trying to get someone since last August and it was only because the psychologist previously worked in the school and had a link with them that they gave them priority for a cancellation.
Another application was for a child due to start in first year in September who lives outside Kells. The child's parents did a lot of research and felt O'Carolan College was the best fit for their son and while he has been approved for a place, he is being told to go to Virginia. The parents were willing to forego their right to free transport because they weren't attending their nearest school so he could go to their choice of school.
Mr Goggins also pointed out that the local primary school in Nobber, Scoil Eoin Báiste, has two ASD classes and will open a third in September, and that is just one of their local feeder schools.
Principal of Scoil Eoin Baiste, Nobber, Anne Marie-McKenna said: "How can children with ASD class places at primary level be expected to go into secondary school with no ASD provision at all and be expected to stay in full time education?
"We have two special education classes in the school and are opening a third in September. Drumconrath and Castletown are both opening two new classes in September and two more are opening in Kilskyre.
"How can they open so many classes at primary level, yet refuse schools the chance to open at secondary level. It's not every school that wants to open an ASD so surely the Department and the NCSE should be taking all the offers they get".
O'Carolan College was among the first mainstream secondary schools in the country to open an autism unit. They were approved for a second class some years ago but because of the uncertainty around their building project held off opening until they knew what was happening.
Mr Goggins told how last year they had a child who had applied for an ASD place, but they didn't have a second class to offer the child a place.
"The child had a sibling here and came to school for the first week but it just didn't work and finally they enrolled him in a special school somewhere else. At that point I thought this is wrong. We should be providing for the children of our catchment and you shouldn't have to send your child to a different school to their older brother or sister.
"I felt we really couldn't stand over not opening another class with the building coming so I said let's go ahead. We assumed once we did the paperwork and they were approved, we would get the second class."
Mr Goggins said they were even willing to use existing accommodation and would make do with what they have using "glue and sellotape" until the new school opens.
"It is very frustrating. I can't imagine any other schools saying we are ready and available to take students. We have the skillset and the experience and the answer is no. In most schools it is the other way around. We never imagined this."
"If there are children who have applied to us, who are living in this catchment, who are currently in this school and they have a need and have approval for a place, it makes no sense to me that the answer is yes- but go somewhere else."
He said they will take in the children, regardless but if they do not have the support of a special education class, these children will not be getting the education and supports they deserve.
Department of Education response:
When questions were put to the Department of Education in relation to O'Carolan College's application for a second special needs class, a spokesperson said that spending on special education for 2023 was increased by over 10 per cent to €2.6billion, which is 27 per cent of the Departments total allocation for the year.
"A lot of progress has been made over the last three years in terms of providing special classes and special school places with over 600 new special classes sanctioned at primary level, almost 300 new special classes sanctioned at post-primary level and five new special schools established over the last three years. We want to continue this level of progress to ensure that there are sufficient places in special classes and special schools for children who need them. There is a total of 2,537 special classes opened nationwide," the spokesperson said.
"In Co Meath, there are currently 109 special classes – 84 at primary level and 25 and at primary level. In addition, the National Council for Special Education (NCSE) has sanctioned 22 new special classes to open in County Meath for the coming school year 2023/24 – 16 at primary level and six at post-primary level. In total, 328 new special classes have been sanctioned by the NCSE nationwide for opening in the coming school year 2023/2024, with more to be confirmed in the coming weeks – 217 at primary and 111 at post-primary level.
"Parents seeking special class placements for their children are advised to contact the NCSE locally so that their needs can be taken into account for planning purposes. The local special educational needs organisers (SENO) remain available to assist and advise parents of children with special educational needs. Parents may contact SENOs directly using the contact details available at: https://ncse.ie/regional-services-contact-list."
"The NCSE is committed to working with parents, schools, patrons and all stakeholders to ensure that there are sufficient appropriate places for students with additional needs and to support all students to achieve their potential."