Heartbreak in Hawkfield
Minors fall short in thriller
This Leinster MFC semi-final at Hawkfield tonight was certainly one that Meath let slip away as they fell short 0-12 to 0-13 against Kildare in a pulsating encounter that ebbed one way before flowing the other.
After never being behind in the opening half, Meath found themselves four points adrift at the three-quarters stage and on course for a demoralising defeat.
However boosted by the excellence of Cian Commons and Eamon Armstrong they dragged themselves back into contention and if they had shown a little more street smarts in front of the posts in the closing stages they might have snatched a dramatic win.
Meath were 0-11 to 0-13 behind when the four minutes of injury-time were announced. That was plenty of time to claw back the deficit with points, but instead they tried to work goals and after failing to overly trouble Cathal Moore all evening such a score never looked likely.
Opportunities to kick simple points were coughed up and as Kildare weathered the storm they held on to claim a narrow victory as Oliver Maloney's late point for Meath wasn't enough to prolong the Royals involvement.
It was that type of a game for Meath. They worked extremely hard and can be proud of their efforts, but just as was the case in the opening half of the quarter-final win over Wexford their execution and decision making let them down at crucial times.
Commons was superb throughout for Meath, but he squandered two brilliant goal chances that might have put the issue beyond Kildare. Others too kicked poor wides from decent scoring positions, while there were also careless, soft turnovers that saw some brilliant attacks come to nothing.
Meath started well and used the favourable breeze to open up a two point lead inside a couple of minutes with Commons from play and John Harkin from a 45-metre free giving them the advantage.
Joey Cunningham, who wore number eight in the opening half and the number nine jersey for the second period, opened Kildare's account from a free, but Meath and Commons in particular were excellent as the young Seneschalstown man knocked over points either side of a converted free from goalkeeper Moore to stretch Meath's lead to 0-4 to 0-2 after 13 minutes.
After that bright start Meath faded and managed just one more score before the break, an Andrew Gormley free in the 25th minute, as Kildare upped the tempo.
Donnchadh Kinch pointed before Darragh Mullahy had a goal chance well saved by Braydon Colfer. From the resultant 45 Moore converted to restore parity.
Gormley's free edged Meath ahead again, but Evan Donnelly had the last word of the half to ensure parity at the break, 0-5 each.
Kildare burst from the traps at the start of the second period with points from Donnelly and Harry Redmond giving them the lead for the first time within 90 seconds.
The Meath kickout was mis-firing and even though Pat Crawley pointed after a sweeping move and Commons levelled it up again in the 35th minute it was Kildare who took control with points from Cunningham (two), Moore (from a 55-metre free) and Redmond giving the Lilywhites a 0-11 to 0-7 advantage.
Ben Corkey ended Meath's nine-minute barren spell, but on the three-quarters mark Seanan Murphy restored Kildare's four point cushion.
When Commons aimed a goal chance just wide of the top corner Meath could have dropped their heads, but they never gave up.
Two points from Harkin (one free) either side of another magnificent Commons score made it 0-11 to 0-12 and it was game on again in the 58th minute with four minutes of injury-time to be played.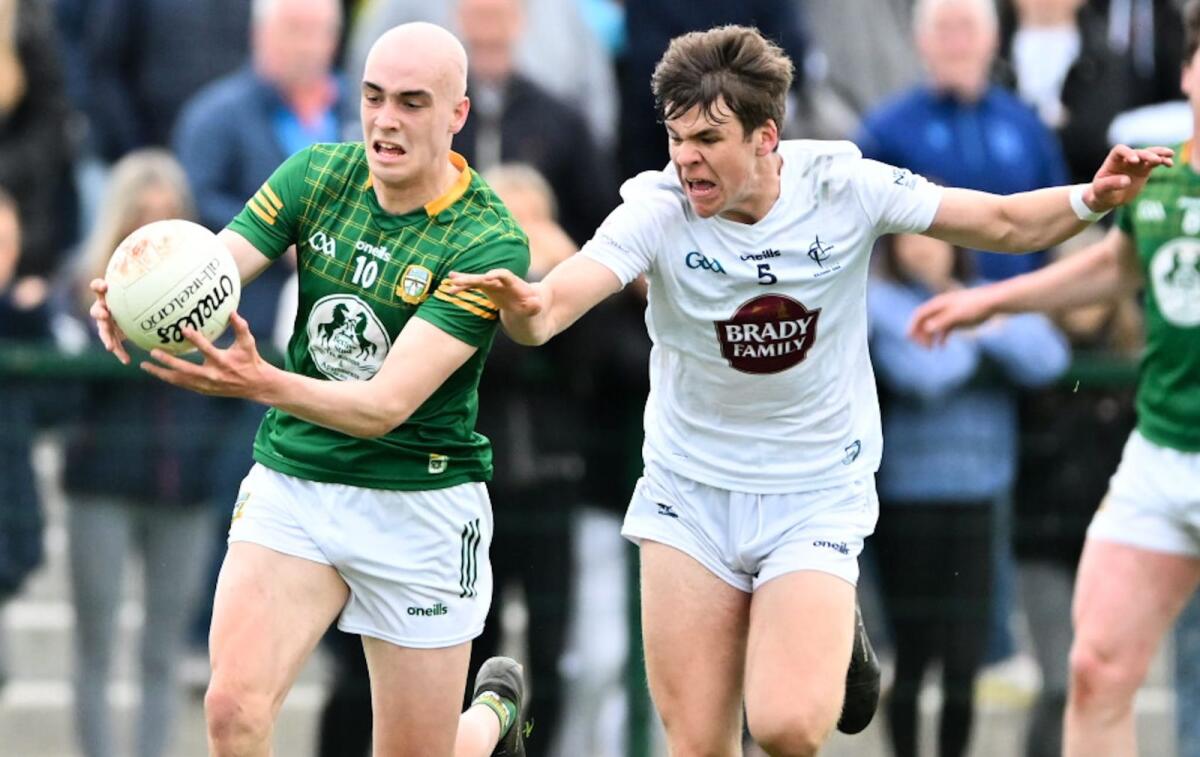 Cunningham stretched Kildare's lead to two from a simple free and Meath panicked. They only had goals on their minds while points would have done them. In the end Maloney's closing score wasn't enough as Kildare marched on to the Leinster final and Meath were left to wonder what might have been.
SCORERS
Kildare - Joey Cunningham 0-4 two frees, one mark; Cathal Moore 0-3 two free, one '45; Evan Donnelly 0-2; Harry Redmond 0-2; Donnchadh Kinch 0-1; Seanan Murphy 0-1.
Meath - Cian Commons 0-5; John Harkin 0-3 two frees; Andrew Gormley 0-1 free; Pat Crawley 0-1; Ben Corkery 0-1; Oliver Maloney 0-1.
TEAMS
Kildare - Cathal Moore; Liam Kelly, Colm Moran, James Donnelly; Seanan Murphy, Rob Murray, Michael Chambers; Evan Boyle, Joey Cunningham; Ruaidhri Lawlor, Harry Redmond, Tadhg Donlan; Darragh Mullahy, Donnchadh Kinch, Evan Donnelly. Subs- Jack McCabe for Mullahy 38 mins, Liam O'Connor for Kinch 52m, Aodan Jordan for Donnelly 54m, Paul O'Dea for Murphy, Adam Fitzpatrick for Donlan both 69m.
Meath - Braydon Colfer; Tom Lenehan, John Gormley, Oliver Maloney; Thomas Sheridan, Oisin O'Neill, Cormac Liggin; Michael McIvor, Eamon Armstrong; Pat Crawley, John Harkin, Andrew Gormley; David Donnelly, Cian Commons, Cian Duggan. Subs - Naoise Maguire for O'Neill half-time, Ben Corkery for P Crawley 40 mins, Oisin Yore for Duggan, Rory Crawley for A Gormley both 47m, Liam Jennings for Donnelly 62m.
Referee - James Foley.