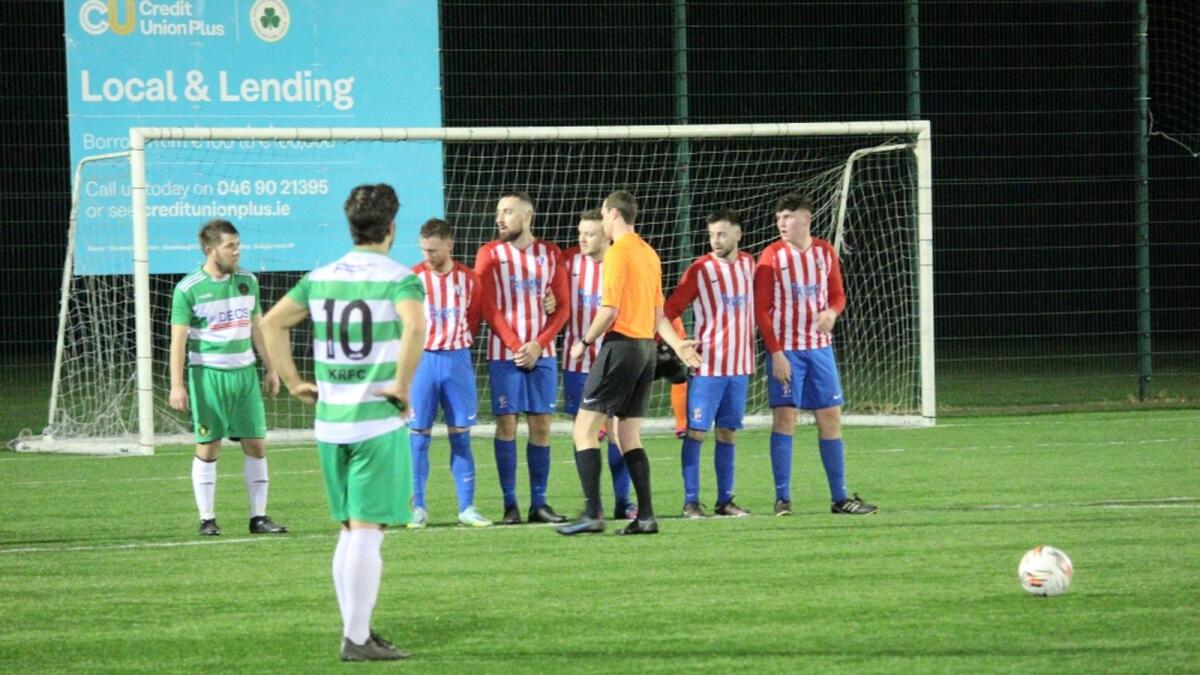 Kentstown hit Johnstown for six to advance to next round of the Kilmessan Shield
Previous
Next
JUSTIN BURKE
With many games falling foul of the weather over the last two weeks, this fixture was rescheduled from last weekend's cancellation and it didn't disappoint the crowd as they were treated to a competitive match on Thursday night.
Premier Div side Kentstown Rovers came into this fixture knowing a win would guarantee their place in the next round of the Kilmessan Shield after they defeated Athboy Celtic in the other game of this group 7-3.
Johnstown started the game well, and the energetic Darren Finnegan caused the Kentstown defence a few problems with his runs and link up play, but could count themselves very unlucky as they fell behind against the run of play through unfortunate circumstances.
Kentstown midfielder Andy Lynch sent a ball towards the Johnstown box that his team mate Breno Paulista gave chase with Johnstown defender James Caffrey and it seemed to be an easy collection for Andri Bourean in the Johnstown goal but the ball bounced awkwardly, hitting him, and falling to the feet of Keith Walsh who had the simplest of finishes from outside the 18 yard box.
Rovers seemed to settle after the first goal and soon doubled their lead as Kentstown won a free kick 25 yards out from goal, the in-form Leo Mendez curled his effort around the wall and the ball parried off Bourean's chest and fell kindly for Keith Walsh who sprinted from the wall to fire home from close range.
Two turned to three goals early in the second half as Daire Walsh sent a free kick up the left side of the field that his brother Keith chased down ahead of the Johnstown 'keeper and was taken down for a penalty, Leo Mendez took the responsilbilty of taking it and scored.
In fairness to Johnstown, they kept playing for a goal and were rewarded for their hard work as they won a free kick just inside the Kentstown half. Josh Gaffney sent a left foot effort into the Rovers box that the Kentstown defence failed to deal with and it was Darren Finnegan who was on hand to volley home a right foot shot past the helpless Keith Watters.
The away side added a fourth goal as Andy Lynch again won the ball in midfield and broke forward, he sent a through ball into the path of Baxta McKenna. The Johnstown 'keeper was first to the ball but his clearance only went out as far as Mendez who controlled the ball before beating a defender and firing his right foot shot into the bottom left corner of Johnstown's net.
Johnstown scored a second goal in this end to end game as Darren Finnegan ran down the left of the Rovers box with the ball, he cut inside to link up with Sean McNamee who played a delicate pass into the path of Adam Ivers and his pass into the box found the run of McNamee who sent his shot past Watters.
Kentstown Rovers hit back immediately.
Andy Lynch again orchestrated the next opportunity with good link up play with Mendez who delicately chipped the ball over the Johnstown defence and his pass found Baxta McKenna unmarked and he took once touch before firing a ball across the goal and it found its way into the back of the net, deflecting of a Johnstown player.
This rocked the Johnstown comeback and five goals turned to six for the Premier side as substitute Dylan Doyle got in on the act.
Mendez again involved with the build up getting past Caffrey and sending a beautiful pass out to Daniel Texeira whose first time right foot pass into the box was met by Doyle's right foot and he sent his effort into the far corner.
Johnstown - Andrei Bourean; Benji Taylor, Josh Gaffney, James Caffrey, Johnny Forde, John Moran, Stephen Brazil, Byron Farrell, Darren Finnegan, Shane Conroy, Alan O Brien. Subs - Adam Ivers for Conroy, Jason Lawlor for Brazil, Sean McNamee for Farrell, Alin Andrei Avidenai for O'Brien, Scott Taylor for Taylor. Manager – Eoin Sheridan.
Kentstown Rovers - Keith Watters; Colin Walsh, Daire Walsh, Paul McDonnell, Colin Lynch, Andy Lynch, Keith Walsh, Craig Dixon, Breno Paulista, Leo Mendez, Baxta McKenna. Subs - Ronan McDonnell for Dixon,Matthew Poutch for Paulista, Daniel Texeira for C Walsh, Andrew O'Neill for C Lynch, Dylan Doyle for McKenna. Manager – Steve Laverty.
Referee – Liam Byrne (Meath Branch).