Duleek honours pioneer who fought for equality in the US 150 years ago
Previous
Next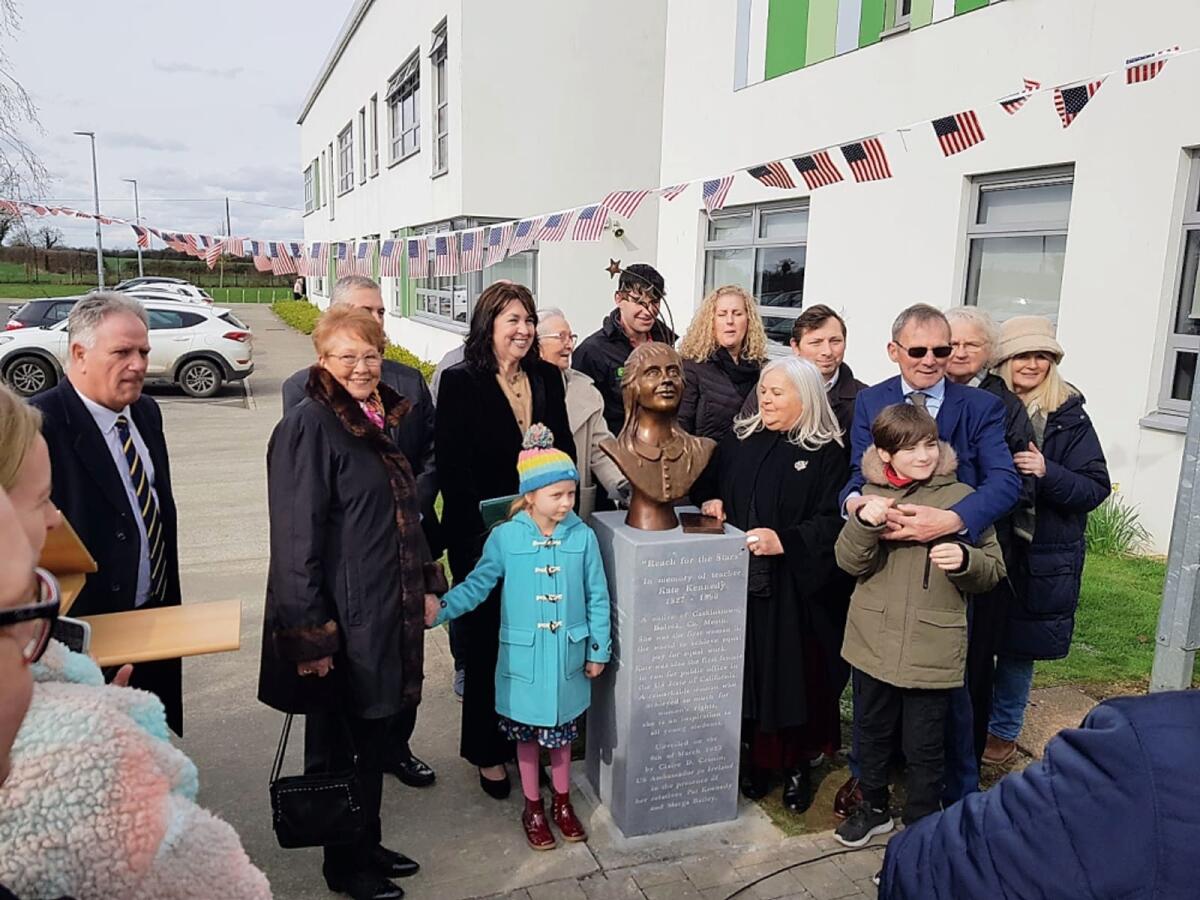 One of the most outstanding but relatively unknown female emigrants to the USA was honoured at a special ceremony in Duleek last week to mark UN International Women's Day.
US Ambassador to Ireland, Claire D Cronin unveiled a bust on Wednesday, March 8th last to celebrate the extraordinary achievements of local woman Kate Kennedy who entered the history books towards the end of the 19th century when her persistent agitation eventually persuaded the San Francisco Board of Education to introduce equal pay for equal work.
The bust was designed by County Meath sculptor Betty Newman-Maguire from Carnaross whose acclaimed works include the figure of Hollywood actress Maureen O'Hara which stands at Bective Square in Kells.
According to journalist Ken Murray, who led the project, Kate Kennedy was a game changer for women.
"She achieved equal pay for equal work in 1874, was the first female to run for public office in California and won a landmark court case that set the legal precedent for determining when teachers could and could not be dismissed from their positions.
"She was years ahead of her time and yet her achievements were practically unknown in Ireland until recently," he said.
Ambassador Cronin, who unveiled a specially commissioned bust, told those in attendance at Duleek Girls' Primary School, that Kate Kennedy set a benchmark that many females around the world are still pursuing today.
She said, "We are so fortunate to live in our democracies but we have to be cognisant that around the world there are places where women and young girls do not have the same opportunities.
"We must continue in our work and in our efforts to make sure that the gains that have been made continue to be held and that we continue to go further."
Padraig McGovern, principal of Duleek Girls National School told the gathering: "I hope that the girls in this school, as they pass this sculpture every day, will be inspired and if they see any sort of inequality they are going to challenge it and ask the difficult questions."
Fiona Lawless of Meath County Council who also addressed those in attendance said,
"One of the great things when you look around is that there are some very strong women in Meath" she said. "I hope this is the first of many statues of Meath women. Our Chief Executive is a woman and we have the highest female representation of any county in the country.
"The future pupils of this primary school will look at this memorial and will be so proud that this visionary, the first person in the world to achieve equality in terms of equal pay for equal work, came from Duleek. There is no doubt that this world is a much better place because of that strong Meath woman."
Members of the wider Kennedy family travelled from Texas, California and Co Kerry to attend the event.
Born in in the townland of Gaskinstown, west of Duleek in 1827, Kate Kennedy attended the local national school followed by a brief spell at Loreto College in Navan County Meath before emigrating to San Francisco in early 1856.
Having secured a position as a principal teacher at North Cosmopolitan Grammar School in San Francisco in 1867, she learned some years later that male principals were paid more than females. After intense and persistent lobbying, she eventually persuaded the California State legislature to change the law in 1874 and the legal precedent of equal pay for equal work was established in law.
According to Ken Murray, this event will not be the last public display of respect for Kate Kennedy.
"We hope to unveil a large sculpture in Duleek village in the coming years. However these things are expensive and we've just launched a Kate Kennedy gofundme page to try and secure €60,000 to make it happen in the years to come," he said.
Ken added, "we are also talking to An Post and are confident that a stamp in her honour will be issued in 2025."