Horse trainer and huntsman who also enjoyed Gaelic football success
OBITUARY: ANDY LYNCH
Previous
Next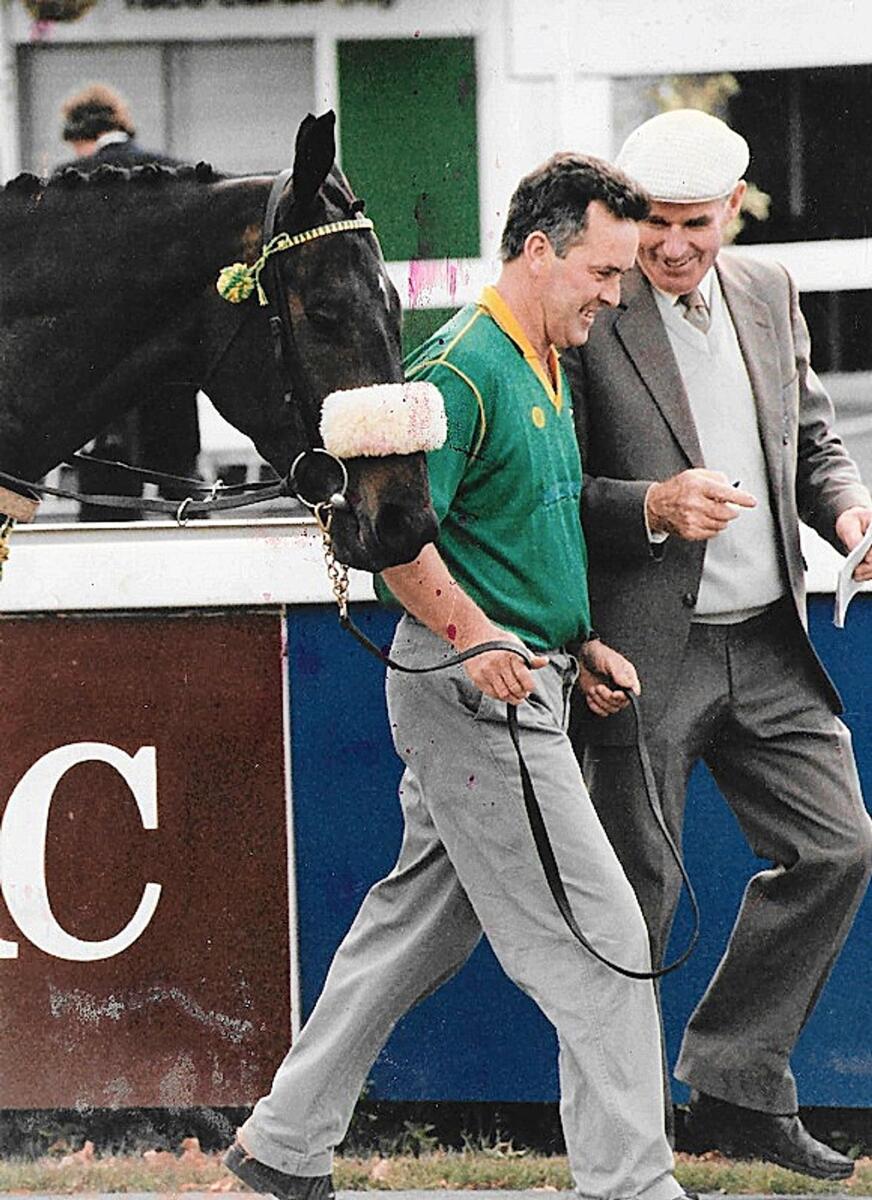 Andy Lynch
Dunsany
Fittingly, Andy Lynch's final journey through Dunsany was led by two horses, one rider sporting the 'redcoat' of the Ward Union Hunt, the other the familiar racing colours of local racecourse owner, Chris Jones, with whom the late trainer enjoyed success in recent years.
The Dunshaughlin native Dunsany man died on Thursday morning 19th January, aged 76, and in the days that followed, leading figures in the racing and hunting world paid tribute to him.
Best known on Irish racecourses for his more than 20 years as travelling head lad for Noel Meade's Tu Va stables in Castletown, he was also Ward Union Hunt whipper-in for four decades, and enjoyed showjumping success, as well as Gaelic football achievements with Dunshaughlin as a player, and the Dunsany ladies club as a mentor.
He was also one of the key figures in the Dunsany Cross Country Chase, which ran for over 20 years as a local community fundraiser.
A native of Lagore, between Dunshaughlin and Ratoath, Andy Lynch began his working career in the mid-1960s at Dan Moore's stables at Fairyhouse (now Tattersalls). At that time, successful horses to emerge from the Moore stable were Quita Que, Team Spirit, Commutering, Flying Wild and L'Escargot, the Aintree Grand National winner ridden by Tommy Carberry, Moore's son-in-law.
Andy also worked with Pat Phelan, Paddy Beggan of Smithstown, Jimmy Kierans, and Basil Brindley at Killeen Castle, before joining Tu Va in 1985. The highlight of his time spent with Meade was Sausalito Bay's Cheltenham festival win of 2000, Meade's first ever win there. The four winners the stable had at Fairyhouse on Easter Monday 1990 were also special, Andy later recalled. He won the Powers Gold Label Irish Independent Stable Staff of the Year Award in 2006 for his work at Tu Va.
When he left Meade to take out his own training licence, he was based at Chris Jones' stable at Killeen Glebe, and they enjoyed their greatest success with Zabana in the Grade 1 Growise Champion Novice Chase at the Punchestown Festival in 2016, ridden by Davy Russell.
It was Jones' son, Andrew, on Jarob, a five-time winner for the team, and Noel Meade's former stable jockey, Paul Carberry, on The Governor, who led the funeral from Andy's home in Killeen to Dunsany Church on Saturday. Carberry now holds a role Andy held for decades – as whipper-in of the Ward Union Staghounds hunt, which Andy joined in 1964.
Andy also enjoyed point-to-point success as a handler. In showjumping, he rode Geata an Uisce, owned by Dunshaughlin man Pat Murphy, to win a qualifier for the RDS Horse Show in 1977, and there is a scéal behind that win, which took place at a Dunshaughlin Macra na Feirme Horse Show, held on the home turf of Murphy's land!
When Fr Andy Doyle was renovating Dunsany Church in the early 1990s, Andy and his late wife, May, along with the late Rosemary Swan of Kilmessan, devised the Dunsany Cross County Chase, which was to continue for over 20 years raising funds for local causes. Andy was able to call on his connections within the racing world to take part or provide support in the form of press launches and auction items.
Playing Gaelic football with Dunshaughlin, he was a member of the team which won the 1967 Junior Championship, playing at right half back on a team that included Meath's All-Ireland winner that year, the late Noel Curran.
Following his marriage in 1968 to May Reilly and his move to Killeen, he switched allegiance to Dunsany, and brought much-needed experience to the fledgling club. He was right-corner-back on the team that lost to Ballinabrackey in Dunsany's first ever junior championship final in 1972. He was the outstanding player on that occasion - his switch to centre-half-back inspired Dunsany to a near successful second-half rally.
Later, when his daughters were playing with Dunsany Ladies GFC during their glory days in the 1990s, he became a selector, trainer, and chairman of the club in the era of players like Ann Marie Dennehy and All-Star Christine O'Brien.
In the club's 20th anniversary history book, Christine recalled: "The wonderful Andy Lynch had such an impact on my time in Dunsany. A great man to give encouragement and his determination was infectious".
Paying tribute to Andy Lynch last week were Noel Meade, Chris Jones, Paul Carberry, and Andy's grandnephew, jockey Keith Donoghue of Dunshaughlin, who said he was the reason he got involved in horses, hunting, and racing. Riding at Navan on Saturday, where he had two winners for Gavin Cromwell, Keith wore a black armband in memory of his legendary granduncle.
Family, of course, was top of Andy's priorities, and he was a devoted husband, father, grandfather and more recently, enjoyed his great grandson, Oisin, while the Lynch household was always welcoming to visitors and Andy was always on hand to help out anyone who called on him. Many tributes since his passing recall him as a good, generous, decent man, who shared his time and talents with many and developed enduring friendships throughout his life.
Predeceased by his wife, May, in December 2007, his sister and brothers, Andy is survived by his family, Anne, Sandra, Paddy, Maggie, Andrew and Michael; grandchildren, Nancy, Sally, Lee, Evan, Shane, Alannah and Lily-Mae; great-grandson, Oisín, brother, Anthony; sons-in-law, Mark and Barry; daughters-in-law, Adrienne and Rebecca; extended family, neighbours, and many friends.