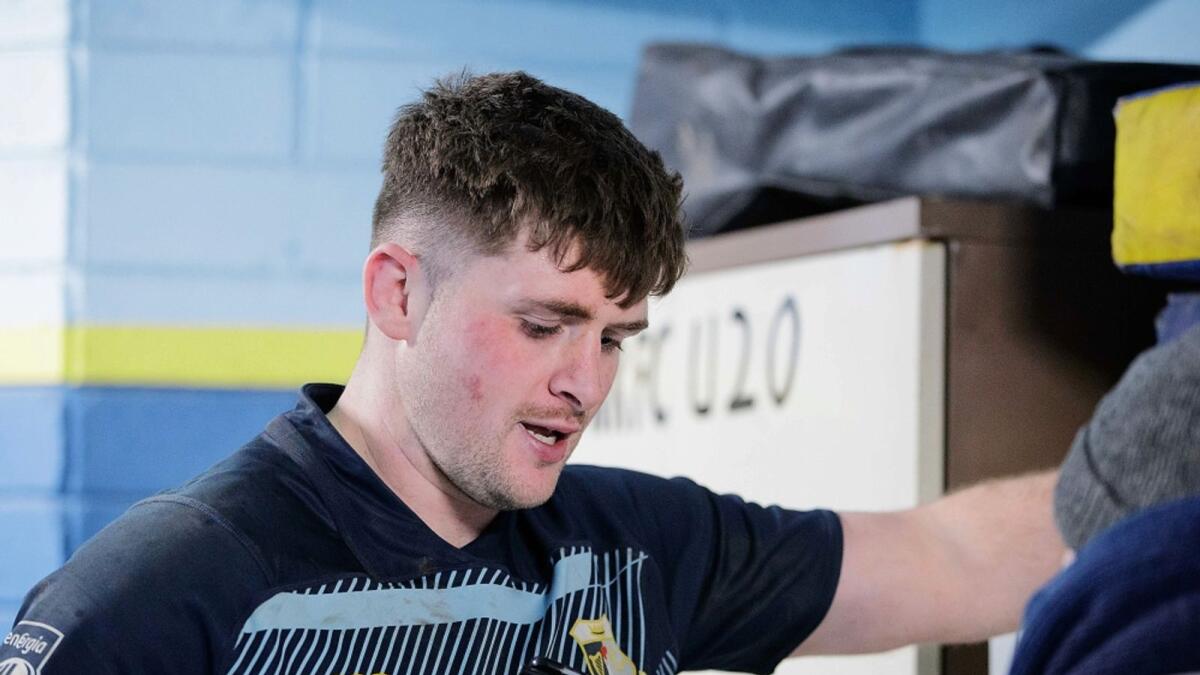 'I love the fact I got my 100th cap for Navan'
Previous
Next
Saturday's clash with Nenagh Ormond at Balreask Old was a special day for Navan lock forward Conor Hand. It was his birthday. He was 26. There was something else that made it a red-letter day for him. He marked his 100th appearance in the AIL for the Balreask Old outfit.
The only blot on the horizon for Hand and his colleagues was that they couldn't win despite having plenty of possession, and creating quite a few opportunities.
It was one of those frustrating days that every team will have from time to time. Chances were created. Then something would happen to ensure promising approach work would be spoiled - a knock on, a turnover, some unnecessary, needless infringement.
Hand is clearly not someone who is content with anything but a victory; his competitive spirit undiminished in the years he has spent at the coalface of the game.
"I love the fact that today I got my 100th cap playing for Navan, especially on my birthday but I would swap all that stuff for a victory, it just wasn't to be," he said as he stood outside the Navan dressing room after a contest that was a real battle of the titans; an unrelenting war of attrition.
In his career to-date Hand has seen all sorts of days; experienced all sorts of ups and downs in that mysterious arena where nobody, except those who are actively involved, knows what is really going on - the scrum. He was certainly prominent on Saturday in that other arenas that are the preserve of the lock forwards. Arenas such as the lineout.
He and his other colleague in the brotherhood of locks - Eoghan Noonan - ensured there was plenty of ball secured from their own throws, and hard yards made, but Navan just couldn't take full advantage. Frustrating.
Noonan took a hefty blow early on and had to go off for a while but he came back on and put in a big shift. It's what locks do for the cause. Courage and iron is part of their make up.
It was understandable Hand should feel nostalgic about the milestone he passed on Saturday. After all 100 appearances for any team is a notable achievement.
"I'm playing rugby for Navan since I was eight. I remember starting (to play for the first team) at 18, it only feels like a year or two ago, it's all starting to make me feel old! I was then only a young whippet of a lad getting bullied by the other players, now I see myself as one of the older players around, so it's a big change but hopefully I'll make a 100 more appearances. "
The big lock dabbled in Gaelic football - "to keep fit during the summer" - but that didn't work out. "I started getting red cards so I turned to rugby, it was the only sport I could play really," he added with a smile. A project manager with demolition giants JJ Duffy (who are also one of Navan's sponsors), Hand say he loves the cut and thrust of life as a lock. He loves the fact he is "in the trenches all day." He savours the physicality of the role, getting stuck in, the tackling, the carrying. All of it he loves.
"The line out, I love that, it's about timing and precision, a lot of repetition, drilling, getting it right. We have one of the best line-outs in the league this season, it's a credit to the coaches and the lads."
Conor is from a family steeped in sport - but it has nothing to do with a ball; either circular or oval shaped. Neither has it anything to do with being a lock forward, a position where height and considerable heft are among the prerequisites. His older brother Danny Hand played underage for Navan before becoming a jockey. "My father Finbarr used to be jockey and became a horse trainer. I don't know where I get the height from, I think my grandfather was tall."
To mark his 100th appearance Hand led the team out of the dressing room before the game but he insists he wasn't the captain. "David Clarke is the captain, I'm not interested in any of that stuff, I just want to go out and help the team win as many games as I can."
That competitive spirit wasn't completely satisfied on Saturday with the draw against a Nenagh side who had a giant pack. At times Navan struggled in the scrum. At other times they excelled, executing some big shoves. When that happened there were high fives and much back slapping among the Navan pack.
Moments like that is what the tight-five fraternity - props, hooker and locks - live for. Moments when they combine power and precision to overcome the odds. Conor Hand has known a few of those moments during his first 100 AIL appearances for Navan RFC. Treasured moments.