Railway children reunion... Brothers back for poignant visit to old Gibbstown railway station house they grew up in
Previous
Next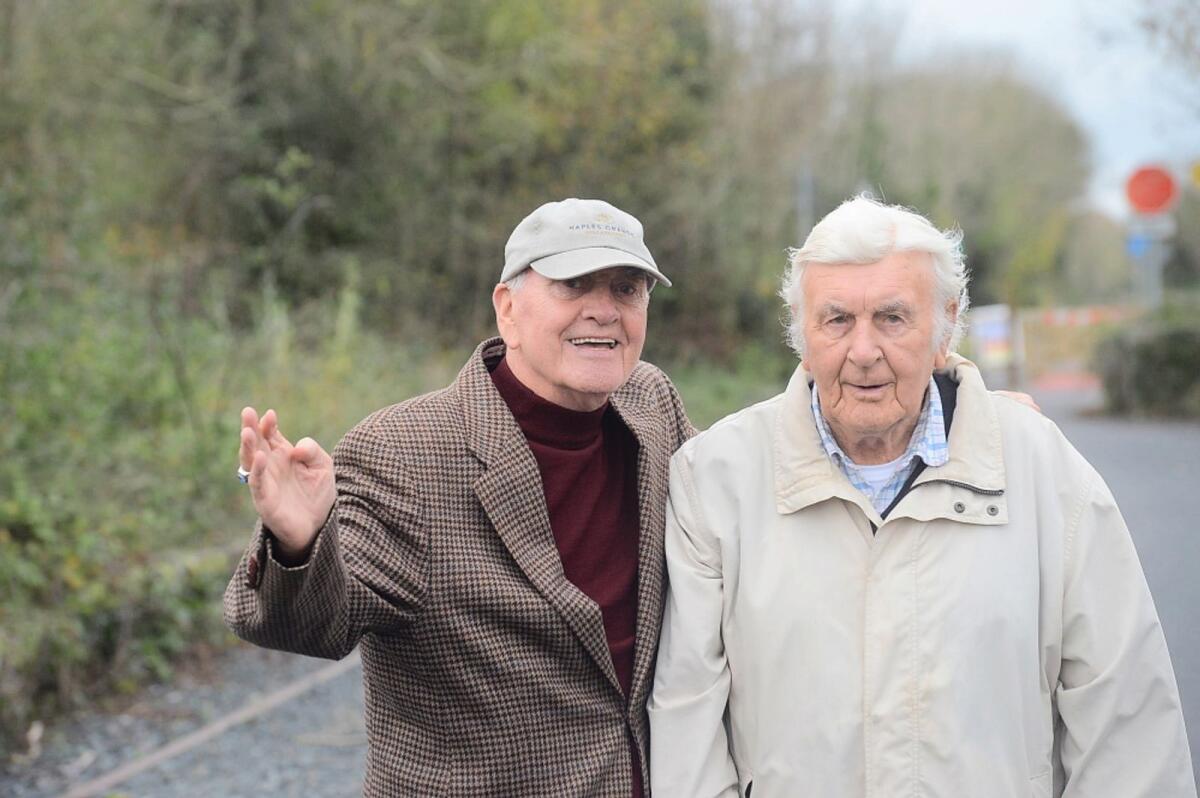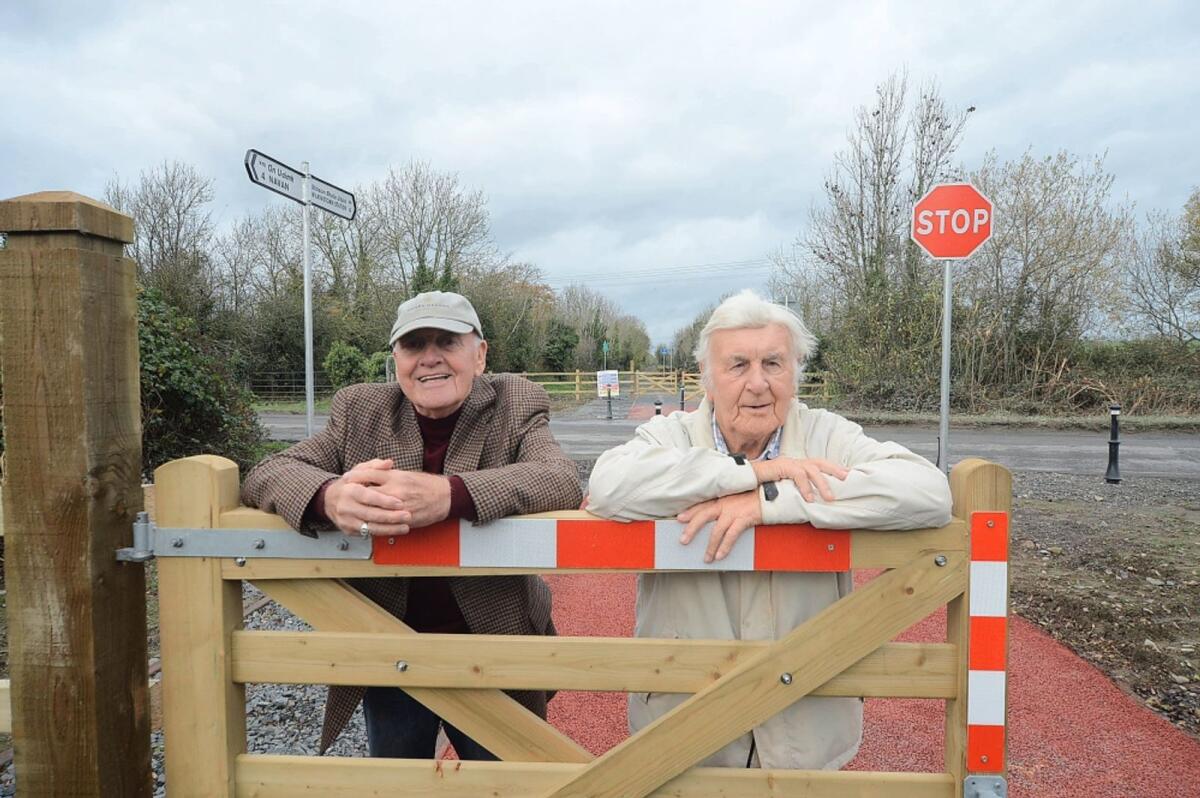 Two brothers who grew up at Gibbstown Railway Station recently reunited for a trip down memory lane as they walked the tracks that once passed their home and now form part of the Boyne Valley to Lakelands County Greenway.
Brendan Dolan (87), who emigrated to America in 1959 recently returned to Ireland to visit his brother Paul (85), and his wife Ailish who live outside Castletown, accompanied by his son Brendan. He has visited a handful of times since leaving in the fifties but this was the first time since before the pandemic. The brothers have remained close and Paul has also visited Brendan in Queens several times over the years.
Very little remains of the home that they grew up in, but the brothers enjoyed a walk down the greenway past their old family home and reminisced about their childhood when it was a busy railway.
Brendan and Paul's father James Dolan was the station master at Gibbstown train station and after their father passed away, their mother Anne (nee Markey) continued to manage the station and lived there until her death in 1982, at the age of 84. A native of Ballinagh, Co Cavan, Anne had three sons from her first marriage to George Devlin. After he died, she later remarried Brendan and Paul's father James.
Brendan told how he always called to see his old home whenever he came to Ireland, walking down the tracks which were well overgrown. This time, however, it was a very different story with the tracks now lifted and replaced with a walkway between Wilkinstown and Gibbstown that forms part of a 30km greenway being developed between Navan and Kingscourt.
Brendan says he was sad to see the railway close and would have liked to see a train service still operating for commuters, but is glad to see that it is being used as a walkway.
"I think it's a brilliant idea for pedestrians, and for tourists to walk there. It's a great idea what they are doing, though I would say it should still be a railroad from Kingscourt to Dublin to facilitate the people that are driving the cars up there today.
"I was sad to see the railway gone but glad to see they are doing something with it."
The brothers recalled a very happy childhood, growing up playing on the platform and cattle bank and helping their father with the duties when the trains came in.
"There used to be seven trains passing through the station every day. Then it whittled down to just one. Going from Gypsum up to Dublin but it's no more now and is a walkway now," said Paul.
"When my father died, they gave the go ahead to my mother to manage it. At that particular time there was only one passenger train each day. Kingscourt-Dublin, Dublin-Kingscourt."
Cattle trains often pulled in at Gibbstown and Paul recalled waiting up to meet the train as a young lad.
"We would have had cattle specials coming in there from Ballaghaderreen, or Roscrea and several different places in the West. I often had to stay up all night. The train might come in at one, two, three or four in the morning.
"When the train came in, it used to go over to the siding to let off the cattle. We had a lamp that was red and green. The driver would be looking out. If we put up red on it, he stopped and if we put up green, he went on again. When the wagon was in line with where we kept the cattle, we'd put on the red light and stop there and let the cattle out to the paddock."
Brendan also remembers this and added: "I remember putting the lights up and signals, and making the points. I remember helping my father put graphite on the points to help them move freely."
"We had great times there. We used to play on the platform and on the cattle bank. Brú na Mí was open in Gibbstown at the time and they would bring down a lot of people from Dublin down there too for the summer months to the Gaeltacht, " he said.
Paul also recalled that the Meath All-Ireland winning team from 1949 used to train at Brú na Mí.
Brendan told how they had an aunt living in America and this was how he came to emigrate there in the fifties. He said: "My aunt was home and she was telling me about the great life in America. I was working for a Mr Blake at the time, they were big farmers in Randalstown. I was fond of tractors and combine harvesters and all machinery and he wanted me to remain with him until he sowed the wheat. I had planned to leave earlier for America but he said stay with us until we sow the wheat, so I did.
"My aunt was my mother's sister, Aunt Madge. I was up in the top floor of an apartment house and in the Summer I would be sweating and in the Winter I would freeze up there. I wasn't too impressed by America at the time. Then I started to go around and meet people. We used to go to dance halls and I got to like it.
"I worked in a factory for a while, I didn't like that. I was always looking to better myself. I did different tests for the State Troopers and I worked for the Port Authority in different departments. Then I took a civil service test for the Metropolitian Transit Authority and worked as a train operator. So I was back to trains. I spent 30 good years with them. "
In 1967, Brendan told how he met an Irish American girl, Peggy Conroy, and the couple married and had two children - Brendan who accompanied his father on this trip, and Monica, who is back in the States. Sadly Peggy died just a few years later in 1972 and Brendan went on to marry another Irish American girl, Joann, and they had a daughter Mary Ann. Joann passed away in 2016. Brendan also has three grandchildren - Joshua Dolan, Douglas Figeuroa, and Meghan Cucco.
After spending many years living in Brooklyn, Brendan moved to Breezy Point, Rockshore, Queens in 1997 after he retired and has lived there since.
Brendan and his son returned to the US on Friday, after spending two weeks here, and also visited cousins in Mullingar during the trip. He said he would be back though next time in the summer months when it is warmer!
"It's so lovely to see my brother and his wife. They are treating me the best. I'll come back. But it won't be this time of the year. I'll come in July or August."