VIDEO: A place of sanctuary where compassion, dignity and respect go hand in hand with the warm welcome
On Saturday 21st May, two coaches carrying Ukrainian refugees arrived at the Meath Rest Centre in Navan. Forty-six people, mostly women and young children with their world in a suitcase were welcomed by Meath County Council staff and Meath Civil Defence volunteers. GAVAN BECTON saw the refugees arrive tired and exhausted and followed their progress and spoke to those helping them prepare for a new life in Ireland
Previous
Next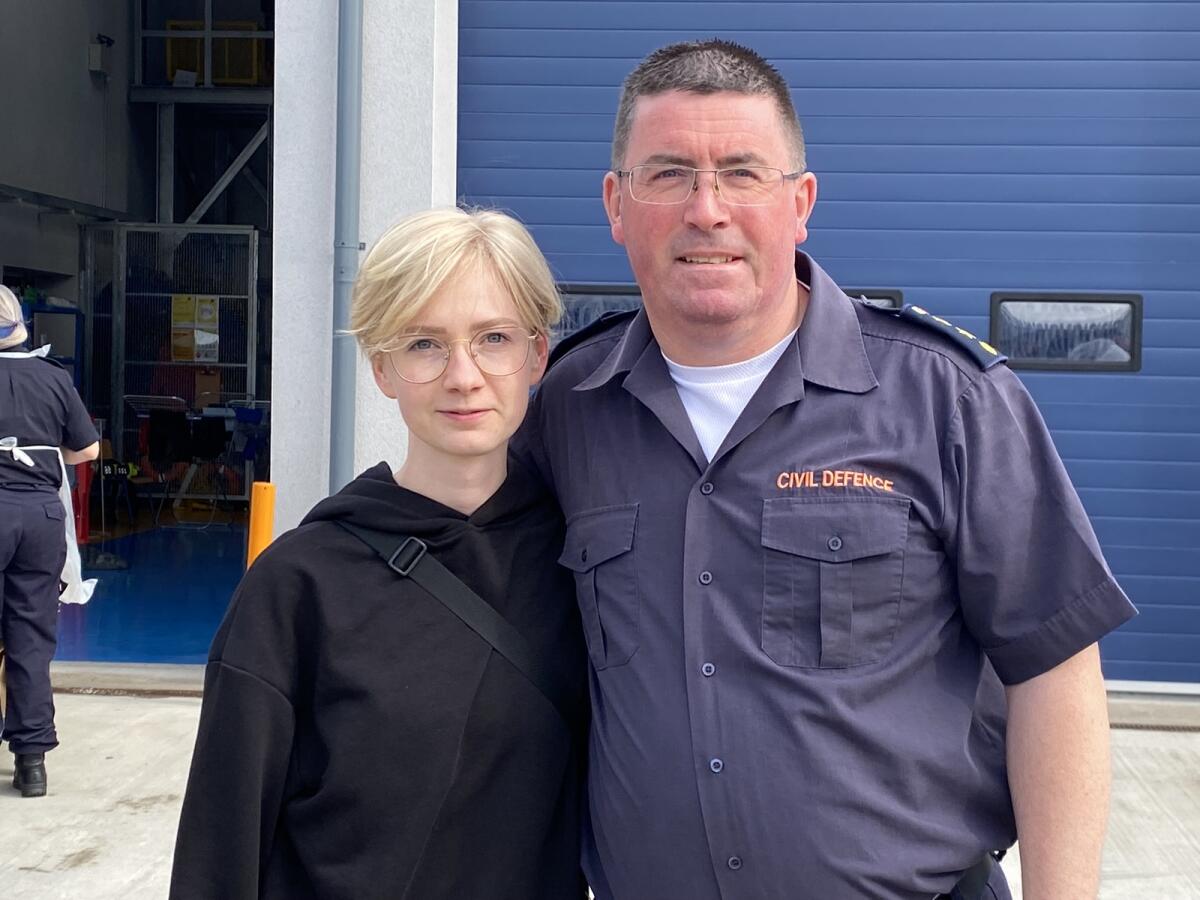 SATURDAY
It's just after 10pm and a coach wheels its way into the Meath Rest Centre for Ukrainian refugees.
Meath Civil Defence staff are on hand waiting to assist at the Meath County Council building in Navan that's been transformed into temporary accommodation and reception centre that will provide the new arrivals with a place to rest, recharge and access the services they need before continuing their journey on to settle in different parts of Meath and other parts of the country.
First off the bus are mothers carrying sleeping infants and young children, exhausted after an arduous journey from their homeland across Europe to Ireland. They're anxious to get the kids inside, to get them into a bed.
There are small family groupings as well as some young women and men who have travelled alone. They are all strangers to each other now thrown together through unimaginable circumstances. It's late and there's very little said except for 'Hello' and 'Welcome'
Thirty-three people have arrived on this bus, which came from the IPAS (International Accommodation Protection Service) Centre in Citywest.
Thirteen had arrived on an earlier bus the same evening bringing the total number of guests to 46 and just short of the capacity available at the Rest Centre in Navan.
IPAS is responsible for the provision of accommodation and related services to people in the International Protection ('asylum') process and dictates to which local authority rest centre refugees need to be cared for while their long term accommodation is arranged.
This is Meath's weekend to take new arrivals and this is the seventh such group to come here since it opened its doors on 28th March - just over 340 people in total.
The group gathers in the canteen facility where they are quickly registered. The new arrivals sit in silence as Civil Defence volunteer David Treanor moves from table to table with interpreters Justyna and Roman taking details and assigning people to their camp beds in the tented village that has been constructed within the building. Each guest is given a special wristband for identification purposes.
'Booba' - a cartoon favourite in Ukraine and ironically made by a Russian animation studio - is playing on Youtube on the TV screen in the canteen and some toys are out for use but the kids are too tired to notice, many slump over the desks and sleep as their guardian's details are gathered. Some of the adults are quick to pick up on the bi-lingual signs on the wall for the WiFi and activate phones accordingly.
"My role here is basically administration," says David Treanor. "I receive the people in and get their names, dates of birth, establish the family unit and assign them a number and then assign them to a tent. Then from there they are shown where the toilets and shower facilities are and where they can get fed."
There's concern over one gentleman who has arrived with high blood pressure. It's checked by a Civil Defence volunteer who is also a trained paramedic. The man had been rationing his medication en route to Ireland for fear of it running out. It's decided to take to him to A&E as a precaution.
Once through the registration process, the visitors disperse to find their accommodation areas. It's basic, but it's spotless, warm and safe.
There are six large marquees equipped with camp beds, chairs and sleeping bags. There's another smaller tent designed to accommodate a single family with cots and buggies inside. Towels and a bag containing toiletries have been left on each bed while a shelving unit outside is stocked with an assortment of nappies, baby wipes and sanitary products.
Priorities for the parents at this late hour are to settle children and avail of the hot showers as well as food that Meath Civil Defence has prepared under the guidance of volunteer Helen O'Connell.
"When we welcome them in, we feed them, try to make them feel a little bit more comfortable," says Helen. "We make it a little bit homely. We just keep it simple, nice fresh fruit and salads is what really goes down well. After that in the mornings your just talking about your basic foods like porridge and breads."
Helen and her team prepare and provide hot meals and she says it's great to see the families and visitors building back up their strength during their short stay at the centre.
"They can be very hungry in the first few days and quiet but then you can see them start to build up again and relax with smiles on their faces again and it's great, especially when you see the kiddos happy."
It's heading on for midnight and the visitors begin to disappear into their tents to put their heads down and sleep. Civil Defence members who have clocked up over 3,500 volunteer hours manning the Rest Centre will be on standby through the night, ready to assist if needed.
SUNDAY
With the new arrivals settled in and the children exploring their strange new surroundings it's a chance to get a word with Dara McGowan, Director of Services with Meath County Council who now oversees the logistical operation on accommodating and supporting the displaced Ukrainian nationals sent his way. He's about to call them all together for an induction meeting now and explain what support services are going to be put in place and try to answer any questions they might have.
"Over the three to four days of their stay, we will answer all our guests' individual queries including organising appointments with the Intreo (Dept of Social Protection) offices regarding PPS numbers, anybody who needs medical prescriptions or have health concerns, we'll organise that with the HSE. We have been dealing with the LMETB who provide some English classes here too."
"Another assistance the council and Civil Defence staff provide is to go shopping, picking up essential items of clothing and footwear.
"They come from Ukraine with very little, so we will compile a bit of a shopping list and get them some new clothes and essential items."
"All of this activity will happen within the first three to four days of their arrival from IPAS which is part of the Department of Children who then assigns them their long-term accommodation. We will organise transport from here to that new location."
At the induction meeting Dara, with the invaluable help of interpreter Justyna, answer questions from their new guests and explains the various processes ahead of them. Schooling and education are addressed, SIM cards that were provided on arrival at Citywest aren't working properly. Dara makes notes and instructs Justyna to let them know they'll look into that. Justice Minister Helen McEntee has arrived and sits quietly in a corner. She's on a watching brief, observing the interactions, looking for issues that can be raised with relevant government departments.
After 40 minutes of questions and answers, one woman quietly raises her hand. She just wants thank the staff and volunteers for all they're doing. There is a supporting round of applause from the visitors.
It's been a steep learning curve for all the staff and volunteers at the Meath Rest Centre since it opened two months ago but Dara believes that experience has been hugely positive for everyone involved.
"People come in and they are usually very tired, they've travelled huge distances via planes, trains and automobiles to get to Dublin Airport or the ferry ports where they have to do their paperwork (with IPAS) before eventually arriving with ourselves. So the first thing they need is a sleep, they're exhausted, but by the time their stay with us has come to an end it's good to see the children up and running around playing with each other and laughing and generally everyone is in good form ahead of moving on to their new accommodation."
Dara is keen to stress that while there are those who have had the benefit of the wraparound services provided by the Council and Civil Defence and other State bodies, there are many, many more people in the county who have come straight into the country and gone direct to host families or accommodation arranged over the internet and who may not have the assistance they require such as PPS numbers, medical card/checks, language help etc. That help is there now, he says.
"There is support there for those people. There is a Community Response Forum and that coordinates all the community response and voluntary groups in the county to get the supports these Ukrainian people need. It's very important that message gets out - (see panels right) - so that anybody who wants to get in touch with us can and use that resource."
With the induction meeting out of the way, Meath Co Council staff compile a shopping list, gathering essential requests from guests before going on a sortie into Navan Town Centre. The Rest Centre doesn't accept donations from the public - very little of what would be provided would be of any practical use.
Outside the marquees the children are taking full advantage of tables full of toys and games and one young lad is getting great craic of throwing a ball on to the sloped roof of the marquees and letting it fall back into his hands.
MONDAY
The process of getting the visitors fully documented is underway.
Each guest receives a permission letter from the Department of Justice confirming they have been granted Temporary Protection under the EU Directive and it's all the proof they'll need to be able to immediately access employment, income support, accommodation (if needed) and other State supports in Ireland.
The PPS number is the next step as Jarlath Flanagan, Administrative Officer with Meath County Council explains:
"One of the most important services our Ukrainian guests require is PPS numbers. When they arrive into the Meath Rest Centre we can direct them to one of three local Intreo offices (Dept of Social Protection) in Navan, Kells and Trim.
"They will be met by local department staff who will only be glad to help providing translation services and ultimately issue them with a PPS number which in turn allows them to avail of all the government services.
"Once the visitors have their PPS number we can then assist them filling out forms which they can submit to the HSE for any medical needs they require."
TUESDAY
Word has come through that the Ukrainian visitors' onward journeys are now arranged and it will be time for them to depart first thing in the morning.
One of those packing up is Tania, a young Ukrainian woman who came to Ireland alone and is happy to speak to the Meath Chronicle as she prepares to leave.
"The Irish people have been very kind to us since we arrived. We spent a few hours in Citywest before they sent us here and I'm very thankful to the people here who have helped us. They gave us a bed to sleep and food and a roof over our heads."
"It's been hard because I left my family there. I have a grandmother who is sick, my mother who is there and can't leave my granny and my father can't leave my mother and so on. It's complicated, but it's my decision to stay here." Tania's voice trails off as she gets emotional recounting the journey she's made and those she's left behind.
"Thankfully we get WiFi here and everyday I can message them back home and we can chat and stay in touch."
"Ireland is a beautiful, amazing country and we have been in Navan for just a few days and we've been out to see the town centre, seen some castles and it's been amazing even if the weather is a little er, complicated, she says, flashing a grin through the tears."
Tania hasn't wasted any time since arriving in Ireland and already has some job interviews lined up and hopes to be working soon.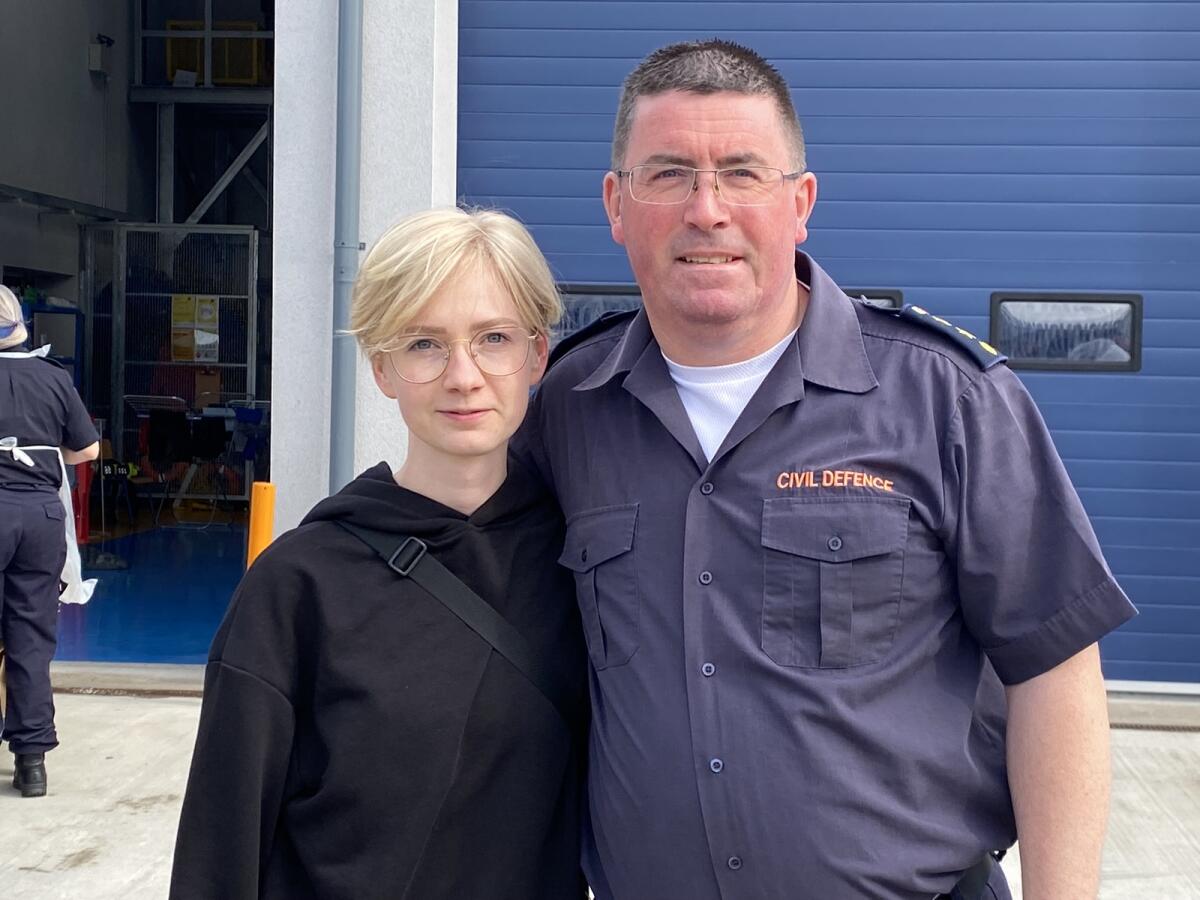 Asked if at some stage in the future she would like to return home to Ukraine, she says "Yes and I am 100% sure we will win..." before her voice trails off once more.
Cathaoirleach of Meath Co Council, Cllr Sean Drew has dropped in to wish the Ukrainian nationals well and see first hand the work being done by the Civil Defence and Council teams
"I have to say the work being done, mainly by volunteers is absolutely fantastic and in particular the work being done by the Meath Civil Defence team is humbling. The efforts that are being made to help these poor people that have come from their war-torn country are superhuman so I must commend Shane Quinn (Meath Civil Defence Officer) and all his volunteers here in the Civil Defence Unit.
Shane Quinn shares the Cathaoirleach's sentiments. "We get an immense sense of joy to look at the efforts and teamwork of the volunteers working here. Of course we do a lot more than just man the rest centre here, we've a wide range of activities that go on from medical emergencies, search and recovery operations but for the purposes of this project volunteers from all areas have really stepped up to the mark looking after out guests whatever there needs may be."
WEDNESDAY
It's just before 9am and a coach and minibus are parked ready to go outside the Rest Centre. Suitcases, bags and buggies are being gathered and packed away in the luggage holds, Civil Defence volunteers are on hand handing out lunch bags to keep them going on the journey.
These 46 refugees won't stay in Meath but instead will be heading for accommodation and a new life in the west of Ireland.
Interpreter Justyna, who never seems to leave the Rest Centre, is busy giving instructions about what groups are to take which buses but she's struggling to hide the emotional toll these farewells take. The hugs begin and the tears follow. Applause can be heard coming from the coaches as Justyna and her colleague Roman say their own goodbyes. "This bit is always the hardest," whispers Shane Quinn.
And it's not hard to see why.
It may be rudimentary in terms of home comforts, an alien experience, but yet, this place has been a place of sanctuary where compassion, dignity and respect go hand in hand with a welcome for fellow human beings in need of help.
The coaches pull out, under the fluttering flags of Ireland, Ukraine and Civil Defence whose volunteers and Council staff are waving them off. Forty-six souls forced to flee their country, now on the final leg of a journey to a new life in Ireland but with the hope that they can one day return home.
The Rest Centre falls quiet for now, the volunteers return inside where they begin the process of cleaning the marquees, restocking shelves, take learnings and wait for the call to welcome the next guests.
It's a process they expect to repeat many times over.
More information about the Meath Community Response Forum here and how it can help you.