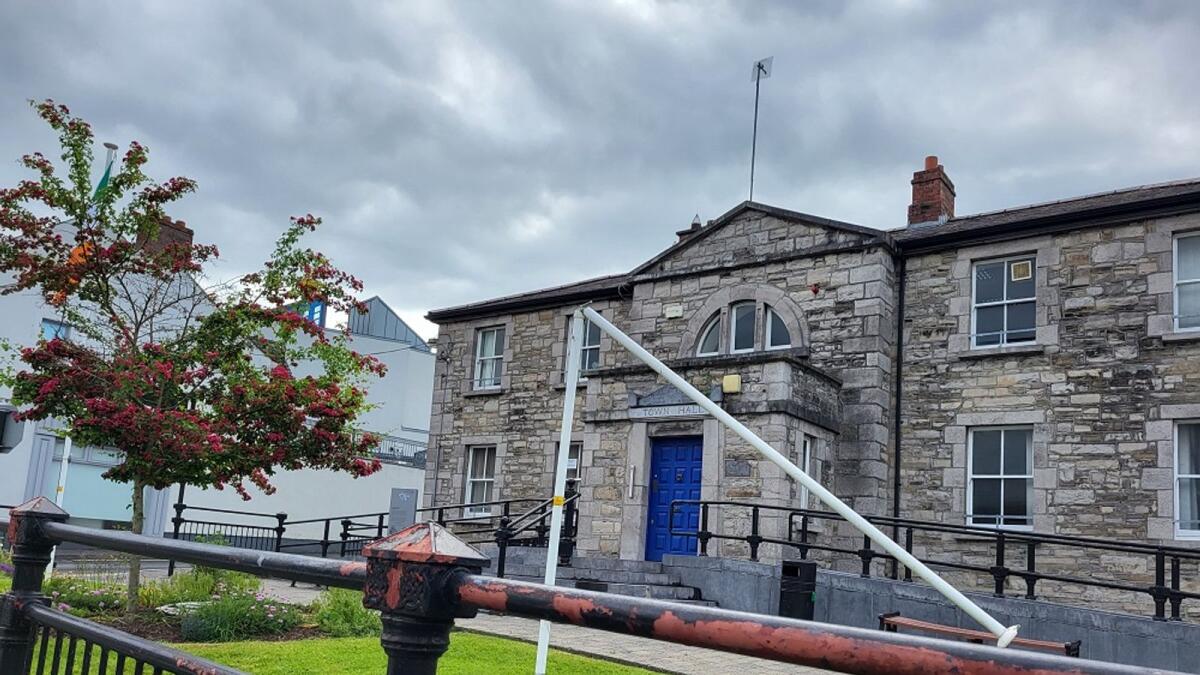 Ukrainian flag removed from Navan Town Hall for second time
Mayor condemns act of vandalism
The Ukrainian flag hanging outside the Town Hall in Navan has been desecrated for a second time in less than a month.
The blue and yellow of Ukraine has been flying alongside the Irish Tricolour on flagpoles outside the council headquarters as a symbol of solidarity with the Ukrainian people following the invasion by Russia on 24th February.
However, it vanished over the May bank holiday weekend.
When alerted to the disappearance of the flag, it was replaced last week by Meath County Council.
Now, not alone has the flag been again stolen, but the flagpole which was holding it has been smashed in half.
The vandalism has been condemned by the Mayor of Navan, Cllr Padraig Fitzsimons.
"This is an outrage and a shocking attack on our show of solidarity with a country that has been the victim of an unspeakable invasion," the mayor stated.
"We are trying to show unity with the Ukrainian people, may of whom are now living amongst us as a result of displacement from their own country.
"This mindless act of desecration has to be condemned as it is obviously not reflective of the town's attitude."
He added it is hard to understand the motive behind it.
Meanwhile, a string quartet concert is being staged in St Mary's Church of Ireland, Navan on Saturday 28th May in aid of the Ukraine relief effort.
All proceeds will go to Medical Help Ukraine, a charity founded by Ukrainian doctors working in Ireland who provide direct and non bureaucratic support for hospitals in Ukraine.
The Tara Quartet - Anne-Marie Russell and Judith Curtis on violins, Margaret Clark, viola and Philine von Kietzell, cello - will be performing works by Joseph Haydn, Ludwig van Beethoven, and Felix Mendelssohn Bartholdy opus 13 in A major.
The event is at 7.30pm and tickets will be available at the door at €10, €20 and €30. (PLEASE NOTE CASH ONLY - THERE WILL BE NO CARD FACILITIES AT THE CHURCH). Those who wish to prebook a ticket you can do so on Eventbrite at a fixed price of €22.20
https://www.eventbrite.ie/e/string-quartet-concert-for-ukraine-tickets-341157841287