Nancy surprises wellwishers with her 107th birthday spin
Previous
Next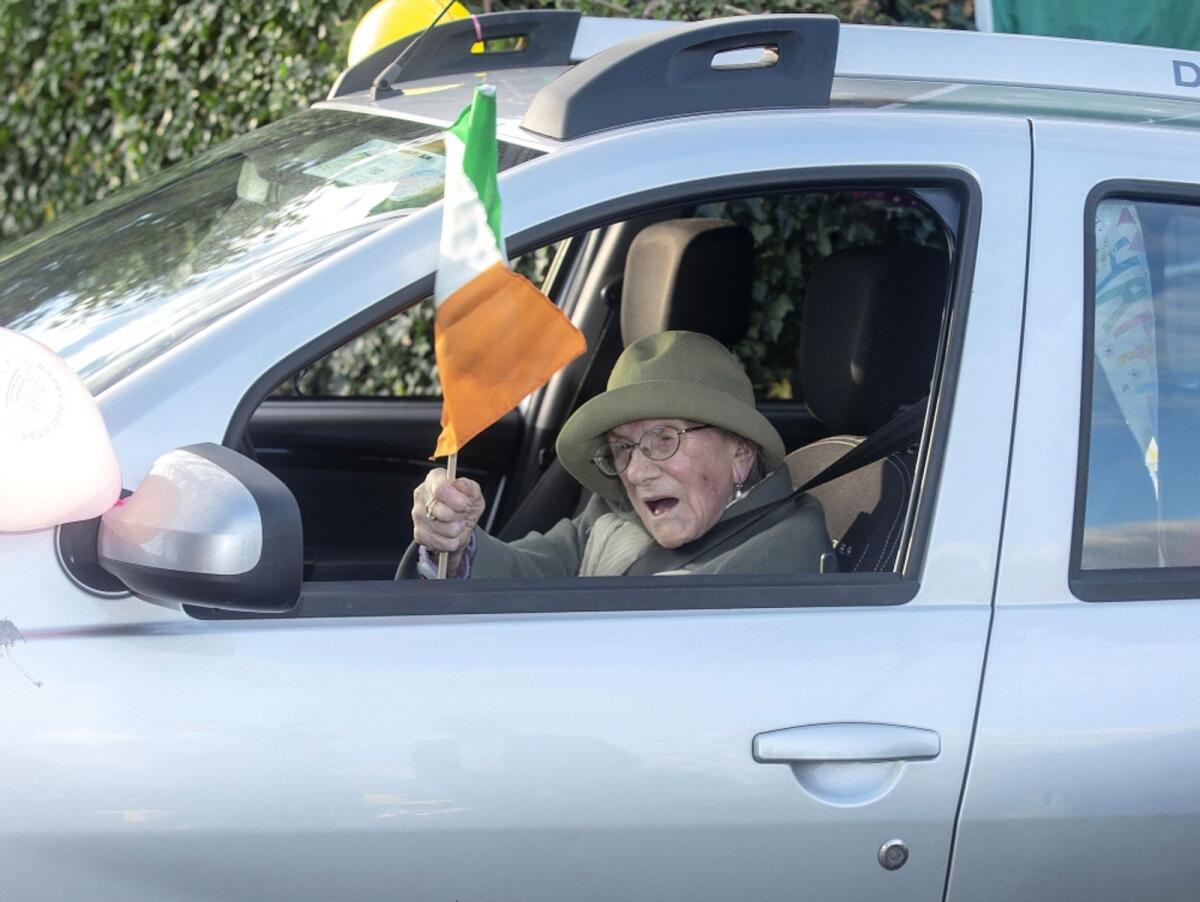 Nancy Stewart has become the hero we all need right now, her words of wisdom, compassion and kindness going out to the nation last week as the dark clouds of a second lockdown drew closer.
Nancy celebrated her 107th birthday on Friday and her beloved Clonard community was determined to mark the occasion in style and in strict observance of social distancing too.
Cars arrived in their hundreds at Clonard GAA grounds at 4.30pm, marshalled by local gardaí, Edel Dugdale and Conor Caffrey, and Blood Bike volunteers.
Balloons, bunting and special 'Nancy 107' number plates were all on show as the wellwishers prepared to set off in convoy to Nancy's cottage a mile from the village.
Nancy, however, had other ideas and arrived at the grounds in her granddaughter Louise's Coghlan's car. In her beautiful racing green coat and matching hat, Nancy smiled out from the window while enthusiastically waving the Tricolour, thanking the startled volunteers she'd caught by surprise.
When asked what it was like to be Queen of her beloved Clonard, the 107-year-old inspiration quipped: "I'll have to get a husband."
And with that they took off, down through the car park to a cacophony of car horns and cheers and much to the delight of all who had gathered.
After her surprise lap of honour, Nancy returned to take up position outside her cottage and home of the last 83 years, which was festooned with colourful bunting, balloons and birthday messages from all across the country.
From the car, Nancy posed for pictures with everyone, being careful not to get too close, given the current climate.
Last week in an open letter to the people of Ireland, Nancy wrote: "We are in a very difficult time at the moment in our country, in our lives and in our world. But I reach out to you in this letter to offer you hope, faith and belief that everything will be ok in the end.
"We are in another stage of this battle against the virus but we will get through this. Like everything I've been through since the day I was born in 1913, no matter how bad things have got, I'm the living proof that we can survive and in years to come, this will just be a distant memory."
The memories created last Friday will live on as a community showed their appreciation and respect for a lady older than the state, a survivor of the last pandemic and someone who has lived through civil and world wars.
Young and old in cars, SUVs, motorbikes and vans waved and cheered and sounded horns as they filed past Nancy, who never stopped waving her flag in acknowledgement.
She was presented with a framed front page from the Meath Chronicle, hampers from Enfield Credit Union and a huge bunch of flowers from Trim Garda Station. Garda Edel Dugdale, a local hero following her fundraising efforts for Féileacáin, the Stillbirth and Neonatal Death Association of Ireland, described Nancy as an inspiration to young and old and said she looked forward to meeting her again on her 108th birthday.
Granddaughter Louise Coghlan said she was blown away by the turnout and paid a heartfelt thanks to her community for making it happen.
Nancy has three daughters, Kathleen, Mary and Olive, and one son, Finian, and 84 grandchildren, great grandchildren and great-great grandchildren.
In her letter last week she said: "I lost my husband in a car crash in 1989, and lost my twin daughters Margaret in 2007 to motor neurone and Anne in 2010 to utter heartbreak of losing her sister."
"I've lost all my friends throughout the years, which comes with living so long on this earth."
Not that she needed proof, but the people of Clonard and beyond let her be in no doubt that she is loved and cherished.