Starved collie "dumped and left for dead" rescued by Ballivor dog sanctuary
Angry owners of a dog rescue centre in Ballivor have described the injuries of a dog who they say was "dumped and left for dead" in a field as "horrific."
The helpless collie cross was discovered by a man and his grandson in Kentstown on Saturday who made a call to Coolronan Dog Rescue who immediately made their way to the scene.
Owners Ramona Cunningham and Chris Kelly say they arrived to find the brute "severely emaciated, blind and starving to death" weighing just 9.5 kilos.
The animal lovers who have rescued around 100 dogs since the beginning of the year admit it was one of the worst cases of cruelty they have ever seen. Speaking on the horrendous incident Chris said:
"We got a phone call from a man who had been walking his dog with his grandson who came across her out in the field in Kentstown and rang us and hopped into the car and went straight over.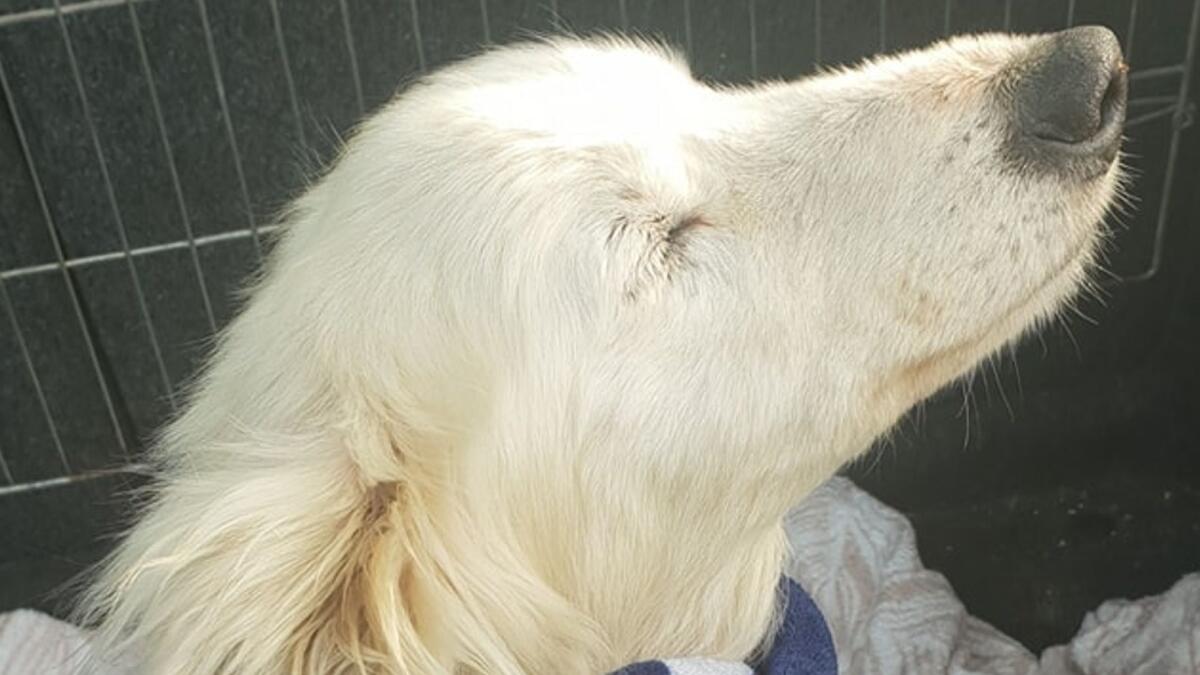 "We had to walk ten minutes through a bit of a forest and she was out in the middle of a big field. She was brought out there and dumped. It took us five minutes to find her because the grass was so high, when he found her she eventually put her head up but she couldn't stand.
"It was pure horrific, she had sores on her body, her hair was matted with dirt and she was infested with fleas.
"Ninty five per cent of it was malnutrition.
"It is absolutely disgusting, it is pure cruelty, we took her to the vet and she weighed 9.5kilos, she should be 27 kilos.
"She was left to die there, she wasn't meant to be found."
"Ramona has named her Faith because where she was it was a miracle that she was found."
"We are just so glad that that man came across her when he did and stayed with her until we arrived."
So distressed by the level of neglect and cruelty endured by the abandoned brute Chris says his partner Ramona "broke down."
"We stopped at Londis and got a little tub of dog food and she ate it as though she had never eaten before in her life.
"Ramona got very upset to see a dog in that situation.
"We have her in the house with us now and she has made herself at home, she's getting plenty of TLC. I'll never understand why these dogs don't hold a grudge against humans."
Earlier this month the Coolronan Dog Rescue owners revealed that they are forced to export up to 150 unpopular breeds of dog to Sweden every year as Irish people are turning up their nose to trusty collies, terriers and lurchers in favour of so-called 'designer dogs' like cocker spaniels, pugs and poodles.
Chris says that Friends Forever, a voluntary rescue in Sweden that has re homed 1000 Irish dogs since its inception in 2012 saves hundreds of dogs "from a death sentence" every year admitting that without them many dogs in Ireland would be euthanised in overwhelmed pounds.
The Rescue that was set up in Sweden initially to help abandoned dogs from the greyhound racing industry re homes 300 dogs every year from centres all over the country.