Image 1 of 8
Image 2 of 8
Image 3 of 8
Image 4 of 8
Image 5 of 8
Image 6 of 8
Image 7 of 8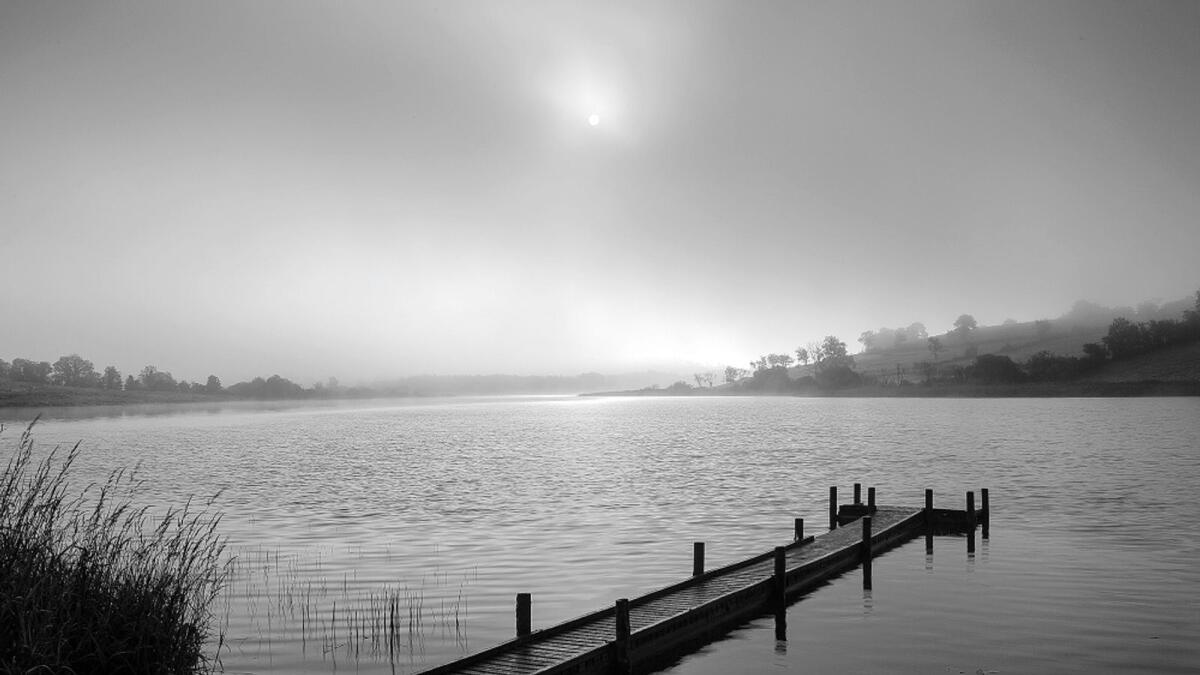 Image 8 of 8
Previous
Next
Talented photographer Hu O'Reilly has set himself the aim of photographing every one of the 365 lakes in his native County Cavan which he hopes to collect in a book and exhibition next year...
Hu O'Reilly jigsaws together five large ordnance survey maps to complete the lopsided bottle of County Cavan. A shotgun blast of red triangles are plastered all over it - each little sticker represents a lake, which the Crosserlough man has tasked himself to photograph.
He admits it's a daunting prospect.
"It is, until you break it into sections, because you look at that there," he says waving above the lacework of waterways from Loch Gowna up to Belturbet, "and think, that can't be done.
"This was the most daunting part around here, Lough Oughter," he exhales. "Where to start?"
Good point, let's go back to the start. What possessed Hu to try to photograph every lake in Cavan?
"I always wondered if there actually was 365 lakes, because it's something you always hear about Cavan. It's been at the back of mind for 10 years at least, and when Covid happened I got an opportunity to spend some time to do a bit of research and go around a bit more, because my normal work - wedding and commercial photography - was postponed for a few months at least."
In trying to pin point the lakes, Hu's first port of call had been Google Maps and Snapchat Maps. "With the Google Maps I only got about 280-290, and I was thinking: Ah ssss-ugar! The whole talk that there's 365 lakes, it's just a myth.
"But then I realised from those maps that there were some lakes that weren't on them... like Cullow Lough in Crosserlough, which is the nearest lake to where I grew up."
With renewed hope that there were actually 365 lakes, Hu invested in the ordnance survey maps sprawled out before us. This has presented the opposite predicament of the digital maps in that there's a handful more lakes than expected.
"I counted over 365. But some of them you go to and they've dried up," he says. "There's a few I've marked that I will go back to maybe in winter and see if they've filled up."
The Celt was confident, having heard from good authority that Cavan actually boasts 410 lakes. But, having spoken to Hu, if they exist only as pixels on a screen or a dab of blue on a map, and not as a substantial body of water, then you can hardly count them.
Hu's experienced the whole quandary of how to even define a lake too.
"Lacken Lough - or Nadrageel Lough - in Ballyjamesduff, it's down on the map as one lake but if you look at it, there's a river that goes between two lakes. So if it ends up being 366 or 365 - that could end up being one lake or two lakes, because geographically you could argue it either way."
The Celt enjoys the ambiguity around counting lakes, and opines that, after all, 365 is just a number.
"I wouldn't like to prove that it was not right," says Hu with a good hearted laugh. "If I do end up with a book of 365 lakes, I'm sure I'll put it somewhere there might be more, there might be less. But I think I would like to have a book of 365 lakes."
Now living in Dunshaughlin with his teacher wife and two-year-old son, Hu ventured to those nearest home to get the project underway. According to his alphabetic approach he began on 'Day A' in East Cavan where he snapped swans on Mullagh Lough; "a nice one of a dog lapping up some water at Cuilcagh Lough"; and one that was just okay at Lenenabragh.
"If I do 10 lakes in a day and I get two key shots I'm generally happy enough. And then the others, it's just a case of covering them, to document them - but try to get as good a shot as possible also."
'Day H' was spent up near Belturbet, and proved his most fruitful day as he covered no less than 26 lakes.
"The reason I could do 26 in one day was because they were all within 10km of each other," he says. This amazing wealth of lakes in one small area is obviously not confined to Belturbet. In Bailieborough he came across a local man, Tony Gregory, giving people kayak lessons on Castle Lough.
"He said there's 13 lakes within five kilometres of his house. So at least, during Lockdown he could go out and explore all of those," said Hu.
A recurring silver lining of this Coronavirus pandemic has been the strengthening, or even renewal, of connection between people and their natural environment. Hu's project seems to chime with that.
"With the lockdown and with the staycations, a lot of people are spending more time at home and realising what's around them and discovering lakes and going for walks that they never would have done before, so it's probably a good time to be doing this as well from that point of view. There is that interest in what's local, and what's Irish," he agrees.
When speaking to the Celt Hu's on 'Day M' and estimates that he's about half way through, with maybe 175 of the lakes photographed. He plans to continue with it up to next summer to ensure he has autumnal and winter shots included.
"I'm happy with how it's coming together," he reports. "The challenge is to not make it boring in terms of the imagery, so it's not just an aerial shot of this lake, and aerial shot of that lake. You'd get pretty bored flicking through that book.
"I try to include elements, whether it be people, animals, birds or nature that interacts with the lakes. There's a challenge in that but that also makes the project a bit more interesting because rather than it to be just a documentation of all the lakes, I want to make it like an art project - to make interesting images that would stand alone by themselves, even if there wasn't a 365 lake element to it."
As such he's photographed a family enjoying the wildlife at Lady Lake in Dún a Rí Forest Park, and also captured Tony Gregory and the kayakers on Castle Lough. He has enlisted the help of an uncle who owns a boat to take him out on some of the lakes and also has plans to photograph a GAA match on a pitch beside a lake.
And while he expects the book to primarily be a photographic book, he'd like to include a few details - folklore, history, stories, or facts - he's gathered a long the way. For example, returning to home terrain he explains why Cullow Lake is so significant.
"The name Crosserlough," he says, retelling a story taught to him in national school, "comes from the Irish, Crois ar loch - which means 'cross on the lake', so the old church - not the church that's there now, apparently threw a reflection on the lake which gave Crosserlough its name."
He happily adds that further studies cast some doubts over whether the original church could ever have cast a shadow on Cullow; but the charm of such stories handed down across generations is unblemished by concerns of accuracy.
Asked for stand out lakes so far, he keeps getting drawn to West Cavan, where he picks out Garvagh Lough and Tullygobban Lough.
"It's in the Cavan Burren and you're looking out over the mountains - it's a beautiful setting there," he says, before reverting to the lake that has become a visual shorthand for County Cavan - Lough Oughter, with the ancient ruin of Clogh Oughter Castle.
"It's really amazing there. And it's like a maze as well with all the different waterways. You could get lost very easily," he says with the enthusiasm of someone who doesn't mind getting lost in such beauty spots.
"It's a nice thing to do - be stood at the side of a lake at seven or eight in the morning waiting for the light, or looking for a good shot, or waiting for swans to get up and go out - it's a nice connection with nature and different parts of the county I've never seen before."
Hu has been posting some of the images he's captured on his instagram account to help document his journey and encourage locals to provide stories, histories or just feedback. See more for yourself:
https://www.instagram.com/lakesofcavan/