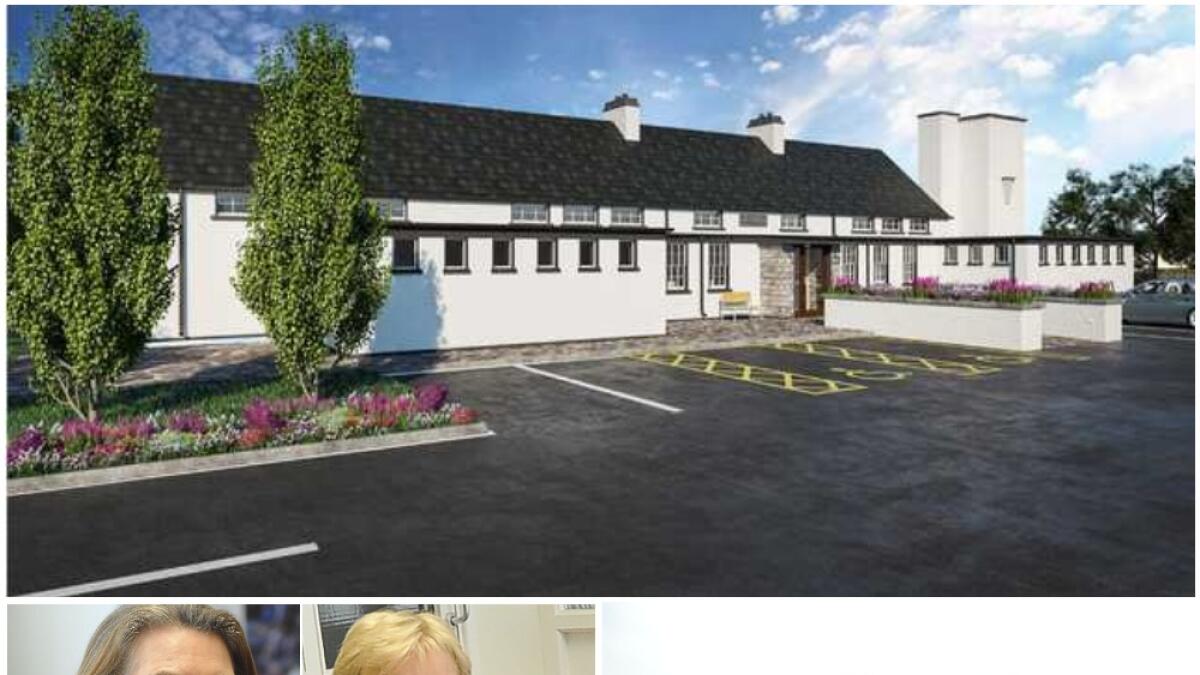 INSIDE NARCONON: 'We want people to know there is nothing to be scared of'
NOELLE FINEGAN & GAVAN BECTON
Narconon has broken its silence on its plans for a drug rehabilitation centre in Ballivor revealing details of the €5.6m project on the site of the former national school in the village which will accommodate 34 recovering addicts and 18 staff.
After months of speculation on what was happening with the site- which has planning for a nursing home- Narconon only last week confirmed they intend to open a drug rehabilitation facility.
When challenged on why it had taken until now to reveal its plans, Ms Laveau said they "weren't finished on the planning and that was really the simplicity of it", adding "there wasn't a lot to say or show until we had actually finished it."
How the new Narconon facility in Ballivor is expected to look
She outlined they had spent almost a year looking for a suitable property and went through 200 properties before finding Ballivor and then put the full proposal from Narconon in to Meath County Council in August 2016.
So why Ballivor? Ms Laveau gave the reasons behind their decision to locate there: "We were searching with different estate agents and it was the right size and had the correct zoning and was conveniently located in a central location. We had found another location down in Cork but that was a problem because it was way down the bottom and was not very accessible. Here gave us somewhere that we could easily get to.
"It's also an idyllic rural setting. People want to get out if the environment that they are in because they know they are vulnerable to temptation on one hand and on the other hand you have people who don't want everyone to know."
She added: "No other property fitted the bill and then there was talk I saw that it was right across from a school so we looked at maps of other rehabilitation centres and you can see they have similar.
The former national school in Ballivor as it looks at the moment. No date has been set for the start of construction.

"What we always do is work with the building that is there and try to enhance and bring new life to it."
Once the council had responded that it would be an exempted development, they started the process of acquiring the property.
"We had been straight up front right at the beginning, who we were and what we wanted to do and so forth, but you know contrary to what some people may think we are not publicity seekers at all. We just manage to get a lot of publicity so when we do something, you have to go through the whole planning stages so we have this raw shell to work with but what are we going to do.
"It is a bit like Christmas time when you go to a shopping centre, they are going to like cover their windows until they are ready to show you what their window displays are like, It is the same kind of a thing."
When put to them that they had targeted a property with a live planning permission, Ms Laveau agreed this was the case. "Absolutely. Whenever we buy any kind of a property, like if we were going to open up a new church in any city, you have areas where you have zonings for those kind of activities."
Mr O'Byrne gave the example of Firhouse centre where there was already planning for a church.
The Narconon/Scientology representatives were anxious to show how the former national school in Ballivor will look transformed into the 34-bed drug rehabilitation centre.
Regarding lessening the chance for objection from the local community, Ms Laveau claimed this wasn't part of the "thinking process".
"Actually the objection from the community wasn't part of the thinking process.....The fact it already had planning permission was a bonus, it wasn't one of the criteria, it was simply whether that area would be zoned for that type of usage is the thing that we look for. So we lucked out that it already had it."
On not being welcome in the area and how that comes into the thinking on a development like this, Ms Laveau said: " When we first started this project, we were completely upfront. And we put the planning application in with a complete description of the programme. And the planning committee and so forth reviewed it and approved it and there were no objections to it."
Janet Laveau, National Affairs Office, Church of Scientology, (above right), Linda Alred, Narconon Co-ordinator (top left) and programme graduate and rehabilitation secretary for Ballivor, Brian McWeeney pictured at our offices last Friday (Feb 23rd).

When challenged that there was no opportunity to object when it is an exempted development, Ms Laveau said: "We didn't know that. In the UK at Saint Hill, we had a lot of renovations and everything you do, you get your planning permission, it gets posted in the newspaper and it gets posted outside. I don't think anybody ever thought anything of it, we put the paperwork through."
Ms Laveau has openly admitted they were taken aback by the level of resistance to their plans.
"I've never seen anything like this in my entire life. Never, I've been working with Narconon since the early 80s and I've never personally experienced anything but complete acceptance because the programme makes so much sense to people."
They claim the centre will be worth €800,000 per year to the local community and that cooks, gardeners, housekeeping and maintenance staff will be locally hired.
A contractor has not yet been appointed and they don't have an opening date yet.
About 50 per cent of participants are expected to come from outside Ireland.
A price has not yet been set for their programme in Ireland and say it depends on the economics of the individual country but it is not-for-profit and there is no margin. In the UK centre, the cost is £18,000 for the programme which averages at four months.
When asked about the type of person who will attend the centre when it opens, Ms Laveau said: "One of the key concerns is are we going to see strange looking drug addicts running around the city. That is not the case with Narconon, Narconon is a private rehabilitation programme and it is a drug free programme, it only takes people who are wanting themselves to get off the drugs. If you don't have somebody that has made that decision themselves personally for their own reasons to get off drugs, it won't happen."
Mr O'Bryne said their key message to the people of Ballivor is "to tell them the facts, that they haven't heard before because we haven't talked to them about them yet". He feels there is a huge amount of misinformation out there, and Ms Laveau said a lot of the concerns are being created by a few individuals.
So how are they going to try to sell this to the community particularly if they have a barrier up?
"We are totally willing to talk to people, we want to talk to people. There is a huge problem in Ireland, even in the Ballivor area that there is a big drugs problem. Heroin is one that is specifically brought up along with prescription drugs and cannabis. It's the human factor, I don't know what else to say. We're willing to talk to people, we want to brief them, we want to let them know that this is not something scary or that it's not going to bring a benefit to the community."
What would they like to say to the people of Ballivor who are extremely worried of the prospect of a centre in their community?
"There's nothing to worry about firstly," said Mr O'Byrne.
"What we would like to say is that Narconon is really dedicated to addressing the issue of drugs, offering a drug free withdrawal programme that restores people's lives. It's a safe programme and it is going to bring, I think, a significant benefit to the community both in terms of economic injection in to the area and with very stringent security measure in place so that it is a safe programme and enhances the environment," said Ms Laveau.
While they aren't open to the idea of addressing a public meeting, they say they are willing to meet with smaller groups and anyone who wants to talk to them about the proposal should contact info@narconon.ie.