Navan Rugby Club 'twins' with Italian counterparts Piacenza Rugby Club
Previous
Next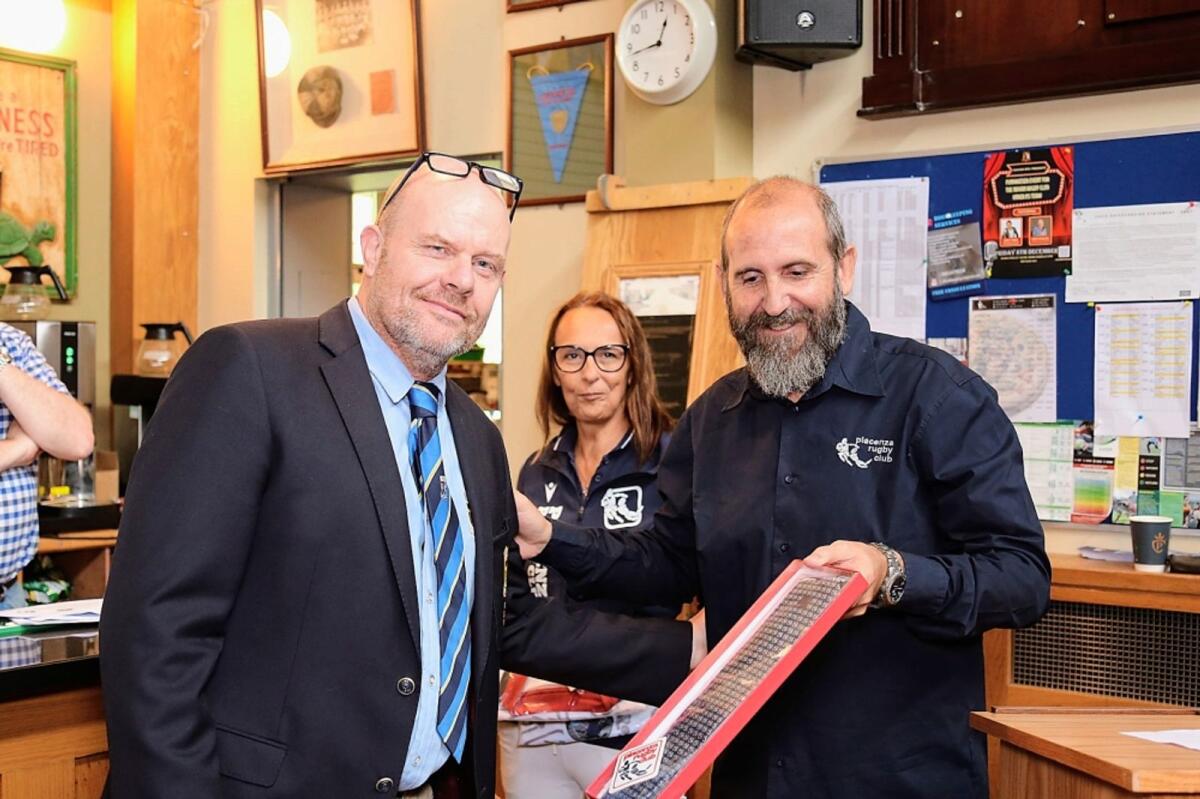 Navan Rugby Football Club have entered into a unique "rugby twinning" partnership with Italian rugby club Piacenza Rugby Club A.S.D. who are based in the Northwest of the country.
A delegation from the club in Italy have visited County Meath this week where they have been hosted by Fr Derry Healy of the Missionary Society of St Columban in Dalgan Park outside of Navan.
The relationship has come about as a result of the twinning between the then Navan Town Council and the nearby town of Bobbio which was established in 2003 where Irish born St Columban is buried, Piacenza is a neighbouring town.
Work had been ongoing to establish a "Camino-type route" between Ireland and Italy that matches the journey taken by St Columban during the Middle Ages. One of the Columbans who was in Italy for meetings with the international committee set up to work on organising the pilgrimage route between Ireland and Italy. When they were in the Piacenza area, a local solicitor, who had connections with the local rugby club, expressed a strong interest in twinning his club with Navan RFC.
Italian national, Manuela Bertoncini became a driving force in forging the connection between Irish and Italian locations and had been in contact with former chairperson of Navan RFC; Leo Finlay to get the project off the ground.
There followed a series of zoom meeting between both clubs, which was very productive with a huge amount of enthusiasm and goodwill on both sides. Both clubs have a lot in common in that they are similarly community and family based clubs with a history of almost a century
each.
The twinning of Navan RFC with Piacenza Rugby Club A.S.D is a shared commitment that will allow both localities to embrace shared experiences. Both clubs have defined objectives and activities for this twinning, including participation in shared sporting competitions, cultural understanding and educational exchange through a shared passion for rugby union football and a desire to educate and better enrich members understanding of different cultures and languages.
The twinning will run through both clubs infrastructure, including all aspects of rugby from Minis to Senior Adult level with the plan to have teams from Navan tour to northwestern Italy and for Piacenza to send teams to tour Navan and the Leinster North-East area.
At the reception to formalise the twinning arrangement on Sunday, representing Piacenza were; Federico Grangetto (Director Of Rugby), Marco Corradi (former player and captain of men's first team), Marco Campominosi and Marilena Zazzera (members Piacenza Club board).
For Navan RFC the representation was led by club president, Damien Dixon, club chairman, Brendan Farrell, deputy president, Scott Ennis along with other members of the executive committee and a number of club past presidents and chairpersons.
Also attending were Cllr Tommy Reilly (cathaoirleach Meath Co Council) and Cllr Padraig Fitzsimons (leas-cathaoirleach/Vice-Chairperson: Navan Municipal District) as well as Senator Shane Cassells.