Ladies and Gentlemen, to whom it concerns, it's the Late Late Show, and here is your host…
TV WEEK (Wednesday 13th to Tuesday 19th)
WATCH OF THE WEEK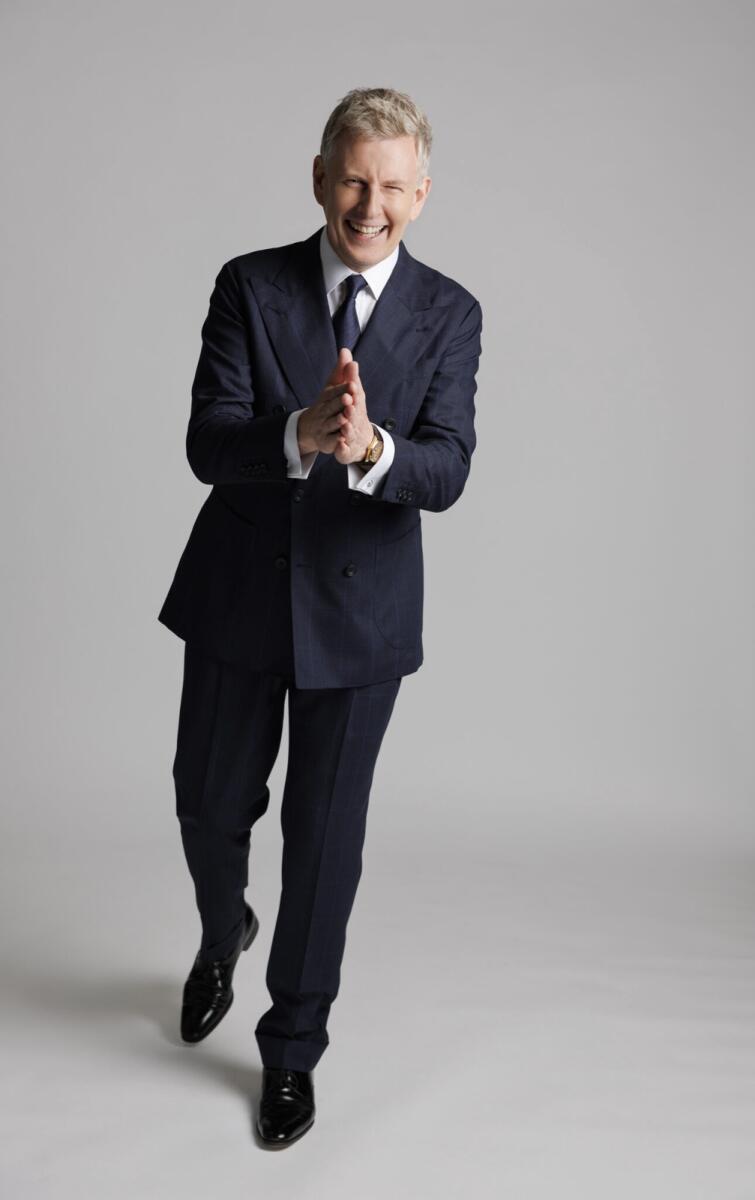 The Late Late Show (RTÉ 1, Friday 15th, 9.35pm)
To Whom It Concerns, after all the hubbub of the last few months, this old reliable of Irish TV screens is back for another round. September 15th heralds the start of a new chapter in The Late Late Show story as new host Patrick Kielty brings his own style to the world's longest-running live chat show and the best in Irish entertainment, music, and comedy – and yes, the owl will be there with a new shine to his feathers.
TOP SPECIALS
Dominia (Sky Atlantic, Wednesday 13th, 9pm)
Season two chronicles the struggle for control of the Roman Empire and its Imperial Family, from a female perspective. Livia Drusilla, the golden girl of the prominent Claudii family, returns to Rome after 10 years in exile, determined to regain everything that was stolen from her in the midst of a fractious empire.
Ghosts Of Baggotonia (RTÉ 1, Thursday 14th, 11.25pm)
'Baggotonia' was both a geographic area and a cultural movement, populated by writers, artists and other intellectuals living an anarchic life at odds with the over-arching drabness and the conservative mores of the time. Inspired by a rare collection of photographs from artist Nevill Johnson, this film draws on the writings of the period, including those of Patrick Kavanagh, Samuel Beckett, John Montague, Paul Durcan and Thomas Kinsella.
Arena: Coco Chanel Unbuttoned (BBC 2, Friday 15th, 9pm)
Gabrielle 'Coco' Chanel transformed women's fashion, as a truly revolutionary designer whose influence is still evident today. Her designs called into question the role of women, sex and power, and ignited a whole new way of dressing. Actress Sophie Marceau narrates the story of a life still shrouded in mystery.
27: Gone Too Soon (Sky Arts, Saturday 16th, 9pm)
Brian Jones, Jimi Hendrix, Janis Joplin and Jim Morrison all died at the age of 27, between 1969 and 1971. At the time, the coincidence gave rise to some comment, but it was not until the death of Kurt Cobain, about two and a half decades later, that the idea of a '27 club' began to catch on in public perception, re-ignited with the death of Amy Winehouse in 2011.
BEST FILMS
Knock At The Cabin (Sky Cinema, from Friday)
While vacationing at a remote cabin, a young girl and her parents are taken hostage by four armed strangers who demand that the family make an unthinkable choice to avert the apocalypse. With limited access to the outside world, the family have to decide what they believe before all is lost.
Sense and Sensibility (RTÉ 1, Saturday 16th, 3.15pm)
One of the finest adaptations of Jane Austen's classic novel, starring Emma Thompson, Hugh Grant and Kate Winslett. After the death of their father, three young women find themselves in abject poverty. The responsibility to provide for the family lands on the oldest sister, who is also dealing with heartbreak.
Downhill (RTÉ 1, Saturday 16th, 8.35pm)
An American remake of the Swedish 'Force Majeure', this stars Julia Louis-Dreyfus and Will Ferrell as a couple with marriage trouble – made worse after a disastrous incident on a ski trip. A blackly comic script from Succession creator Jesse Armstrong.
CLASSIC MOVIE
The Revenant (RTÉ 2, Sunday 17th, 9pm)
Set in the uncharted hunting territories of 1823, this gruelling tale finds frontiersman Leonardo DiCaprio left for dead after a deadly betrayal by a fellow hunter, who than has to utilise his survival skills to find a way back to civilisation and exact a terrible vengeance. The performance won him the Best Actor Oscar that year.
KIDS STUFF
Ready, Eddie, Go! (Sky Kids, from Friday 15th)
Eddie is a kind, giggly, brilliantly imaginative little boy – who also happens to be autistic. Whatever adventure the day has in store – be it an Easter egg hunt, a train journey, or a trip to the dentist – he always likes to know what's going to happen in advance.
Beyond The Bullets – Real Life During The Civil War (RTÉ 1, Tuesday 19th, 2.25pm)
This social history series uses a blend of archive, data, dramatic reconstruction and music of the period to paint a vivid picture of what life was like during the second half of 1922, as the Civil War begins in Ireland, with unemployment high and both Mussolini and Hitler on the rise.
ON DEMAND
Justified: City Primeval (Disney+)
Raylan Givens now lives in Miami, balancing his life as a US marshal and part-time father of a 15-year-old girl. A chance encounter on a desolate Florida highway sends him to Detroit, where he crosses paths with The Oklahoma Wildman, a violent, sociopathic desperado who's already slipped through the fingers of the Detroit PD.
The Killing Kind (Paramount+)
This thriller from bestselling author Jane Casey was shortlisted for the Irish Crime Book Awards 2021. As a barrister, Ingrid Lewis is used to dealing with tricky clients, but no one has ever come close to John Webster. After Ingrid defended Webster against a stalking charge, he then turned on her – following her, ruining her relationship, even destroying her home.
Sitting In Bars With Cake (Amazon Prime)
In the summer of 2012, Audrey Schulman baked a cake and took it to a bar to celebrate her best friend's birthday. The cake was such a hit – not only with her friend group, but also with guys – that she officially named it 'cake barring', and continued to the idea once a week for an entire year in Los Angeles, with the goal of getting a boyfriend.
Spy Ops (Netflix)
One-on-one interviews with the intelligence officers from the CIA, MI5 and Mossad who carried out successful covert missions against the Taliban, Osama bin Laden and Isis. This true-crime series takes viewers behind the scenes of some of the most dangerous and covert espionage missions in recent memory.
SPORTS CENTRE
2023 BMW PGA Championship (Sky Sports, from Thursday 14th, 12pm)
We head to Wentworth in Surrey for the 2023 BMW PGA Championship. This 69th edition of the tournament will see Shane Lowry defend his title, while last year's runner up, Rory McIlroy, is also confirmed to be returning. Another Irish double on the cards, hopefully.
Rugby World Cup (RTÉ 2, Saturday 16th, 7pm)
Ireland v Tonga is, on paper at least, a win for the boys in green. But beware that classic sporting banana skin – anything that seems a safe bet often is anything but.