'No matter where you are, home is home'
Previous
Next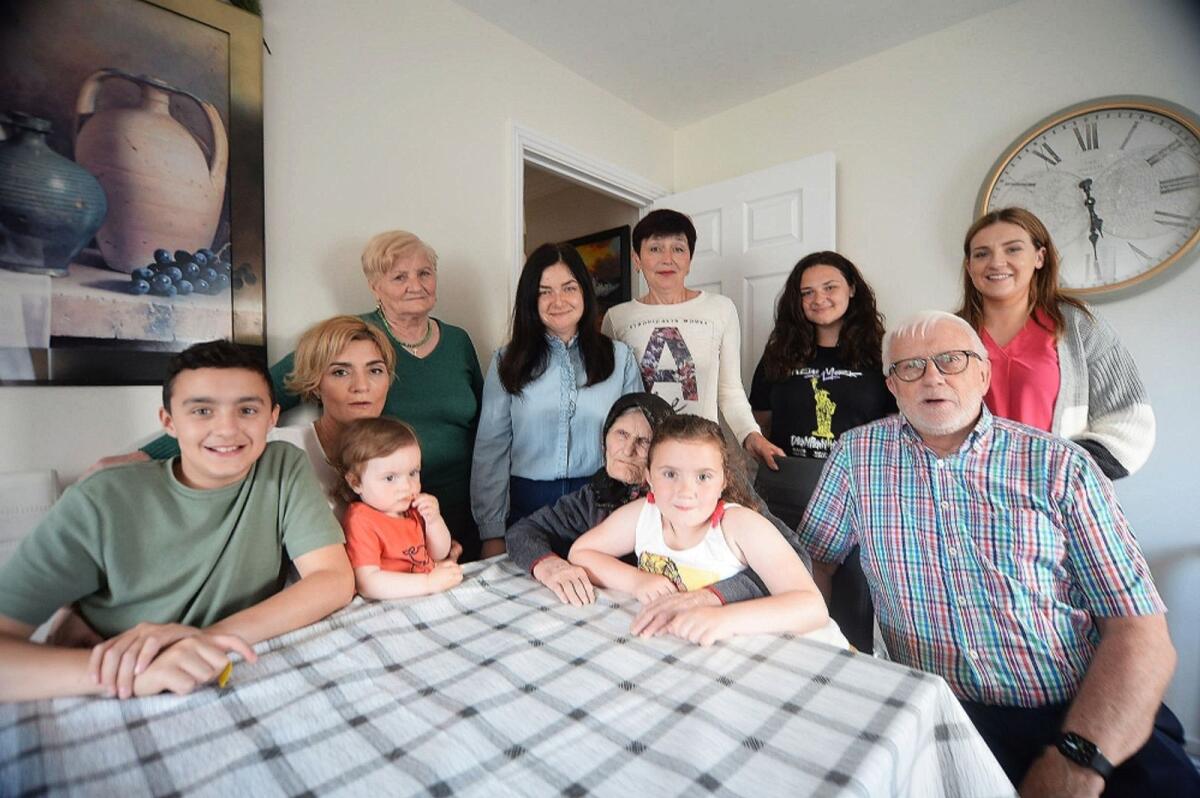 The Healy house in Trim will see both joy and sadness this Christmas as the close-knit family celebrate the festive season together.
Ukrainian native, Luba Healy, is overjoyed to have her mother and grandmother safely with her this Christmas, but there will be sadness too for friends and neighbours still in war torn Ukraine.
The Christmas celebrations will include Luba's mum, Nina, and grandmother, Galina Vituck who were rescued by Luba and her husband, Eugene from Ukraine last May and brought to Ireland in a gruelling convoy across Europe.
"We are looking forward to spending Christmas together but Mum and Nan are sad too, they miss Ukraine," says Luba. "No matter where you are, home is home," she says.
"Mam is a great help and they are enjoying the grandchildren, but they both miss home. Mam says she'd just like a glance and be able to walk into her own home for just a few minutes."
The family are looking forward to the Christmas celebrations and it is the first ever Irish Christmas for Nina and Galina.
"This is my Nan's first time in Ireland. Mam has been here before, but never celebrated Christmas here. Mam keeps checking what I am doing for Christmas and asking lot of questions about recipes. She wants to be involved, but it is all really different for her."
Luba explains that in Ukraine, the biggest celebration of the festive season is on the 6th January.
"We just have a nice meal and prayers on Christmas Day but Little Christmas is the big celebration.
"We have twelve different dishes representing the 12 months of the year and have a Christmas tree with presents underneath and a lot of decorations. We come from a farming background so there would be a lot of preparation of home produce and cooking. Goose would be the main dish.
"We would watch the big shows and concerts at Christmas and then go into town on the 7th January."
Luba says they will have an Irish and a Ukrainian Christmas this year.
"I've been here 22 years and we always celebrated both. My cooking would be more Irish than Ukrainian as Eugene and the children prefer the Irish food. Mam still makes Ukrainian food and makes it for herself, Nan and I, but the children won't touch it.
"We will celebrate Christmas and Little Christmas and have Irish and Ukrainian food."
Heartbreak and anger were the overwhelming emotions in the Healy home last February when the Russian tanks started rolling into Ukraine.
Luba was extremely worried for her mother and grandmother who lived in Haivoron, the town in central Ukraine where Luba grew up. It is three hours from Odessa and five hours from Kyiv.
"My Nan lived on the same street as us when I was growing up and had been living with my Mum, when the war started. There was just my brother and I and he now lives in Newbridge."
Luba says her mother would never come to Ireland to visit for any significant length of time because of caring for Luba's grandmother.
When the war broke out, they initially refused to come to Ireland. "They were determined to stay in Ukraine. They said they were prepared to die there. My mum said she had a mallet at the door and was ready for the Russians."
As the fighting continued fighting they agreed to make the journey in May.
"It was only the threat of Russian soldiers abusing my grandmother than convinced my mother to make the journey," says Luba.
Luba, Eugene, their son Francis and family friend Diarmuid Dawson set out for Ukraine last May in a camper van and a jeep laden with supplies for Ukraine.
"The Ukrainian driver brought Mam and Nana to just inside the Ukrainian border and they had to wait there 36 hours for us to arrive.
"It was chaos at the Ukrainian border. There were sirens going off everywhere and we were delayed by over two hours with paperwork."
"They were all very frightened and even when we were safely in Poland they were scared," Luba recalls.
The group travelled overland as Galina's frail body wasn't able for a flight. As well as her precious family members, they also brought five other adults and a four-year-old girl to safety.
"It was such a relief to get them safely back to Trim," Luba recalls.
Luba came to Ireland for a year in 2000 and ended up staying a while longer. She met her husband Eugene in 2003 when she started work in Trimfold, where he is managing director.
"He was giving me a lift one day and crashed the car. That was the start of it," she says. The couple have three children together and Eugene has two older children from a previous marriage.
"We are all looking forward to Christmas and celebrating both traditions. Most importantly we will all be together and safe, but will be thinking of the people who are in Ukraine and what they are going through this year."