McCormack's the pick of the crop at Meath Business and Tourism Awards
Previous
Next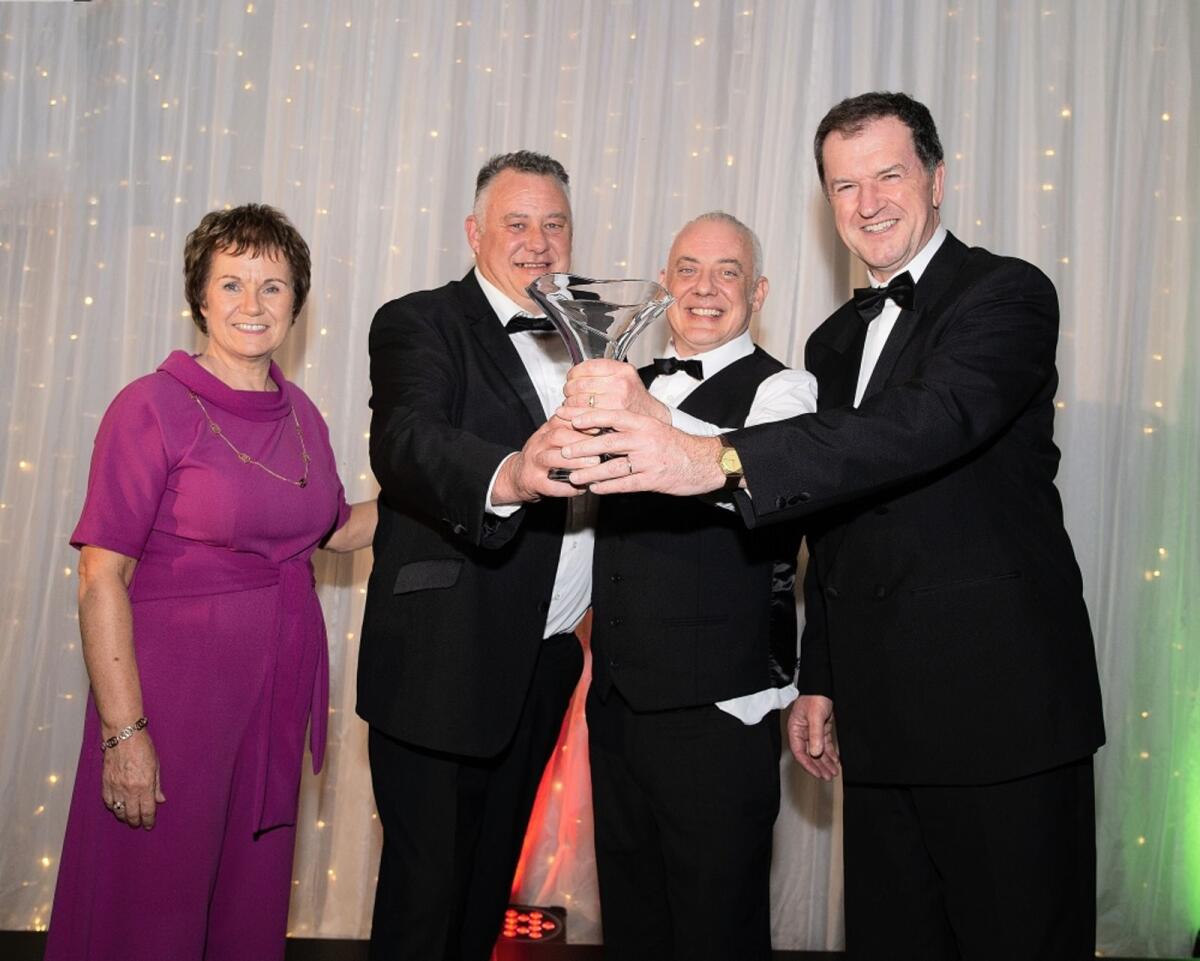 McCormack's Family Farm and Killeen Castle were the Overall Winners of the 2022 Meath Business and Tourism Awards held on Friday night at Knightsbrook Hotel.
The highlight on the social calendar for Meath businesses saw over 260 people at the glittering event which was also attended by Minister of State for Business, Employment and Retail, Damien English and Cathaoirlach Meath Co Council, Cllr Nick Killian.
Accepting the coveted Overall Business accolade, an elated Stephen and Padraic McCormack said they were thrilled to have been nominated in their category of Best Family Business and never expected to win the overall prize.
"This is a massive surprise and great honour. We are totally shocked considering all the amazing companies involved and it's just brilliant for our amazing staff, said Padraic."
The Kiltale-based business is a second-generation family farm and one of Ireland's leading growers of salad leaves and herbs, supplying fresh produce to supermarkets and restaurants around the Island of Ireland.
McCormack Family Farms was started in 1984 by Eddie McCormack on a couple of hectares and is now run by his son, Stephen, who cultivates over 280 hectares and employs over 120 staff.
This pioneering family was first to commercially grow iceberg lettuce in Ireland, then first to grow baby leaf salads and as of this year is the first in the country to commercially grow organic spinach, after converting a 10 hectare field under Irish Organic Association certification.
Stephen told the audience how McCormack Family Farms prides itself with Hones Leaf ethos – their leaves remain naturally fresher for longer, reducing food waste and ensuring better quality products which are closer to nature.
The business is well embedded in local community, supporting the annual Meath Feeding the Homeless initiative as well as sports clubs, like Moynalvey GFC and Kiltale Hurling & Camogie Club. Additionally, it sponsors Agri Aware 'Incredible Edibles' programme, which promotes healthy eating habits among 76,000 primary school pupils around Ireland. Growing business in a sustainable way is at the heart of the business.
Accepting the Overall Tourism Award sponsored by Discover Boyner Valley, Sales Marketing Manager at Killeen Castle Golf Resort & Lodges, Karen Collins, said the team at Killeen were "thrilled" with the honour.
"We were delighted to win the Best Tourism Experience award, & the Overall Tourism award. It was great to see and celebrate the achievements of so many businesses in Co Meath. We are so excited for 2023 and can't wait to welcome visitors to our new accommodation."
Killeen Castle, built in the 12th Century, will soon become the proud host of the Boyne Valley's newest hotel. Rolling through 600 acres of beautiful Co. Meath countryside, Killeen Castle offers an unforgettable golfing and leisure experience, with an 18-hole championship course, crafted by golfing royalty, Jack Nicklaus. From golf days, to dining experiences and dedicated event spaces right through to openly accessible wood walks and walled gardens, Killeen Castle Golf Resort and Lodges is fast becoming the must-see destination for golfers and leisure guests travelling from near and far.
Its local team including Golf and Clubhouse Manager Cormac Ryan have been busy throughout 2022 not only focusing on delivering an outstanding golfing and leisure experience to our existing customer base, but importantly focusing on the overseas market in promoting Killeen Castle and the Boyne Valley to a broad audience of golfers at a series of international trade shows, notably in Rome, Orlando Florida, Scotland, Denmark and many more destinations. Killeen Castle is very proud to be one of the Boyne Valley's leading leisure destinations and looks forward to further building on its own and that of the broader reputation and profile of County Meath and the wider Boyne Valley in 2023 and beyond.
Meath Chronicle editor Gavan Becton said the Meath Business & Tourism Awards was a celebration of all the shortlisted businesses, "what they bring to the landscape of working life in Meath, their resilience, innovation and determination to overcome adversity and challenges thay have faced over recent years."
Cathaoirleach of Meath Co Council Cllr Nick Killian said it was "great to see so many of our entrepreneurs, service providers and business leaders in person" at the black tie Knightsbrook event.
"It continues to be a very challenging time for us all, but a particularly difficult period for many of you. I want to pay tribute to all of the business leaders and in particular the resilience of business owners across the county who have worked tirelessly and are continuing to work tirelessly despite the current economic challenges.
"As a local authority, we have worked with local businesses, either directly or in cooperation with Meath Chamber, through LEO Meath and Boyne Valley Tourism and others, to support the local economy. We will continue to assist, work with and support local businesses where we can.
"As a Council, we are proud to support and steer the economic development of the county, as we continue with the implementation of our Economic Development Strategy. We are seeing very positive results and notable success stories."
One of the most poignant moments of the night was the awarding of the impossible-to-judge Not for Profit category, proudly sponsored by Sheridan Insurances which saw Meath Women's Refuge and Support Services take the honour. It was the only category to have five shortlisted entries such was the onerous task facing the judges to choose from MWR&SS, Kells Riding for the Disabled, Kilmainhamwood Area Development Association, Trim Family Resource Centre and Claremont Stadium.
The judges decided am Outstanding Contribution award was merited and choose to give to Navan's Claremont Stadium for its 40-plus years serving the Navan and wider community in sporting, educational and support resources.