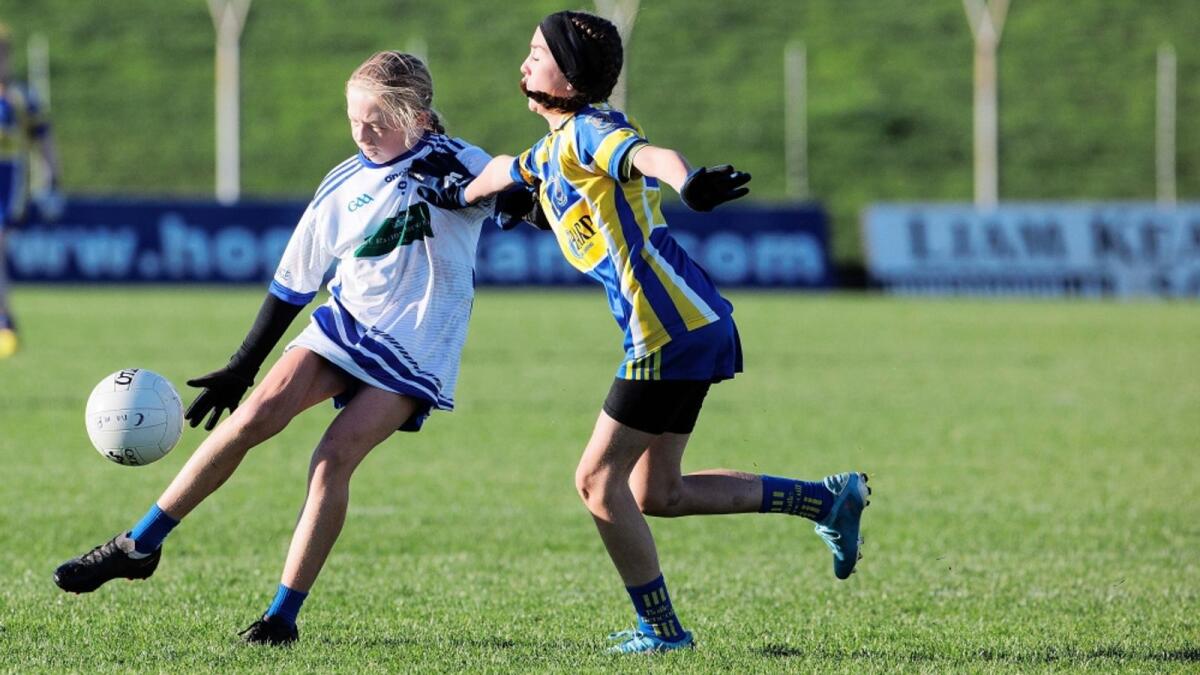 Cumann na mBunscol Finals: O'Neill inspires Kilmessan NS to stunning comeback
Previous
Next
Chloe O'Neill deserves to have no homework for the rest of the year and be allowed stay up as late as she wants after she inspired Kilmessan NS to a stunning comeback victory over devastated Kentstown NS in the Girls Div 2 final at Pairc Tailteann on Sunday.
Kentstown looked to have done enough to repel Kilmessan's second-half onslaught when Sadhbh Walsh bagged her sides third goal to make it 3-3 to 1-3 with 15 minutes remaining.
However, Kilmessan never gave up and when Katie Martin powered through for a brilliant goal in the 42nd minute it provided her side with the boost they needed.
O'Neill came into her own after Sarah Doherty had pointed for Kentstown to make it 3-4 to 2-4 with five minutes left.
O'Neill was fouled and converted her own free to launch the comeback and seconds later she embarked on a brilliant run before pointing to leave the minimum between the sides.
Nicole Cunningham won the resultant kick out and tied it up before O'Neill landed the winning point to claim the spoils following a thrilling contest. Despite playing with a strong wind in the opening half at their backs it took Kentstown a while to find their scoring touch.
The opening half was dominated by two superb defences with Aoife Shine and Niamh Duignan impressing for Kilmessan, while Sarah Bowens and Caoimhe Rogers excelled for Kentstown.
It took almost four minutes before there was a shot at the target with Kilmessan's Cunningham firing just wide from close range.
The opening score did come 90 seconds later when Lillymae O'Reilly and Cunningham combined to set up Halle O'Reilly for a point.
Lillymae O'Reilly went close to bagging the first goal, but her shot from a narrow angle flashed across the face of the goals. Kentstown's Lucy Doyle was denied a goal by a fine save from Vivienne Sykorova, but they did get on the board in the 19th minute when a shot from distance rebounded off the bar and fell kindly for Doyle who pointed.
Lillymae O'Reilly responded with a point for Kilmessan four minutes later, but in the closing two minutes of the half Kentstyown hit a purple patch.
Sadhbh Walsh's long ball was parried by sykorova, but the ball fell kindly for Emma O'Donoghue who finished to the net and two minutes later another long ball set up Doyle for her second point.
Riona McCoy extended that lead to 1-3 to 0-2 at half-time when her long free bounced over the crossbar to put Kentstown in a strong position.
However despite finding the net twice more in the second-half Kentstown couldn't hold on as Kilmessan produced their remarkable O'Neill-inspired finish.
Kilmessan NS - Vivienne Sykorova; Caoimhe Byrne, Aoife Shine, Aoibheann Fletcher; Niamh Duignan, Hannah Morgan, Shannon Reaney; Lillymae O'Reilly (0-1), Chloe O'Neill (1-5 two frees); Nicole Cunningham (0-1), Katie Martin (1-0), Katie Keena; Zara Devine Brogan, Halle O'Reilly (0-1), Caragh Byrne. Niamh Horan, Hannah McDonnell, Ella Smith, Ciara Corrigan, Lucy Lynch, Heidi Reynolds, Laura Roper. Mentors - Róisín Carolan, Nessa Farrelly.
Kentstown NS - Cara Fitzsimons O'Brien; Lexi Jackson, Sarah Bowens, Kate Monaghan; Sadhbh Clarke, Caoimhe Rogers, Maebh Walsh; Laoise Clarke, Ríona McCoy (0-1 free); Emma O'Donoghue (1-0), Emily Kelleher, Doireann Burns; Sarah Doherty (0-1), Sadhbh Walsh (1-0), Lucy Doyle (1-2). Isabelle Phoenix, Anna Gillic, Sinéad Walsh, Katie Fields, Áine Lyons, Amy Saad, Mia Dussoye, Mia Kennedy McCarthy, Fíana Mullen, Kayla Moroney, Ruby Maguire, Ciara Alves da Silva, Emmie Fitzgerald Matthews, Caitlín Puddick. Mentors - Ann Currane; Zara Rogers.
Referee - Cathal O Bric (Boyerstown NS).