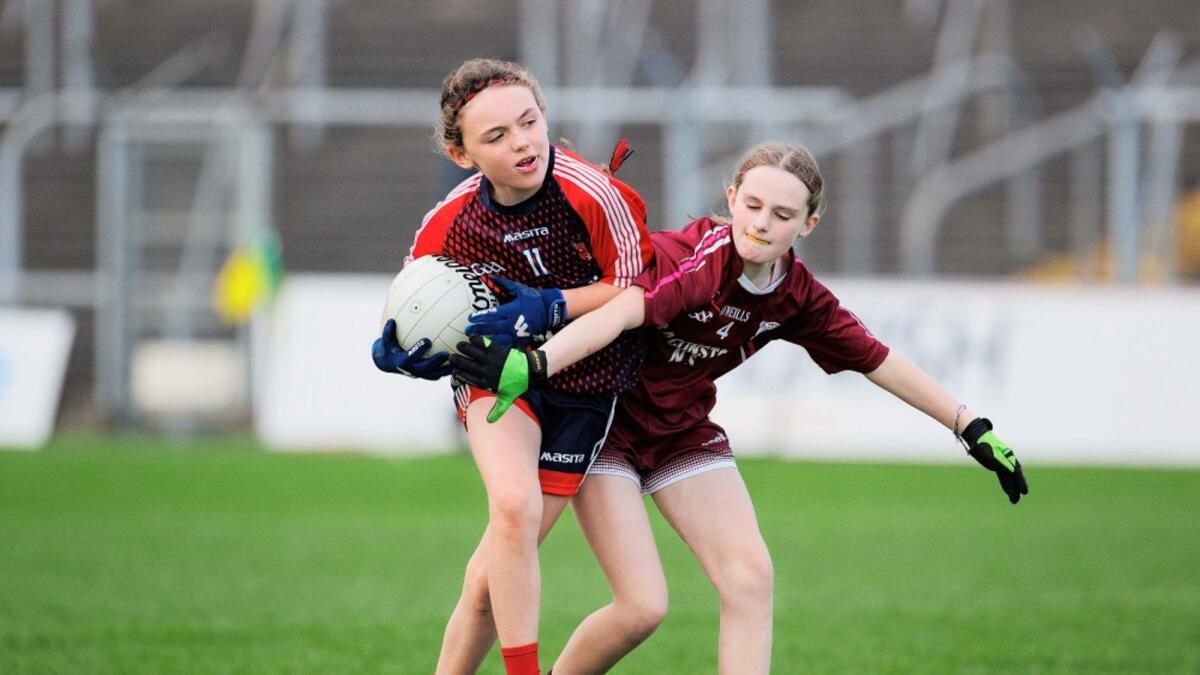 Cumann na mBunscol Finals: Good start boosts super Baconstown to title
Previous
Next
The concession of two goals in the opening three minutes left first-time finalists Scoil Ui Ghramhnaigh Rathcairn with too much to do as Baconstown claimed the Girls Div 3 title with an impressive victory at Pairc Tailteann on Sunday.
Trailing by 13 points at half-time was extremely harsh on the Rathcairn school as they were only outscored by three scores in the opening half, but it was Baconstown's clinical finishing that set them apart.
It took Baconstown just 90 seconds to find the net as Chloe Kavanagh set up Millie Killoran for a great finish.
Two minutes later Baconstown doubled their goal tally when Killoran showed outstanding vision to pick out Abbie Counihan with a clever pass across the face of the goals and Counihane made no mistake with her finish.
Kavanagh was denied a goal by an excellent save from Rachael Ní Mhiachcáin Ní Chearraigh, and that stop prompted Scoil Ui Ghramhnaigh into life as Aisling Ni Chainte was fouled and Holly Ni Dhabhtaigh converted the free to open her side's account.
Ni Chainte had a goal chance two minutes later, but her effort inched agonisingly wide.
As if to summerise Scoil Ui Ghramhnaigh's woes, 30 seconds later Baconstown had the ball in the net when Rachael Ní Mhiachcáin Ní Chearraigh's clearance fell to Killoran and she made no mistake to make it 3-0 to 0-1.
Goal number four arrived in the 16th minute when Anna Cole powered to the net and after Emma Wall pointed Kayla Wall grabbed Baconstown's fifth goal to make it 5-1 to 0-1.
Two frees from Holly Ní Dhabhtaigh either side of a score from Veronica Ni Chuinn threatened a Rathcairn revival as they closed the gap to 0-4 to 5-1, but two of the last three scores of the half went to Baconstown with Anna Cole and Kayla Wall pointing either side of a Holly Ní Dhabhtaigh score to secure a 5-3 to 0-5 interval lead.
With such a substantial advantage Baconstown could afford to take their foot off the gas in the second-half, but they still emerged after the break and hit the first three points from Emma Wall (two) and Kayla Wall in five minutes.
Another 11 minutes elapsed before the next score, but again it was Emma Wall on target with Anna Cole making it 5-8 to 0-5 in the 43rd minute.
Ni Ceallaigh finally got Scoil Ui Ghramhnaigh off the mark for the second period, but the winners responded with two points from Cole and the Baconstown star player brought her tally to 1-5 when she pointed again after another score for Ni Cheallaigh to ensure a comfortable victory for Baconstown.
Baconstown NS - Kayleigh Dixon; Áine Walsh, Róise Dorgan; Zoe O'Brien, Sara Bagnall, Grace O'Rourke; Kayla Wall (1-1), Anna Cole (1-5); Chloe Kavanagh, Millie Killoran (2-0), Willow King; Emma Wall (0-3), Abbie Counihan (1-0). Ali O'Malley, Lily Rose Hickey, Katie O'Malley, Anna Cody, Róisín Ward, Ellie Connolly, Meabh Flynn, Saoirse O'Rafferty, Abigael Banner, Paige Healy, Lauren Connolly. Mentor - Máire Keogh.
Scoil Ui Ghramhnaigh Rathcairn - Rachael Ní Mhiachcáin Ní Chearraigh; Aisling Nic Samhráin, Aoife Nic Leannáin; Doireann Ní Mhuirí, Leah Ducie, Alannah Nic Cormaic; Francesca Ní Cheallaigh (0-2), Veronica Ní Chuinn (0-1); Róise Ní Dhubhda, Holly Ní Dhabhtaigh (0-4 three frees), Aisling Ní Cháinte; Méabh Nic Leannáin, Áine Nic Chonaill. Sadhbh Ní Cheallacháin, Saoirse Ní Earchaí, Róisín Ní Anluain, Ava Ní Chofaigh, Grace Ní Dhochartaigh, Clódagh Nic Fhinn, Ríona Nic Cormaic, Bríd Ní Chuinn, Muireann Ní Chléirigh, Muireann Ní Ghallchóir, Paige Ní Ghríofa, Seran Báille, Éabha Nic Chiaráin Banáin, Amelia Ní Fhearail. Mentors - Brenda Ní Cheallacháin, Bláthnaid Ní Chaisil, Neasa Ní Dhonncha.
Referee - James Brennan (Bohermeen NS).