Cumann na mBunscol Finals: Drumconrath edge out Culmullen in Shield thriller
Previous
Next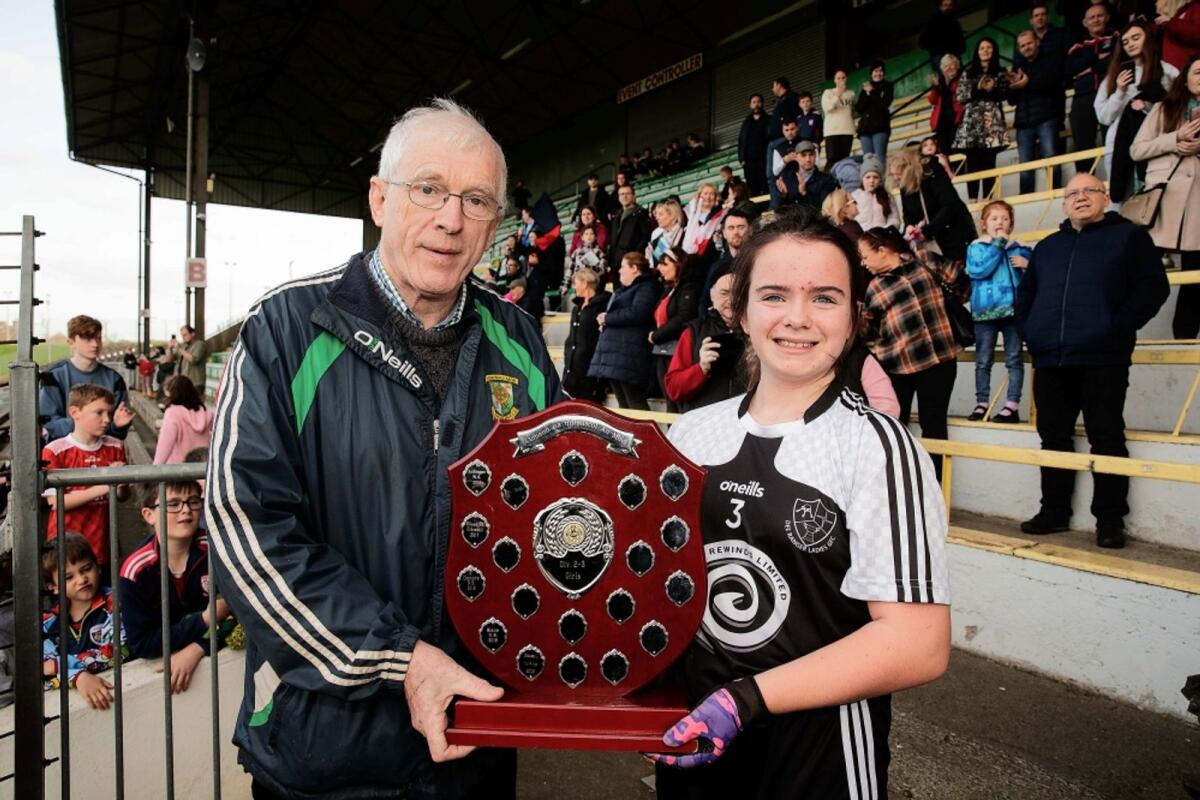 Drumconrath were deserving winners of the Girls Div 2/3/4/5 Shield, but they were made work mightily hard for their victory by an unfortunate Culmullen side at Pairc Tailteann on Sunday.
Culmullen were unfortunate in the fact that they came up against a strong Drumconrath side that were inspired by the brilliance of Ava Hickey, Cara Reilly, Skaiste Duff and Moira O'Connor.
That Culmullen were still in contention until the final whistle was due largely to the excellence of goalkeeper Maeve Mahony and the outstanding Alva O'Brien.
Drumconrath were in complete control in the early stages and almost every attack led to a goal chance with only good defending from Culmullen keeping them out.
The defence was finally breeched in the fourth minute when it looked like Moira O'Connor got the final touch in a goalmouth scramble to fire to the net for Drumconrath.
The second goal arrived three minutes later and this time there was no doubting who scored as Skaiste Duff latched onto a pass from O'Connor before firing a fierce drive to the net.
Avan Hickey looked to have added a third goal moments later but referee Julie Kavanagh awarded a free out and Culmullen were boosted by that let off.
In their first real attack Alva O'Brien had a shot saved by Sophie O'Hagan and the ball was eventually cleared after hitting the post and running along the goal line.
The goal did eventually come for Culmullen when O'Brien made no mistake with her second chance to make it 1-0 to 2-0, but then Drumconrath upped the tempo again with Duff showing great strength before pointing and then she showed great awareness to latch onto a loose ball and fire her side's third goal.
Avan Hickey was denied for the first time by Mahony, but Reilly did stretch Drumconrath's lead to 3-2 to 1-0 with a fine point.
Culmullen were given a lifeline when Neveah Ryan scrambled a goal and in the closing moments of the half O'Connor and O'Brien traded scores as Drumconrath led by 3-3 to 2-1 at the break.
The high quality game continued with Hickey and Eleanor Dixon (free) trading scores, but Drumconrath always looked marginally better and that started to show on the scoreboard as Duff and Reilly added points to make it 3-6 to 2-2.
O'Brien fired over from a goal chance for Culmullen, but before Isla Dilworth forced Culmullen's third goal in injury-time Drumconrath wrapped up the win with O'Connor pointing and Hickey getting her well deserved goal.
Drumconrath NS - Sophie O'Hagan; Emilija Lucanskaite, Ella Sheerin; Sophie Kieran-Smith, Sarah O'Connor, Ava Hickey (1-1); Cara Reilly (0-2), Skaiste Duff (2-2); Moira O'Connor (1-2), Katie Reilly, Eleni Marry. Leah Flanagan, Isabella Curtis, Chloe Daly. Mentors - Austin Hickey, Daire Rowe.
Culmullen NS - Maeve Mahony; Penny Harris, Áine Farrell; Emily Shinnors, Emma Kelly, Eleanor Dixon (0-1 free); Emily Fagan, Katie Kelly; Caoimhe Mangan, Leona Fagan, Alva O'Brien (1-2). Anna-Beth Leavy, Anna Lynch, Alisha Cunney, Isla Dilworth (1-0), Neveah Ryan (1-0), Iona Dilworth. Mentors - Niamh Therese Lynch, Laura Kelly Carey, Hayley Kennedy.
Referee - Julie Kavanagh (Rathregan NS).