Enfield-Rathmolyon bids farewell to Fr Michael
Previous
Next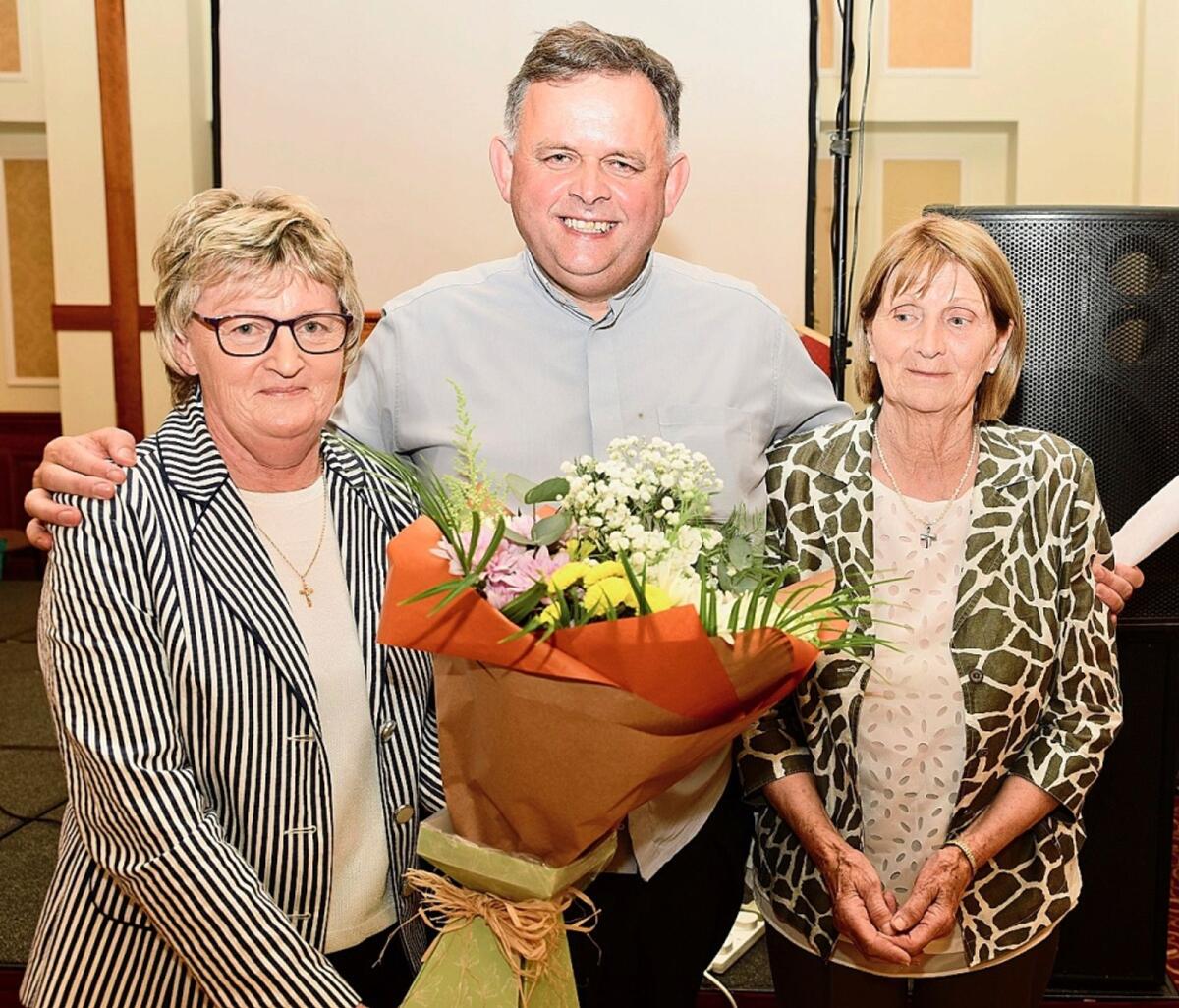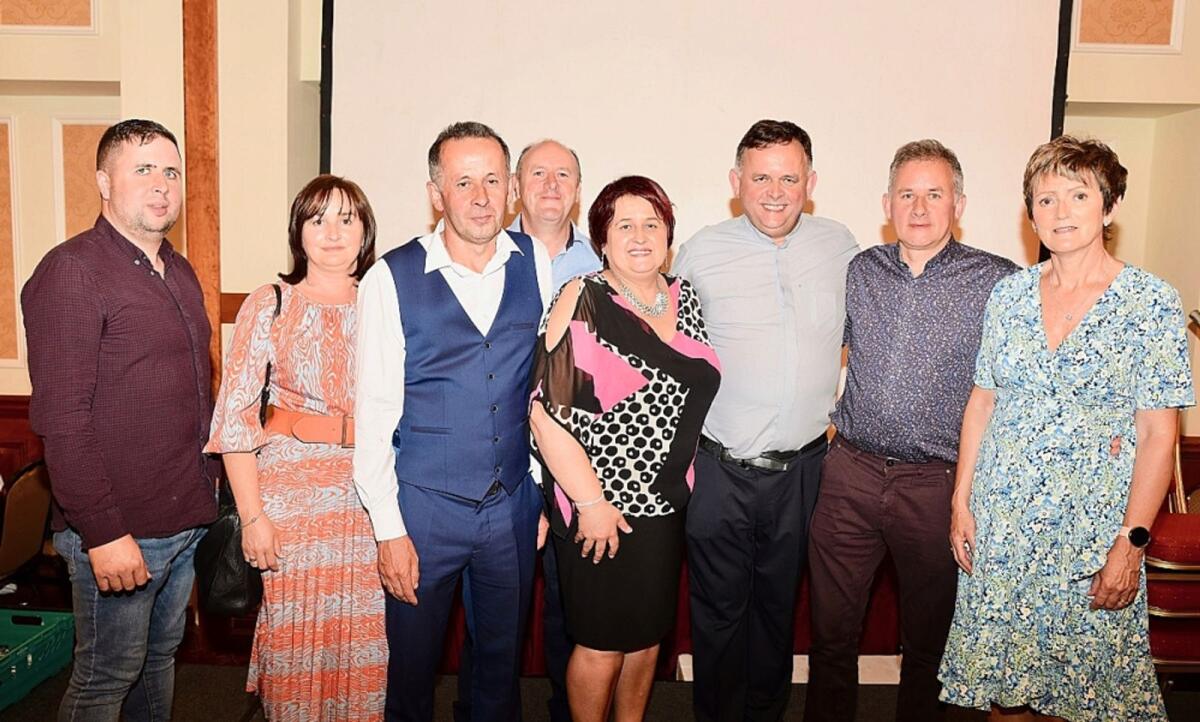 After some 23 years in Enfield/Rathmolyon Parish, Fr Michael Whittaker said his last Mass and bid farewell to his many friends in the parish this week.
Since his ordination in 1989, Fr Michael has been based in south Meath - firstly in Summerhill, and then in Enfield, and made many friends and was very much part of the south Meath community.
He leaves Enfield/Rathmolyon to move closer to his home village where he takes over the role of parish priest of Rahan.
Some 600 people attended a farewell outing in the Hamlet Court Hotel to send the popular parish priest their best wishes in his new role and thank him for his many years of service to the parish.
Fr Michael said he was overwhelmed by the turn-out and was very grateful for all the good wishes from parishioners and said he would miss the parish and south Meath after spending 33 years ministering there.
"It was so well attended, there was great music and it was a great celebration and night of thanksgiving," he said.
"I got so many messages of best wishes and support that will keep me going for the next good while. I have been 33 years in South Meath, 10 years in Summerhill and 23 in Enfield. It is a long time, I have a lot of connections there."
Fr Michael was ordained in June 1989 and recalled how his first posting that summer was at chaplain to the Mosney Holiday resort. That September, he was appointed to the parish of Summerhill (Dangan and Coole) where he served with the late Fr Joe Abbott and after his passing, Fr Aidan Walsh. While there, he was involved with the refurbishment of Dangan Church and Coole Church. In 1999 he was part of the Diocesan Pilgrimage to the Holy Land to celebrate the jubilee year of 2000. He was also chaplain at St Michael's Christian Brothers School, which later became Boyne Community School.
Ten years after his ordination, in October 1999, Fr Michael was appointed curate of Enfield/Rathmolyon Parish, serving with the late Fr Sean Fay as parish priest. He later became parish priest when Fr Fay retired. In later years, Fr Michael ministered with Fr Timothy and Fr John Kennedy.
In his time in Enfield, Fr Michael has overseen the development of Enfield National School and St Patrick's NS in Baconstown, as well as Kill NS and was involved in the board of managements of the schools. Works were also carried on the local churches and a lot of work was done with the local cemeteries including extensions.
He also looked after the pastoral needs of parishioners, "celebrating happy days and supporting them in the sad days". Over the years, Fr Michael celebrated many baptisms, communions, confirmations and weddings in the parish.
Fr Michael is a great supporter of the local Na Fianna Club and the club paid tribute to him on their Facebook page, wishing him the best of luck in his new parish.
"We are sad to bid a fond farewell to one of Na Fianna's biggest supporters, Fr Michael who is leaving Enfield/Rathmolyon to take over Rahan Parish closer to his home. Over the years Fr Michael christened, partook in communions, confirmed, married and sadly buried several of the club's members.
"He was always at the sidelines of our major games for both young and older teams and led the way with any fundraising event that took place, be it team leader in the walk to the North Pole, raffles, and most notably the quiz master of many a table quiz held in Boggans over the years."
Fr Michael is originally from the parish of Killeigh outside Tullamore and his new role will bring him closer to home.
"I am moving back beside home to the next parish of Rahan. There are three churches there, Mucklagh, Killina and the Island. I have two brothers and sisters in the area and I actually went to national school in Mucklagh so I am going back to where I am from."
Fr Michael said his last Mass in the parish on Thursday morning in Jordanstown Church and met with parishioners afterwards in the Rusty Copper in Baconstown.
"I will miss the parish of Enfield and Rathmolyon. There is a great community spirit there. There is lots of involvement by so many people, everything we were doing, everyone was so good and helped in so many ways.
"It is a growing community. There is great spirit and so many groups going great work like the Tidy towns and the development group.
"I am very grateful and thankful to the people for all their kindness, prayers, support and best wishes. They couldn't have been nicer. I appreicate it so much. And also to the people of Coole and Summerhill where I spent ten years."
Meanwhile, former Ratoath curate Fr Patrick Donnelly moves from the parish of Collinstown and Fore to takes over as parish priest of Enfield/Rathmolyon, while Fr Michael Carley leaves Rahan to take over as parish priest of Collinstown.