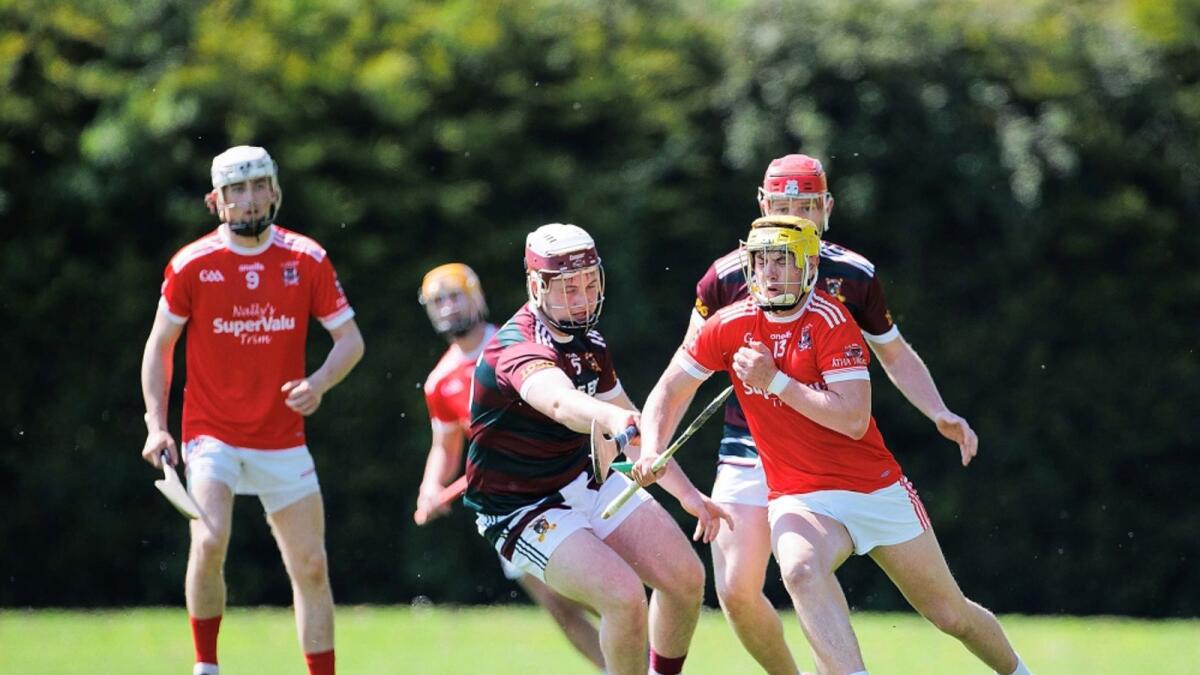 Kiltale hungry to recapture the glory days
Previous
Next
The Jubilee Cup stakes get underway once again next Friday night with 11 of the same runners and riders joined by last year's IHC champions Boardsmill in the bid to claim top honours.
As has been the case for the last few years the race for the Meath SHC crown is divided into two sections with the six 'strongest' teams battling it out in Group A for four places in the knockout stages, while the top two in Group B will compete for quarter-final spots and a place in Group A for next year.
In reality, there have been one or two exceptions over the course of the last couple of years, the main contenders for the Jubilee Cup will emerge from Group A and while Trim did make an impression from Group B a few years back making it to the 2018 final where they lost to Kiltale, the likelihood of a Group B team making it beyond the last four is slim.
There are a couple of very strong clubs in Group B with proud histories that might not like to accept that reality.
Kilmessan are the kingpins of Meath hurling with 29 titles to their name, but it is 2013 since they last won one and their star has fallen considerably.
Killyon and Longwood are two other clubs operating out of Group B who believe they can be genuine contenders.
Longwood were last in a SHC final in 2013, where they lost out to Kilmessan, while Killyon's last final appearance was in 2016 where they ran the then all-conquering Kiltale close before losing out by a point.
There are certainly signs that Killyon are on their way back to the top and their comprehensive victory over Drumree in the A HL Div 2 final underlines the huge gulf in class between the Group B SHC sides and some of the top teams in the IHC.
Boardsmill have always been a tricky, thorny side in senior hurling, but they dropped out of senior a few years ago and are now back in with a shout.
Blackhall Gaels have been steady and effective without being spectacular since they won the IHC in 2013, but A HL Div 2 results this year suggest they might struggle.
One of Blackhall's two wins in the league came in the last round against depleted Longwood, while their other win was over Boardsmill.
They will be the two teams Blackhall will be targeting in Group B, while Clann na nGael who finished bottom of A HL Div 1 without a win from six games and who conceded in their final game against Kildalkey will be another team everyone will look to beat to avoid getting involved in a relegation struggle.
The reality of Group B is that Killyon look nailed on certainties to secure top spot, a place in the quarter-finals and a seat back in Group A for 2023.
Kilmessan look the most likely to join them in the knockout stages, but it is then that things will start to become tricky for them.
It is impossible to look beyond Group A to find the likely winners of the Jubilee Cup and to narrow the field down further it is hard to see St Peter's or Na Fianna troubling the 'big four' of Trim, Ratoath, Kiltale and defending champions Kildalkey for the places in the knockout stages.
The real battle in Group A looks set to determine who will finish in the top two and book a direct spot in the semi-finals and the first round clash of Kiltale and Kildalkey, a repeat of last year's Jubilee Cup final, could go a long way towards settling one of those positions.
Of the last 13 SHC campaigns Kiltale (six) and Kildalkey (five) have won 11 of them, with Trim in 2020 (played in 2021) and Kilmessan in 2013 interrupting that streak, so it is hard to rule either of those sides again.
However, Kildalkey looked a pale shadow of their former selves in the A HL Div 1 final loss to Trim last week and, while it might have been a case of not wanting to show their full hand too soon, they do look like a side with a bit of improving to find.
Kiltale missed out on a place in that league final on the head-to-head result with Kildalkey which they lost by a point, but with more county men back in the fold for Denis O'Shea's team they will look like a different animal.
Trim and Ratoath are the other main contenders for top four spots and while Trim can draw great confidence from their league win, the threat of fatigue for their huge number of dual players could well be a factor.
Tiredness wasn't a problem in 2020 when Trim reached both the IFC and SHC finals and new manager Jimmy Canty will be hoping that will be the case again.
On their day Trim can be a formidable outfit and capable of beating every team around them - the same applies to Ratoath.
Ratoath looked certainties to end their long wait for senior honours in 2020, but then Covid struck and when the 2020 final was eventually played they didn't look the same side as Trim edged them in a thriller.
That loss appears to have hurt Ratoath deeply and they have yet to recapture the form of 2020. Four wins, two losses (to Kiltale and Trim) and a draw with Kildalkey isn't bad form, but it doesn't set the world alight.
The top two places look to be between Trim, Kildalkey and Kiltale with Ratoath claiming fourth. Killyon would be capable of catching Ratoath on an off day in the quarter-final, but once again, and based solely on most recent form, the title looks like a toss up between Trim and Kiltale.
With their county men Jack Regan, James Kelly, Mark O'Sullivan, Conor Ryan and Chris Reilly on board Kiltale look very strong all over the field and even without those players they have a great strength in depth.
With Alan Douglas and James Toher not part of the county team this year Trim will hope to have them fresh, while others like Mikey and Joey Cole, James Murray and Gary Fleming have all proved they can play at a higher standard.
The pull between football and hurling could be a major issue for Trim when the games start to pile up and with less players operating at a dual level Kiltale might be able to remain fresher throughout and recapture the title they last won in 2018.