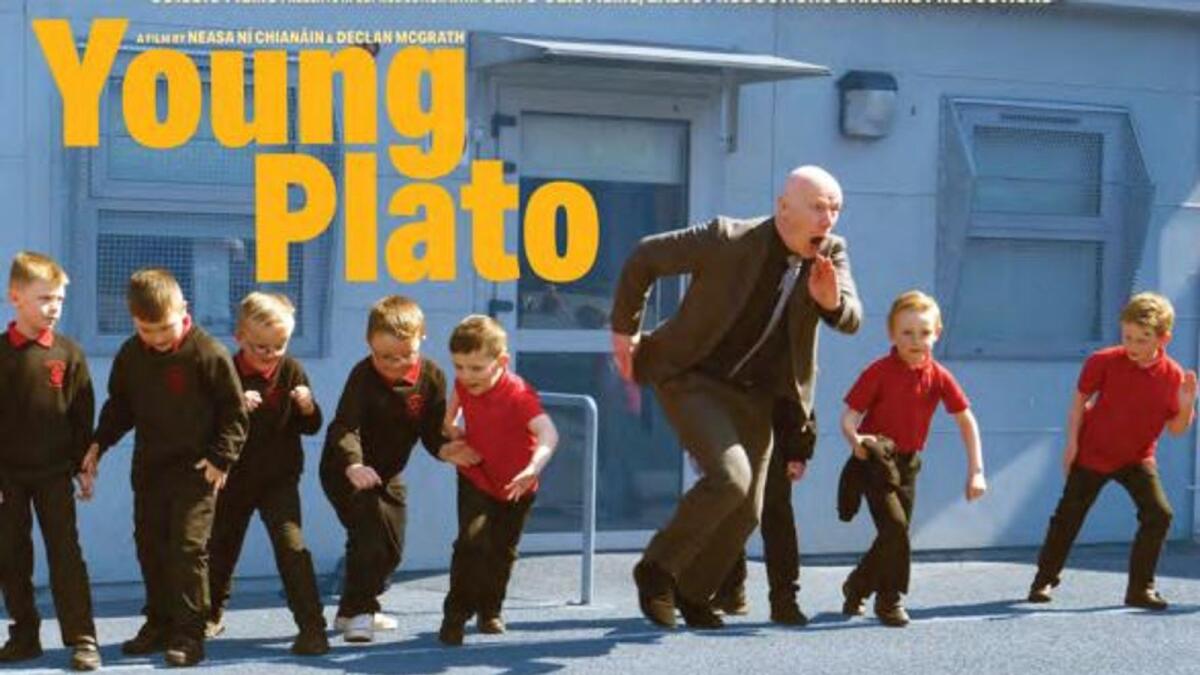 Award winning film 'Young Plato' screening for Hinterland
Meath-based director chronicles story of a school headmaster in Belfast who invokes the wisdom of the ancient Greek philosophers to fight poverty, drug dealers and the IRA
An award winning feature documentary directed by Meath based director Neasa Ní Chianáin will feature at this weekend's Hinterland Festival.
Young Plato tells the story of a primary school headmaster in Belfast's Ardoyne housing estates who invokes the wisdom of the ancient Greek philosophers to fight poverty, drug dealers and the IRA – restoring hope in the heart of a battered community.
An inspiring documentary from the filmmaker of School Life and founders of the Guth Gafa Film Festival which ran in Kells prior to the pandemic, Young Plato charts the dream of Elvis-loving school headmaster Kevin McArevey – a maverick who is determined to change the fortunes of an inner-city community plagued by urban decay, sectarian aggression, poverty and drugs.
The all-boys primary school in post-conflict Belfast, Northern Ireland, becomes a hot house for questioning violence, as the headmaster sends his young wards home each day armed with the wisdom of the ancient Greek philosophers.
The boys challenge their parents and neighbors to forsake the prejudice that has kept this low-level civil war on the boil for decades. Young Plato hums with the confidence of youth, a tribute to the power of the possible.
The film has already won a slew of awards including winner of the Irish Council for Civil Liberties Human Rights on Film Award 2022 and winner of the IFTA Awards for the Best Feature Documentary 2022.
Neasa Ní Chianáin, director, is one of Ireland's most established documentary talents.
Her last film, 'In Loco Parentis' (aka 'School Life'), which centred on the staff and pupils of the private Headfort School in Kells has been a world-wide success,
premiering in competition at both IDFA 2016 and Sundance 2017. 'School Life' won the Special Jury Prize in the Golden Gate Awards at the San Francisco Film Film, and
an Audience Award (Prix du Public) at visions du Reel in Nyon. Neasa was also chosen to take part in the Sydney Film Festival's 'Europe! Voices of Women in Film', which selected 10 of Europe's most promising women directors.
Neasa is currently in post-production on a new feature documentary, 'The Alexander Complex'.
"Ever since my children started attending school, I really began to appreciate how education can influence the development of a child and shape their path into adulthood," says Neasa.
"While making the documentary In Loco Parentis (School Life), I witnessed first-hand the transformative effect inspirational teachers could have on their young wards' lives.
"The headmaster of Headfort was an avid proponent of critical thinking and the Socratic method of teaching.
"Watching him give children the space to discuss and argue different points of view, on a variety of subjects, was riveting. But if there was a fly in the ointment, it was that this was a private school with children from wealthy backgrounds, and there was the danger that this approach to education was a privilege for a selected few.
"When (fellow director) Declan McGrath introduced me to Holy Cross Boys school, and told me that philosophy was being taught there, I was hooked. Holy Cross Boys School was everything Headfort wasn't: a state school, in one of Belfast's toughest neighbourhoods, an area still scarred by sectarian struggle."
"Everywhere was walled, fenced and gated, amplifying the notion of 'turf, dividing and containing people with opposing political loyalties and perceptions.
There will be a special screening of Young Plato next Saturday evening at 6.30pm in Kells Theatre as part of the Hinterland Festival. Tickets www.hinterland.ie