VIDEO: Taoiseach hears of tales of resilience and challenges ahead during Navan visit
Previous
Next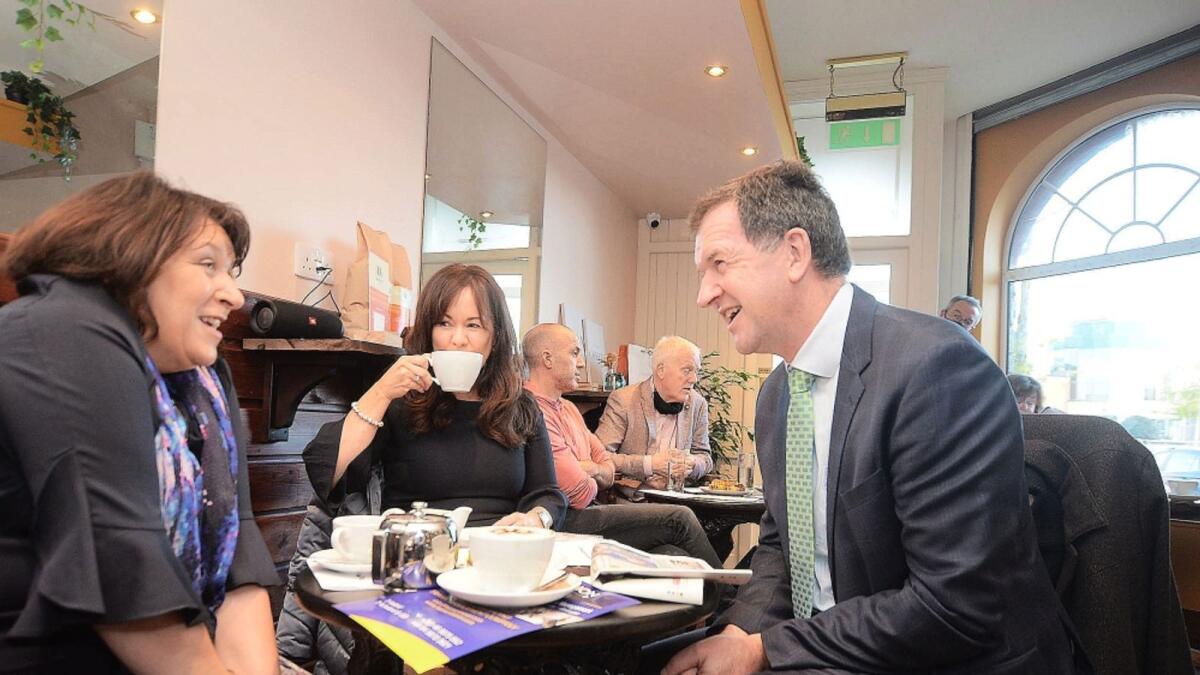 The difficulty in recruiting staff, childcare issues and dereliction in parts of the town centre were among the concerns raised with Taoiseach Micheal Martin when he attended a meeting with Navan business people yesterday (Monday) morning.
Those who attended the meeting in Padraig Fitzsimons cafe at Kennedy Place expressed their gratitude to the government for their supports during the pandemic and spoke of the way in which businesses adapted to online trading during lockdown.
The issue of the Pandemic Unemployment Payment and the difficulties recruiting were also raised at the hour long meeting. The future of Navan Hospital, the railway line to Navan, climate change and the need to make town centres more attractive were also discussed at meeting organised by Senator Shane Cassells.
The Taoiseach said that the Navan railway line in particular was a key issue and the National Transport Authority strategy provides for that.
"The biggest challenge we have in the country is that infrastructure projects are taking too long," he said.
Mr Martin said government was trying to streamline planning because "we have a big issue with housing. We have a big issue with public transport projects and a big issues with health infrastructure."
Linda Carlson of Montessori Story said that it was extremely difficult to employ professional people with the funding they receive per child from the government, pointing out that in 11 years the funding has only gone up by €4.50 a week per child to €69 per child.
"If you take inflation into account over the period, it should be €95.5 per child," she said.
Joanne Mallon of Ribbon Rouge said the pandemic had given her the opportunity to start trading online.
"Back 18 months ago, it was tough to have two shops full of seasonal stock and having to find a way to shift it.
"It gave me an opportunity to launch RibbonRouge.ie with the help of Meath Enterprise supports. It gave me the opportunity to sell all over Ireland and sell all over Europe and the United States,. Without the supports, I would never be able to do this or have the time."
Siobhan Geoghegan of Geoghegan's store on Trimgate St told the Taoiseach that government supports allowed them to look after their staff and to adapt. "We traded while our doors were closed. We concentrated on our digital store and social media.
"We are delighted to now be back open in our bricks and mortar store".
Emer Hannon of Hannon Travel said the government supports during the pandemic had been great, but she felt something would have to be done about the Pandemic Unemployment Payment, pointing out that it is now very difficult to get staff.
Shoe and sports shop owner, Jack Kiernan who was celebrating his 53rd year in business on Monday spoke of the importance of the Navan railway Line and highlighted the importance of Navan Hospital especially with 800 people employed in mining.
Local restauranteur, Michael Gavigan told the Taoiseach that only for government supports during the pandemic they wouldn't be open. "We wouldn't be here today, we wouldn't be employing anyone," he said.
He said the turnover in the hospitality sector was now about half what it was pre-pandemic."
Navan hairdresser Ambrose Clinton said they depend on people coming into them although they do a certain amount online, but it is a small business.
"Our business is running at about 60 per cent of what it was," he said.
Frank Mulrennan, chief executive of Celtic Media, which owns the Meath Chronicle said "As an employer, there is a real desire for good strong government and good strong messaging, and I suspect you have a good strong message coming on Covid with all that is happening this week. People are ready for a tough message," he said.