'If we were ever going out Olive would always make sure I was well dressed'
He made the headlines last month after scooping the Most Stylish Racegoer accolade at Listowel Races. But for 80-year-old Benny O'Keeffe, looking well is just something he does, something his beloved wife of 46 insisted upon. The Kilglynn man tells JIMMY GEOGHEGAN of the partner he lost to ovarian cancer almost a decade ago and why people need to remember the power of positive thinking
Previous
Next
"It's not about being the best. It's about being better than you were yesterday."
That's one of the sayings that crops up when you google 'famous quotes of horse racing'. Nobody, it seems, knows who said it but it's a saying that pretty much sums up Benny O'Keeffe's philosophy on life - and the 80-year-old, who lives between Summerhill and Kilcock, can be truly considered something of a philosopher.
He has lived through a great deal in his years on the planet, seen momentous changes in life - and lifestyles. This big racing fan has experienced many good times but also his quota of dark days; crushing tragedies including the loss of friends and family members. He has been sustained, he says, by an unstinting faith in the Man above.
When you walk into his house you are struck by pictures of his family. There's individual shots of his large troupe of 14 grandchildren, aged from 21 to three. There's also photographs featuring members of his own immediate family.
Also prominent among the gallery of snaps are a number that feature Olive, the lady who he was married to for 46 years. They were busy, fulfilling years when the couple brought up their family (Irene, Audrey, Catherina and David) although there were some tough times too, economic recessions, that brought with them the chill, capricious winds of change. Tragedy too.
Back in 2011 Olive was diagnosed with ovarian cancer; the following year she tragically passed away while still only in her sixties. The loss is still keenly felt by Benny who recalls the years they had together with great fondness. The memories come flooding back and so does the sadness. His voice break as he adds. "She died on the 4th July, American Independence Day. I never got over it."
Another photograph resting on the mantlepiece depicts a happier time. It's a photograph from Listowel races and it was taken just few weeks ago. It shows Benny in a snazzy light blue suit and a waistcoat that has been described as "merl grey." Benny, who is a big horseracing fan, is also wearing a hat he bought in Ukraine for 5 euro a few years ago.
The ensemble was sharp enough to earn him the title of 'best dressed man' at the Listowel races. "I was shocked to win, to put it mildly. I was down in Listowel with my friends Paddy (McElligott), Dessie (McDermott) and his wife Nuala. We were walking around, heading over to the parade ring and this young lady, dressed to kill, came up to me and said: 'Would you be interested in entering the best dressed competition?'
"I said I would but that would be as far as it would go. At least that's what I though. There was five men and five women chosen. The other men were there with their designer suits, dickie bows and I said to myself what am I doing here? The young woman interviewed everybody, asked us about our clothes. I told her the truth, that I had bought the suit in a well-known outlet locally, the hat in Ukraine. She said: 'This is a easy decision to make. The winner is Benny O'Keeffe.' I couldn't believe it, we had a good laugh over that. Me, a follower of fashion!"
FASHION ICON
It has been said that the kind of dog that resides in a house reflects the kind of person or people who live in that house. An belligerent, nasty mutt mirrors a certain pugnacious streak in the occupants.
When you enter Benny O'Keeffe's driveway you are met by Buzz a kindly, welcoming, pure-bread Collie who immediately puts you at ease. 'You are welcome' he seems to be saying as he vigorously wags his tail.
Benny too is warm, welcoming and when he meets you at the door you immediately see his sense of dress is not a transitory thing; it's not just about being well turned out for a day at the races. He is neatly attired in a white shirt, blue jumper and trousers.
"I think it's something I picked up from Olive. If we were ever going out she would always make sure I was well dressed. Dress style is important but I was only reared an ordinary Joe Soap. Olive would have shopped in Pennys and Dunnes but whatever she wore it looked well on her. I just put the suit on for Listowel and it seemed to have worked."
Benny today lives in the townland of Kilglynn in the same, much modified, house where he grew up in. He was one of six in a family born to his parents Jim and Ann. Sadly, he is the only one of the six in his family still with us. Like many of his generation he left school shortly before he was 14. He shows you a framed school cert that displays the results he got and recalls, with a shake of the head, how he used to walk to school in Kilcock, a five-mile round trip.
He initially worked in a shop in Kilcock, what was an early version of a supermarket. He worked in the bar business too before emigrating to Bermingham in the late 1950s.
He had a brother and sister already in the English city. It seemed to good option compared to an Ireland mired in a deep, relentless recession. Benny worked on the building sties for a few years in Birmingham before landing a job as a bus conductor. He loved it. Meeting people, having the chat and banter. He felt at home.
"We used to go to St Theresa's Church (in the Perry Barr area), we'd attend Mass there and you might as well be in Kilcloon parish, my parish here, because everyone around you was Irish," he recalls.
OLIVE
On a night out in Birmingham his life took a turn for the better. "I had made friends with another young man, Val Connor, who I didn't know before I went to Birmingham but he was from Summerhill. We were in an Irish club and we saw two girls dancing. I said we should ask them to dance. It turned out it was Olive and her twin sister Aileen. I was introduced to Olive and the rest, as they say, is history."
In the early 1960s Benny and Olive returned to Meath to create their own life. Olive got a job working in the famous 'Bon Bon' shop in Trim. Benny embarked on a varied career. He became a driver working with a number of companies, including a big construction enterprise taking materials from site to site all over the country. When boom turned to bust he had to re-think his strategy. He was around the 60 mark when he started working for himself carrying out mowing and gardening work. He then became a driver for SuperValu and kept at that until well into his seventies. "I had a lovely time on the road. I loved meeting people, mingling and talking to them, having the banter."
When off duty Benny loved a bet and a drink with friends. Still does. His 'local' is Hattons in Garadice. He couldn't speak more highly of the place and all who are in it, proprietors and staff alike. "It's a wonderful place," he says pointing that the customers might even get to meet one of the staff members, Mary Kate Lynch, the full-back on the Meath team that recently won the All-Ireland title. A local hero if there ever was one.
Some time ago Benny put together a syndicate named after the famous pub that included a number of friends as well as horse trainer Gordon Elliott. A horse they had was running in Listowel a few weeks ago. The horse didn't win but Benny did - the 400 euro he got for being the 'best dressed man' an unexpected bonus.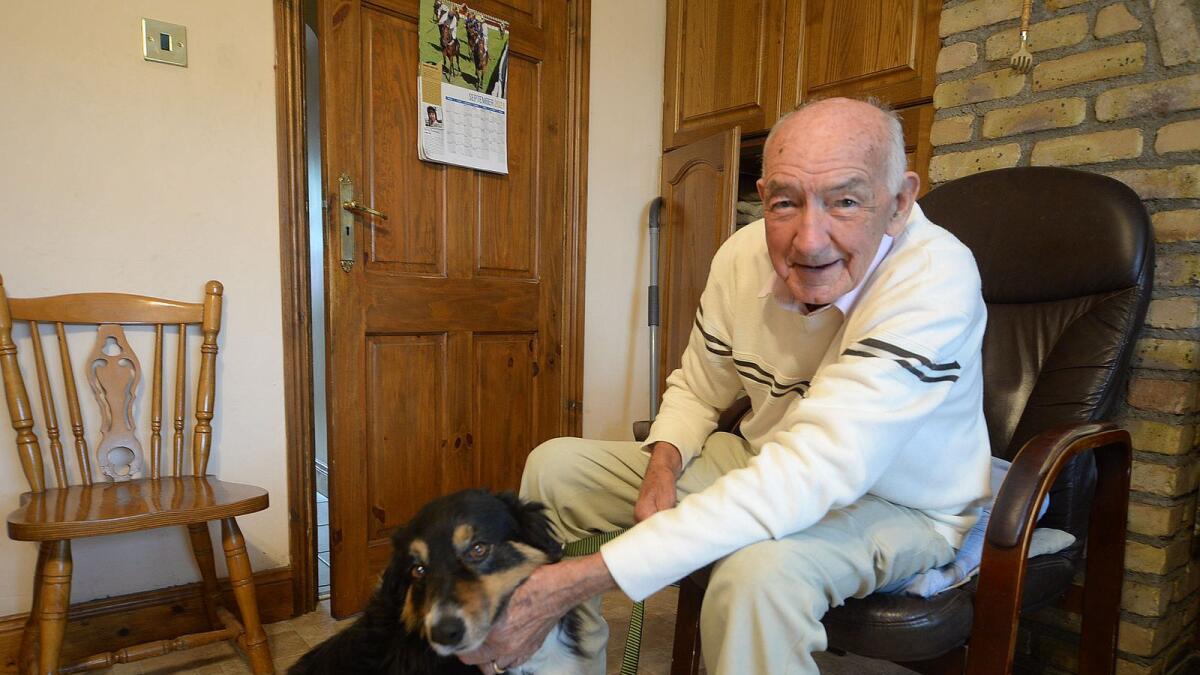 That was a good day but Benny has known his share of the bad ones too. In recent times he's had a cancer scare and a serious stomach operation but made it through. "Take life as it comes," is his philosophy. "If you are down today you will be up tomorrow. You can't just hang your head and say it's all pointless because it's not. There is a God up there. I know that for sure because He has pulled me out of the fire many times and I know He will again."
As the man, or woman, said it's about being better than you were yesterday.