Upgraded facilities at Navan Tennis Club
TENNIS Minister of State Damein English at official opening
Previous
Next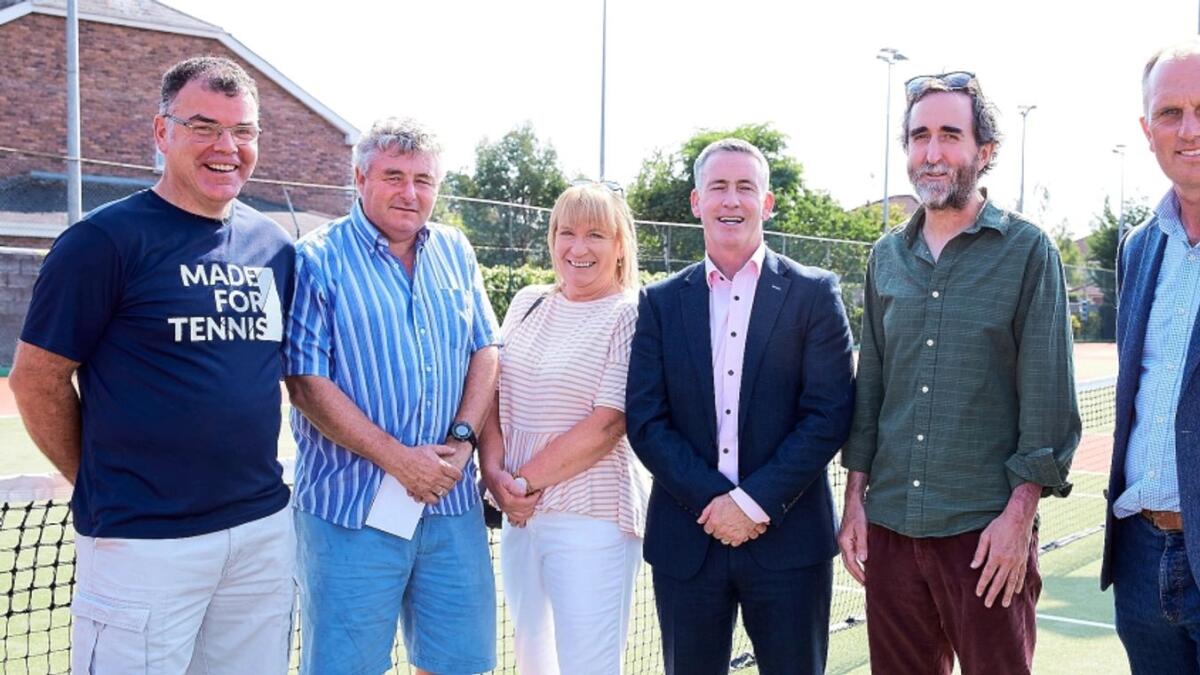 Minister of State for Business, Employment and Retail Damien English TD was on hand at the end of August to perform the official opening of the upgraded facilities at Navan Tennis Club.
Officials planned the ambitious €102,000 upgrade of the five tennis courts in 2019 and the project was completed in early 2020. Due to Covid restrictions the official opening had to be delayed.
"Navan Tennis Club has seen an enormous increase in its membership in recent years," commented club official Aoifé Ledwidge-Egan
"Since 2017 the membership has grown by more than 130 per cent which is great for both Navan Tennis Club and its members and also for the wider community.
"Navan Tennis Club is one of the largest tennis clubs in the county, a great asset to Navan town.
"All levels of tennis are catered for, beginners, improvers and advanced with a huge intake of adult members," she added.
Navan Tennis Club was delighted to invite Minister of State for Business, Employment and Retail Damien English to undertake the official ribbon-cutting on the new courts.
The upgrade of the courts would not have been possible without €64,000 received under the Sports Capital Grant scheme and former president of Navan Tennis Club Cathal Tobin was keen to highlight the assistance provided by Minister English when the club was making the application.
The Meath West TD was full of praise for the work that members of Navan Tennis Club have undertaken in developing the club and noted that
"You have a fabulous asset here and we are very lucky to have you in Navan," he commented.
"Navan Tennis Club is the only club providing a tennis service to a population of 30,000 people right here in the centre of town," he added.
In relation to the nearly threefold increase in membership Navan Tennis Club has seen in the last couple of years and the impact of the grant in that regard Damien English continued: "As a club, when I sat here a couple of years ago and you were trying to make the application the discussions focused on the thoughts that by putting in the investment would it help secure new members, it did that and Navan Tennis Club backed that up," he said.
The Minister of State added that he was looking forward to working with the club on any future drawdowns of funding.
Also in attendance on the day were Tennis Ireland CEO Richard Fahey and Mark McDonnell, the current club president, along with a number of invited members.
Richard Fahey took the opportunity on the day to present Navan Tennis Club with Tennis Ireland's Bronze Clubmark.
The Tennis Ireland Clubmark aims to identify, develop, accredit and recognise high quality tennis clubs and the contribution to the development of tennis in Ireland.