Some quack out in Moynalty as plucky ducklings released back into the wild
Residents to the rescue as ducklings saved from a cattle grid by local children are set free
Previous
Next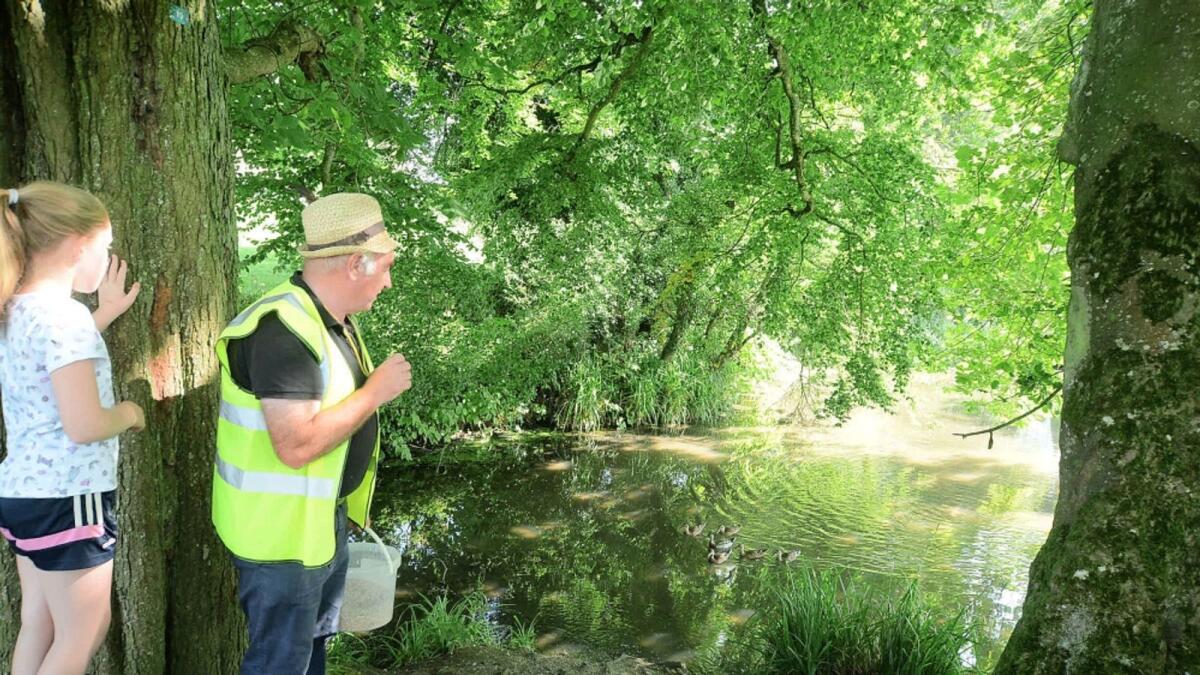 Seven baby ducklings who were rescued after becoming trapped in a cattle grid were released back into the wild last week thanks to the help of kind hearted residents in Moynalty.
Tidy Towns member John Sullivan took on caring for the tiny ducklings who were just hours old after they were found by local children earlier this summer.
There was jubilation in the local community on Wednesday when the brood was released according to John who said:
"About nine weeks ago we were contacted by a family from Cormeen. They contacted a neighbour of mine Toss Kiernan that three children, Heather Moore and Isabelle and Harry Foran were after finding seven little ducklings a couple of hours old in a cattle grid which they had fallen into it after the mother duck was moving the ducklings.
"We took them in and put them in a shoe box type thing and we started to look after them. We boiled eggs and mashed it for them because they wouldn't have been able to eat, if they were in the wild they would only be getting insects or little bugs.
"All the time we didn't want to tame them, we wanted to keep their wild streak with them. After about a week and a half I took them down to the estate to a little community plot where I have hens and other ducks.
"I give the eggs to the residents and I have a vegetable garden. We harvest our own rain water for the use in the vegetable garden and for the hens so try to be as bio diverse as we can.
"We did as little handling physically with them as we could so they wouldn't get dependent on us.
"We kept them there but from the very start I introduced a whistle and when they heard the whistle that meant feeding time.
"We were feeding the little ones three time a day for a while until they got a little stronger so morning and evening I would make different sounds with the whistle.
"The weeks passed and finally the fruition came on Wednesday when we released the ducks on to the pond in the local community field in conjunction with the Tidy Towns.
"It was a wonderful day as the saying goes, they took like ducks to water."
John has been involved in a local project to encourage wildlife back to the area as he explains:
"The Tidy Towns in Moynalty has been buying in ducks at four weeks' old rearing them until about nine weeks and training them on a whistle and we have restocked the River Borora around Moynalty and the pond to bring back wildlife to it and it has worked immensely well.
"Yesterday there were over 60 ducks between wild ducks and the ducks we have trained with the whistle so it has been a great project all summer.
"They are quite content and it is wonderful to see them.
"The chairmen of the Tidy Towns Peter Rogers and other workers have been coming keeping an eye on things but we feed them morning and evening on the whistle even the wild ones have got used to the whistle.
"Toss Kiernan, Paddy McEnroe, Janet O'Brien and Jacinta Meehan helped me with the feeds too."
The Moynalty man has come up with a clever way to try and end the habit of people feeding bread to the ducks.
"I've made little bags of food up with barley and chicken fillets and we have it in the local shops for sale for one euro because we are trying to stop people feeding them bread because bread is bad for ducks.
"There are people who come to the park with their dogs and let them off the leads and let them run and even though the pond is barred off the dogs just charge when they see the ducks so if people could just keep the dogs on a leash it wouldn't frighten them."