O'Sullivan relishing a shot at redemption
Previous
Next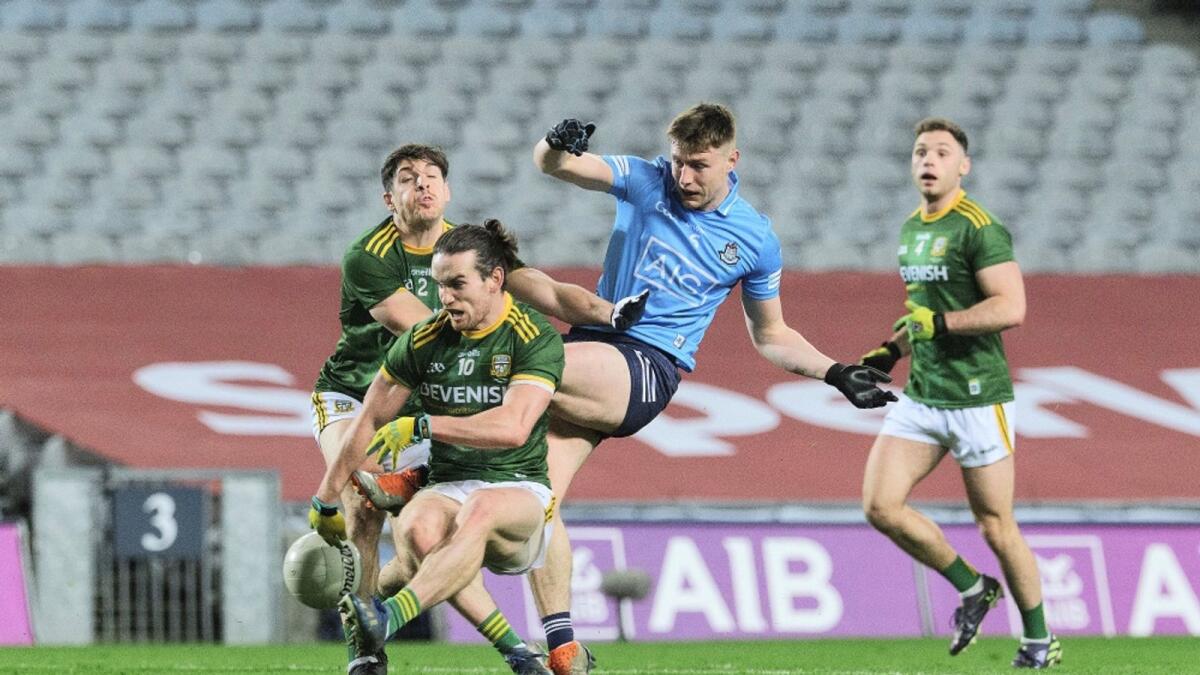 Despite some of the heavy losses Dublin have inflicted on Meath in recent years, it is still the one game that stirs the passions of players and supporters more than any other.
Almost eight months on from their largest championship defeat against Dublin in last year's Leinster SFC final, Meath have a shot at redemption and their vice-captain Cillian O'Sullivan is relishing the opportunity of reigniting the flame of this most fearsome of rivalries and can't wait to play in front of a big crowd again.
"I grew up looking at Meath and Dublin games and I remember the buzz of Croke Park for those big Leinster final days," recalled the Moynalvey man.
"We want to get back to those times and recreate those experiences for the supporters now.
"Even playing Longford the last day it was great having the crowd there. There was only 500 there, but it felt like a couple of thousand, so I can't wait to have the fans back in Croke Park next Sunday.
"The atmosphere and the energy that the crowd bring is huge and that is what you play for. Teams can feel dead almost when there are no fans at the games.
"I grew up on a diet of Meath and Dublin games and I'm hoping to help create that type of special diet for the underage players who are coming through now."
The pain of last November's Leinster SFC final loss is still very fresh in O'Sullivan's mind, but it is not a game he dwells on too much.
A psychologist by profession O'Sullivan admits that he doesn't put a whole lot of stock in other people's opinions, preferring to focus on what his friends and family think.
The Moynalvey man is well aware of the threats offered by a dangerous Dublin side and he doesn't believe the current narrative that Dublin might be on the slide.
"After games like that (the 2020 Leinster SFC final) you tend to doubt yourself and that was the hard part," admitted O'Sullivan.
"I'm not the type of person who would be too concerned about what other people think, I'm more concerned about what I think about myself and what my close friends and family think about me.
"If you go the other way it can be quite dangerous because you are handing over how you feel about yourself to someone else and you are constantly going to be chasing, trying to prove other people wrong.
"There will will always be doubters, and trying to please them all the time can be quite an exhausting position to be in.
"For me, after the Leinster final last year I knew we didn't perform. There was also an element that Dublin didn't let us perform, they were very good on the day and they left us asking a lot of questions and that was the hard part because it was a long winter.
"With Covid as well we didn't have our club to go back to to try to process things, we were left to deal with it ourselves and didn't get the chance to play our next game until the first round of the league in the middle of May.
"So waiting that long to process that game was a long time.
"We know they (Dublin) are the standard bearers of the game. There is talk of them being on the slide, but that is total nonsense. Every time that seems to happen they seem to get better.
"We can't be looking at them, we have to look at ourselves and make sure we perform as a team and for me that starts with me as one of the players.
"What do I need to do to perform on the day? What is my job? The best I can do is to trust everyone else to do their job and I need to focus on what I need to do to help the team.
"I don't have to worry about the rest of the lads. You don't have to be the smartest guy in the world to know that everybody was hurting after the last game and were asking themselves questions.
"Motivation doesn't really come into it, it's always there, it comes down to implementing the game plan on the day and trying to improve on the last day.
"The way the league ended for us wasn't great, so we have been looking forward and football for us is always about championship and how we perform in the championship, that's most important.
"There is an element of using the championship for redemption for what went on in the league."
Clearly a deep thinker about the game, O'Sullivan believes the Covid pandemic has given him a renewed perspective about football.
He believes that since Covid, players have reverted to what drove them to want to play football in the first place.
O'Sullivan believes that the game is now being played with more freedom and expression and while there is still a defensive element to how teams will approach a game, he insists that he is back playing football how he used - with freedom and for fun.
"When I started playing for Meath I used to have these unrealistic expectations of what I should be doing and how I should be playing," he said.
"Covid has given me the perspective to flip that and go back to why I enjoy playing football in the first place.
"Hanging out with your mates, playing out in garden, playing as you did as a kid, playing free without any constraints. People get hung up on tactics and game plans.
"I've actively been trying to flip that for myself and going more growth orientated. I see this as a chance for me to grow rather than a standard I have to meet. I'm not reaching for something, I'm aiming to enjoy it.
"Standards and goals are fine to have. It's like when you get a new car, you will quickly get fed up with it unless you focus on enjoying driving it. For me it is all about the enjoyment of playing the game.
"However, that's not to say that when you suffer a defeat by 20 points that you don't question everything.
"It is a balance, you can't be going out and having a great time, but be losing by 20 points. Enjoying it is a healthy way of playing the game and for me it helps my performance.
"I have been playing for a good while now, I used to be the opposite way and I can't imagine how I would have dealt with that type of defeat (last November's Leinster final) a couple of years ago. I would have been a lot worse on myself, I try not to let football impact on my life too much.
"Defensive football only gets you so far. You can't name a team that has done anything just playing a defensive system. Look at Mayo in Connacht, Kerry in Munster. Kerry tried to play defensive last year and got turned over by a Cork side who expressed themselves in the game and ended up winning it.
"Mayo have been able to go up against Dublin because they have gone toe-to-toe with them and they have expressed themselves.
"With Covid there is a realisation that people want to get back and enjoy their football a bit more.
"The biggest thing I missed was playing with my mates.
"Defensive football will get you to a certain level, but attacking football is what is needed if you want to win at a higher level.
"We won't beat Dublin if we play defensive or play within ourselves. We tried that in the past and it didn't work, so we are going to need to be creative to beat them.
"When you are creative you are going to make mistakes and you have to accept that when those mistakes come you don't let them drain your confidence or drain your mood as a team.
"Look at Armagh, that is what they are starting to do now and that is great to see and that is what Dublin have done for the last few years, they have played creative, expressive football.
"It's about finding the balance between being creative, but also not kicking the ball away five times in a row. There is a difference between creativity and stupidity, you have to find the balance."
So have Meath closed the gap between themselves and Dublin? Was last November's game just an aberration? What do Meath have to do to be successful next Sunday?
"Last year Dublin saw us as an up and coming side and they were determined to stop us in our tracks and stop our momentum," said O'Sullivan.
"I don't think they were respected enough in the media and the general chit-chat about them being in transition was a point of motivation for them and they went out and showed it against us.
"In terms of how we match up against them when we are both at our best, I suppose we'll find that out on Sunday.
"We are hoping to get them not at their best and we have to make sure we don't let them play to their best. If they are allowed play to their full potential then they are a very hard team to stop, we have been on the receiving end of it a couple of times and it's not nice.
"If we play at our best then that will be part of the plan to stop them executing their game plan.
"The problem going into these games can be focusing too much on the opposition and then you forget about yourself, that's what Dublin love. They want you to become so obsessed with them and forget what you need to do as a team.
"In football there are so many variables, so much can happen in a game that I just like to trust myself in the game and that I'll think my way through it and play my way through it naturally.
"I try not to be too scripted in how I play, I want to play to what I see on the pitch.
"No team prepares to lose a game, we are going to try to win this game. People get fed up with talk about 'the process'. I know it's a cliché, but it's true, the process is about winning the game.
"If we don't perform we won't win. We only have two levels, either we are not up to the speed of it or we are on our game playing really well.
"You could see we were a little bit off against Kildare in the league and they took advantage of that, there was good learning in that for us," concluded the 27-year-old.
Hopefully Meath will have learned enough to cause one of the biggest shocks in the history of the game.